Our two-day open textbook summit takes place on April 16 and 17 at Simon Fraser University's Harbour Centre in downtown Vancouver, B.C.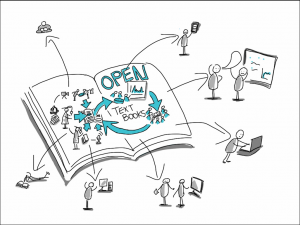 While registration for this event is now closed, we will be sharing our insights and key observations from the summit online.
Two student advocates for textbook affordability, open access and open education
Nicole Allen, Director of Open Education for SPARC (the Scholarly Publishing and Academic Resources Coalition) and Ethan Senack, federal Higher Education Associate for U.S. PIRG (United States Public Interest Research Group) will be the first presentation of the day on April 16.
Nicole and Ethan will share their research, best practices and direct experience on what it takes to bring together students and other key stakeholders/partners in the education community to advocate for more affordable and accessible higher education.
Notable Quotes
Over the last 25 years, textbook prices have more than quadrupled and continue to rise faster than inflation. The average text for an introductory-level course costs $175, and many spike into the $200, or even $300, range. – Nicole Allen
Open textbooks are free online, openly licensed books that are available in print for about $20-40. Unlike conventional e-books, which can be expensive and difficult to access, open textbooks are available in a range of affordable formats. – Nicole Allen
Last year, an OER pilot program at the Virginia State University business school resulted in 30-40 percent higher GPAs and more than $200,000 in student savings across nine core courses using open textbooks. – Nicole Allen
Students are spending $1,200 on average on books and supplies this year, according to the College Board.  That's equivalent to 14% of tuition at a four-year, public college – and 39% of tuition at community college. – Ethan Senack
Every college student knows what it's like to walk into the bookstore and see an outrageous $200 price tag on a required textbook. And every student knows what it's like at the end of the semester, when the resale value is mere pennies on the dollar. – Ethan Senack
We can stop textbook ripoffs [sic] by increasing access to and availability of open textbooks. We can put pressure on the publishing industry by raising awareness about alternatives. And we can keep encouraging professors to assign open source textbooks to their classes as well as publishing their own open source material. – Ethan Senack
To learn more about Nicole Allen:
To learn more about Ethan Senack:
To join the conversation online, be sure to follow us on Twitter @BCcampus and use #OTSummit