Embracing the unique aspects of the rich B.C. tourism and hospitality industry – from the extreme to the gentle, the sublime to the austere, and everything that makes this province a preferred destination – the Introduction to Tourism and Hospitality open textbook from LinkBC and BCcampus is intentionally designed to provide students and educators across the province with relevant, localized knowledge and experiences.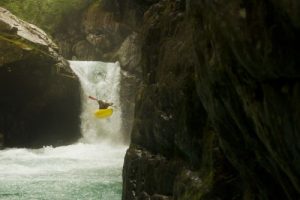 Based on their extensive network of colleges, universities, and industry experts, LinkBC was in the ideal position to coordinate with BCcampus on the creation of an open textbook that would be suitable for students and educators in B.C. "As soon as the opportunity came up to be part of a localized tourism textbook," said Morgan Westcott, General Manager of LinkBC, "Our membership immediately chose to jump on board."Students learning to thrive and innovate within the tourism and hospitality industry in B.C. have required expensive textbooks created in Ontario, or an open textbook created by someone in Florida, and while these materials are good, they don't properly represent the unique variety of opportunities within the province's tourism market. As imagined, these textbooks would often revolve around massive attractions, such as theme parks and zoos, and generally glance over cultural and ecological activities. The new open textbook, scheduled for unveiling at the upcoming Tourism Educators Conference (TEC) in May, is planning to provide a better look at the provincial opportunities in tourism and hospitality.
The new open textbook provides a thorough overview of the tourism and hospitality industry in B.C., and features sections on expected topics, including transportation, accommodation, and service marketing, but also dives deep into regional concerns, such as environmental stewardship and aboriginal tourism. This introductory textbook is another example of the BCcampus Open Textbook Project. Educators interested in using an open textbook in their class can find more information here.
"The opportunity to create and share this Introduction to Tourism and Hospitality open textbook, with contributions from industry experts and local professionals," said Lauri Aesoph, Manager of Open Education at BCcampus, "Will provide immense value to students throughout the province."
Tourism Educators conference
Featuring hundreds of tourism and hospitality educators interested in professional development and networking, the Tourism Educators Conference explores best practices, collaboration, and shared learning. The upcoming session will be the first time the Tourism Educators Conference and the Business Educators Conference meet together at the same time.
During this year's conference, May 6 – 8 at the College of the Rockies, Ms. Westcott and Ms. Aesoph will be presenting on the project management and organization components required for the creation of this open textbook. Additionally, Terry Hood, former GM of LinkBC, and Keith Henry, CEO of Aboriginal Tourism Association of B.C., will be presenting about their research and development for the Aboriginal tourism contribution to the textbook.
LinkBC
LinkBC is a membership-based organization, funded through membership fees, industry sponsorship and support, and an annual operating grant from Destination British Columbia
The goals of LinkBC are:
Support learners through the student lifecycle
Leverage and share members' knowledge and experience
Connect member programs to the industry
Sustain and manage the organization on behalf of stakeholders
Learn More