On June 6- 9, 2016, join us for the inaugural Festival of Learning, the teaching and learning event of the year where educators, leaders and professional staff will find a variety of opportunities to learn, laugh, create and collaborate with colleagues from across B.C. – extending well beyond one's existing networks.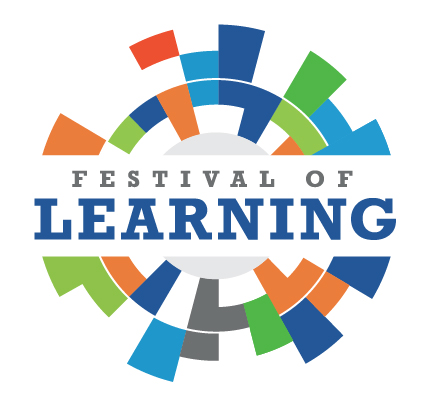 The Festival of Learning is a culmination of extraordinary annual events, existing groups, and communities from all the B.C. universities, colleges, and institutes. We are proud to bring this exciting four-day festival experience to you along with the British Columbia Teaching & Learning Council (BCTLC), Educational Technology Users Group (ETUG), British Columbia Teaching & Learning Network (BC-TLN), BCcampus Open Education/Open Textbook Summit, Symposium: Scholarly Teaching & Learning, Intensive: Scholarly Inquiry into Teaching & Learning Research Design, and BCcampus Professional Learning.
The Festival schedule
We have a number of high interest and exciting learning formats like intensives, studios, showcases and slams. The schedule is still emerging while the calls for proposals are open, but just to give you a sense of what to expect, there will be over 125 Open Education, Scholarly Inquiry into Teaching and Learning, and Educational Technology Users Group (ETUG) sessions, 10+ workshops, 20+ mini sessions, 4 Informal learning events (ongoing throughout Festival), and if that's not enough, there will also be nightly social events to give you time to network and connect. 
Registration is opening soon
Once registration is open, you will be able to register for one, two, three or all four days and create your own customized schedule of integrated learning experiences.
The Festival will be located at the Delta Burnaby Hotel & Conference Centre and at BCIT in Burnaby from June 6-9, 2016. Please be sure to book your accommodation today and take advantage of the special Festival rate.
Calls for Proposals
The Festival of Learning is currently welcoming calls for proposals under the following broad themes, with the deadline for proposal being March 21, 2016:
Festival of Learning website
The go-to place to find information about the Festival, the Festival of Learning website has up-to-date news, registration and more.
Join the conversation by using the event hashtag: #FoL16 
It takes a community
Bringing together an event of this size and magnitude could not be possible without the many folks who work tirelessly behind-the-scenes and although there are too many to name, we wanted to thank all of you for helping to bring the Festival of Learning to life.
Notable quote
"The Festival of Learning is an outstanding collaborative effort of all PSE institutions and core teaching and learning groups in B.C. working together to offer rich professional learning opportunities for supporting successful student learning." – Liesel Knaack, Director, Centre for Innovation and Excellence in Learning, Vancouver Island University (VIU)
Learn more:
---
Join us at an upcoming event:
---
---