When BCcampus generously offered me a faculty bursary to attend the Society for Teaching and Learning in Higher Education Conference (STLHE) in 2015, I leapt at the chance to be there.  It was my first STLHE conference, and I was getting full VIP access.  What I didn't know at the time was that my admittance into STLHE would play a pivotal role in a wished-for-but-not-completely-planned career transition from teaching to educational design.  It certainly wouldn't be overstating things here to say that STLHE was an initiation into my both my new department (who was also in attendance at STLHE) and my new work role at my institution, Vancouver Community College.
Post by Elle Ting, Instructional Associate, Centre for Instructional Development, Vancouver Community College, BCcampus STLHE bursary winner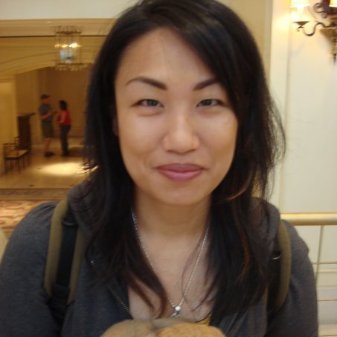 The STLHE event was marked by several happy coincidences, the first being Dr. Dee Fink's keynote presentation on high-impact learning.  A relative latecomer to Fink's ideas, I had become an enthusiastic fan of his work on significant learning:  at the time of the conference, I had also just written on significant learning experiences in preparation for my new role as an instructional associate.  So, upon learning that Fink would be speaking at the plenary session, I sent the following message to the leader of the CID (Centre for Instructional Development) team:
I'm all starstruck now because I just learned that L. Dee Fink, the significant learning expert…is going to be here in Vancouver at the STLHE conference in a couple of weeks.  I feel like I should be bringing a foam novelty mitt to this event or something!  'YASSSSSS!  Fink rocks!'
As it happened, the CID knew about STLHE and about Dr. Fink's talk because it would be at the conference, and it was at that moment that I understood STLHE would be the first opportunity to meet my new circle of colleagues.  This is why, for me, attending STLHE would be personally significant as well as professionally productive:  it was the initial face-to-face with the other instructional associates, a "first date" that would be the starting point for many subsequent conversations and project crossovers.
There's an old saying that déjà vu is simply the recognition that one is on the right path:  however trite, this is a description that works to explain the friendly familiarity I felt in the STLHE teaching and learning community despite never having been to one of its conferences before.  Another happy accident that came about as a result of this conference was the opportunity to reconnect with individuals who had made an important impression on me at some other point in my academic path:  for instance, I ran into one of the life-changing and life-saving instructors I had had in my first year of university over twenty years ago and whose Political Science 100 class helped me to reimagine my expectations of higher education.  I also found the former Acting Dean who helped guide me and my studies through those terrifying early semesters in what was then a brand-new program.  These are educators who steered my trajectory into post-secondary teaching, so seeing them at STLHE was an important affirmation of what I do and what I would like to do moving forward.
Of course, STLHE was also a venue for the new, and I became acquainted with many colleagues as well.  Again, though, it's funny that no one there was exactly a stranger:  over lunch on the second day, I chatted with an instructor from Toronto and another from Florida, and it was immediately obvious to me that we all shared the same enthusiasm for teaching and learning.  One comment that the Floridian instructor made that deeply resonated with me was how open everyone at STLHE was to sharing ideas and how rare that kind of openness was in the academic community.  This observation is both true and disheartening, and it makes clear the example that STLHE is setting for higher education.
On the topic of shared ideas, there were too many sessions to comment on in detail here, but one that stood out for me and sort of haunts my own day-to-day work (in a good way) was a talk given by Rajiv Jhangiani and Amanda Coolidge about open educational resources.  I had seen an earlier version of this presentation at an articulation committee meeting a month before, and I've seen related presentations since; in Rajiv and Amanda's talk that day, however, what inspired and unnerved me in roughly equal measure was the clear correlation drawn in education between cost and access, something that is so obvious and yet so often lacks attention.  I think that in such a discussion, the social justice piece that we collectively serve in higher education gets the focus it deserves.
It seems right to wrap up my brief post on the STLHE conference by noting the theme of the June 2015 meeting, "Tuning into Practice."  It's true that tunefulness remains the best way to describe what I felt and saw, a gathering of both experienced and novice practitioners that was less orchestra than jam session.  It was a safe place to experiment, share, and take away from, and I certainly met people there who have since become collaborators and friends, including BCcampus.  It's still too early to say whether I will be able to attend the 2016 conference in London, Ontario, but either way, I plan to follow STLHE and be attuned to its developments.
Professional Learning opportunity, provided by BCcampus
This is the first time BCcampus has offered a faculty bursary to STLHE and we had a strong response to this opportunity and were so pleased to support Tara Horkoff, JIBC, Elle Ting, VCC, and Amber Shaw, UBC Vantage College to the attend the 2015 STLHE Conference.
Join us for the Festival of Learning
Faculty bursaries are one of the many ways that BCcampus supports teaching and learning in British Columbia. From June 6 – 9, 2016, we are hosting the inaugural Festival of Learning to celebrate teaching and learning in higher education and there are a number of incredible ways that you can participate:
Learn more:
---
Join us at an upcoming event:
---
Stay informed with BCcampus by signing up for our newsletter, visiting our calendar and following @BCcampus on Twitter.
---