This week we are highlighting two BCcampus staff members who have quite different jobs on the surface, but their commonalities are part of some of the most important work we do – enable stakeholders.
This is the fourth installment in the staff highlight series, following in the footsteps of Denise Goudy, Director, BCcampus, the Professional Learning team, and the Open Education team.
We are really excited to share some of the projects that these two work on and how they spend their days collaborating with a vast array of communities throughout the province. BCcampus' Clint Lalonde and Michelle Glubke shared with us their biggest challenges, opportunities and what it's like sharing an office with each other.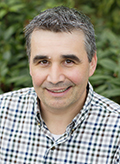 Clint Lalonde, Manager, Educational Technologies
I am still acclimatizing to my new role as Manager of Education Technologies after leading the B.C. Open Textbook Project for the past year. It's a different role as I am managing a number of smaller projects and different portfolios as opposed to one big project, but it is a role that sees me return to my roots as an educational technologist.
One of the big pieces of the portfolio is coordinating pilots of new educational technologies with the post-secondary system. At BCcampus, we emphasize and facilitate cross-institutional collaboration and the pilots will follow the same model as we work to bring together a number of institutions interested in a specific educational technology, test the technology, and then report back to the system what we have learned. An important outcome of the pilots is reporting to the system openly and transparently what we learn, both as the pilot progresses and at the end.
The privacy work I do focuses specifically on privacy issues related to educational technology. One of my first tasks will be to reinvigorate the post-secondary privacy working group, and reexamine some of past EdTech privacy reports and recommendations in light of the changing privacy landscape in British Columbia and Canada. BCcampus is playing a role in helping to facilitate conversations and devise concrete tools that those who work with post-secondary educational technology can use to better inform their work.
The B.C. Open Ed Tech Collaborative is a loose group of educators and technologist interested in exploring the unique role that open source software has in a teaching and learning context. BCcampus is involved with the group because it connects with our role as advocates for open education. The CapeTown Declaration of 2007 recognized open education as being more than just resources, but also includes open technologies and open education practices. This group is exploring the technology piece and how open technologies can enable different open pedagogies. My role is to participate in the activities of the collaborative and provide support and assistance where they may need it.
Some of the other projects I am working on include participating in the BC Kaltura Shared Service video project. Kaltura is a video hosting service that will be hosted in B.C. by UBC, with College of the Rockies, Langara, UFV, UNBC and Douglas College as the members of the shared service.  We are in an upgrade cycle right now, so I have been working to help coordinate the software upgrade as well as transition the procurement of the service to BCNET as per the recent collaboration agreement between BCcampus and BCNET. BCcampus is also a service provider for the collaborative and will be providing Tier 1 and 2 support for the institutions.
Biggest challenges
Getting up to speed on a diverse portfolio. I've been doing a lot of reading & attending conferences and workshops on topics like privacy. I've also been out of educational technology for a few years working on the open textbook project, and getting back into the EdTech world & what has changed in those years has been big challenging and exciting.
Biggest opportunities
Personally, getting to work with those who are interested in exploring emerging technologies. I am very interested to see what is going to happen in education with emerging technologies like 3D printing and virtual reality. I also think we are at an interesting time where we are starting to have deeper conversations about the role of technology in education and the wider socio-economics of educational technologies. There is a critical discourse emerging among educational technologists about not only the pedagogy of educational technology, but the values and beliefs that underpin the development of technologies, and that is a real opportunity to examine deeper questions about not only technology but the role of the entire post-secondary education system in our society.
On sharing an office with Michelle
I'm looking forward to it. Michelle has a role that is similar to mine in that it is a broad portfolio with many stakeholders, and from what I have seen she is brilliant at juggling and balancing all the needs of the groups she works with. I am looking forward to learning from her. And I think we're going to be great office mates as we have already agreed on major decorating decisions about what pictures to hang where. 🙂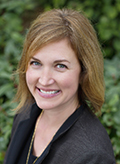 Michelle Glubke, Manager, Collaborative Services
Over the last year, my role has become more focused on leading collaborative projects. These projects are funded by the Ministry of Advanced Education, sometimes in collaboration with other Ministries and are designed and steered by stakeholders which often result in open educational resources and research in support of a larger goal or provincial strategy.  I am connected to the co-creation aspect of it, engaging large stakeholder groups in the identification of the need or challenge and in the creation of the solution. It is fascinating to lead this process, the projects are varied, and there is always a shared vision to create a quality experience or resource for learners. The role combines aspects of collaborative leadership, project management, and facilitation.
Here are a few of the projects that I work on:
Indigenization of Curriculum and Cultural Awareness training project (ICCAT) 
There are a few projects that stand out when I consider the practice of collaboration and relationship-building. Prior to coming to BCcampus, I worked for another organization which provided me the opportunity to work with NVIT over several years on a number of projects. The NVIT community taught me how to listen differently and why my work needs to resonate with me personally.  We cannot continue to work with historical systems and practices and expect different results. I know this project will teach us many things at BCcampus.
This project will support the development of open educational resources that will be accessible to faculty and staff at all post-secondary institutions so that they can be better prepared to meet the needs of Aboriginal students and communities, and to incorporate Aboriginal content, teaching methods, and other approaches of Indigenization into their educational practices. We are currently seeking a Consultant, Collaborative Services to lead this project at BCcampus.
Elder Abuse Reduction Resources
This project had a big impact on me. We were talking about the abuse of elders (seniors) on a regular basis and as you can imagine that's difficult. This project was one of my first with a large stakeholder group, including members from provincial ministries, agencies, post-secondary institutions, non-profit organizations, health authorizes and eventually organizations across Canada. For over a year, leaders in the field of elder abuse prevention, detection and response shared their expertise and time to create an open educational resource for instructors that could be used to support a cultural and attitudinal shift in our communities.
This resource has modules for instructor's that can be used in many classrooms across the health, social, financial, and legal sectors. Linking to a core competency profile for elder abuse prevention, detection and response, there are activities, assignments, online video links, readings and evaluation questions, as well as references to additional resources for some of the topic areas.
Early Years Professional Development Web Solution Project
Like the other projects, this project had a large stakeholder group from the Early Years sector. We led an environmental scan that engaged these stakeholders and the broader sector in the analysis of professional development opportunities and training provider business models. Through this open research, we saw themes that are familiar, building avenues for shared/sharing: communication, collaboration, culture, connectivity and continuous professional learning.
Our talented team at BCcampus built the web solution prototype based on stakeholder feedback and we look forward to learning more from the Provincial Office for the Early Years about how this professional development web solution will be developed and supported in the future.
Building Officials Association of British Columbia (BOABC) Quality Framework Project
Bringing together government, industry, training providers and learners – the first phases of this project connect stakeholders from across the Building Officials sector to identify challenges, address the new qualification designation in the Building Act, and inform next steps towards the collaborative development of an evidence-based education and training framework supported by BOABC for the system. Stay tuned to learn more about our findings from an environmental scan in the coming months.
Biggest challenges
When I can enable collaboration with members from the government, post-secondary institutions, agencies, community organizations and industry on one project, that's when things become both challenging and exciting. Collaborative projects take more time and can have an emergent nature, which means I am always looking to understand stakeholder assumptions, motivations and sector context in order to maintain forward momentum in the right direction.  When we are in the thick of it, I remind myself, and others, that we are all working to create something of quality for learners. That always brings the project back into focus.
Biggest opportunity
I am learning every day with a very talented and funny group of people who really like their jobs. At BCcampus, we embrace trying new things which I find very inspiring. I think the biggest opportunity with government-sponsored projects is to continue to practice collaboration and the co-creation of open resources that have a systemic purpose and impact.  I'm currently very engaged in refining our practices and incorporating more inclusive and creative processes.
Prior to becoming completely immersed in collaborative projects at BCcampus, I was engaged in researching and piloting innovative approaches to teaching and learning enabled by educational technology. I enjoyed an exploration of competency-based education, badging and adaptive learning technologies and look forward to learning about new technologies and approaches from Clint.
On sharing a space with Clint
Clint is a very grounding colleague and it's great to bounce ideas off of him. He's connected to communities, understands how to engage and consider the world of EdTech and also practices collaboration in his role. I know we will continue to have a great time learning from and supporting each other.
Want to find out more? Join a session at the Festival of Learning
The Festive of Learning takes place from June 6 – 9, 2016, register for 1, 2 3 or all 4 days.
Tuesday, June 7, 2016
Thursday, June 9, 2016
Learn more:
---
Join us at an upcoming event:
---
Stay informed with BCcampus by signing up for our newsletter, visiting our calendar and following @BCcampus on Twitter.
---