On October 6, 2016, BCcampus hosted the first provincial Open Education Strategy Forum in Vancouver, B.C. The event sought to engage representatives from provincial post-secondary education (PSE) institutions in meaningful and relevant conversations about how open educational policy can pave the way for the sustainable and innovative practice of open pedagogy.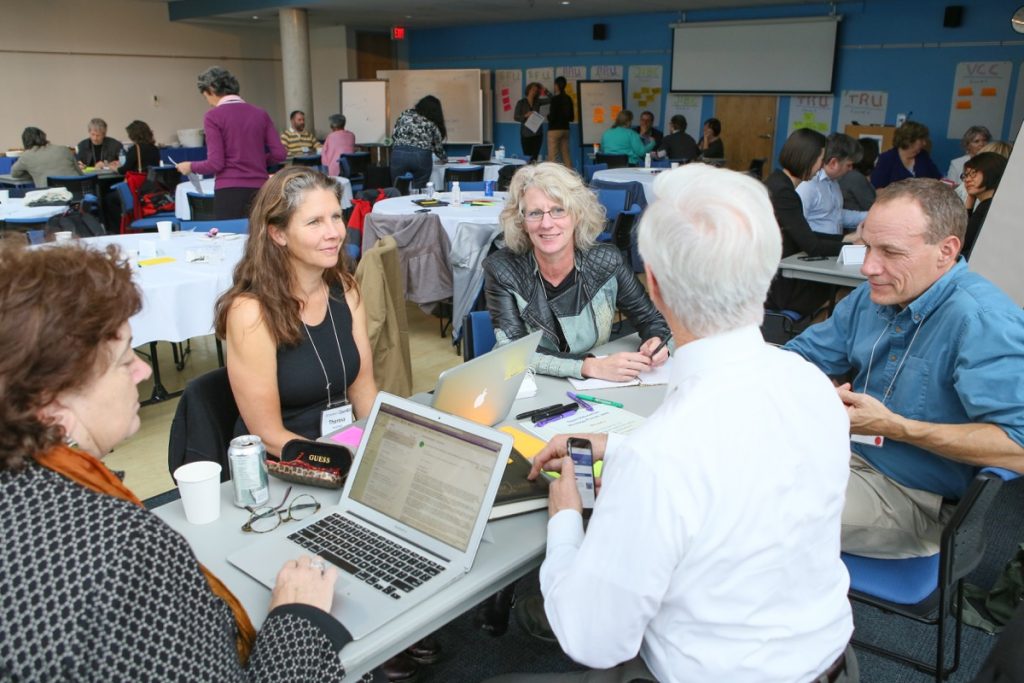 Back in the Summer, most PSE institutions in the province responded with great enthusiasm to the idea of BCcampus hosting a forum to discuss issues around policy and strategic direction for Open Education. On October 6, the first Open Education Strategy Forum engaged representatives from 17 PSE institutions as well as the active participation of two guests from SPARC:
BCIT
Camosun College
Douglas College
Emily Carr University of Art + Design
Justice Institute of BC
Kwantlen Polytechnic University
Langara College
North Island College
Royal Roads University
Selkirk College
Simon Fraser University
Thompson Rivers University
University of British Columbia
University of the Fraser Valley
University of Victoria
Vancouver Community College
Vancouver Island University
The Forum started with guest speaker Cable Green, Director of Open Education at Creative Commons, who set the stage with his inspirational talk about why Open Education policy matters. Cable also provided many examples and helpful resources to support B.C. institutions in moving forward with a more strategic approach to Open Education.
Mary Burgess, BCcampus' Executive Director, followed with a poignant presentation that highlighted the simplicity of aligning Open Education policy with existing institutional values, mission and vision. Mary included several examples of how to do this, using the institutional missions of a few of the participating institutions. At this time, the stage was set and the participants were eager to delve into the discussion.
In small groups with representation from a mix of PSE institutions, participants discussed strategies that could be put in place to move the conversation about Open Education forward in the B.C. educational context. Many great ideas came out of this discussion. More importantly, there was some agreement around the possibilities for collaborative work across institutions to implement some of these ideas!
In the afternoon the pace of work shifted a bit, to a more focused approach to addressing implementation issues, on an institutional basis. Participants worked in small groups organized by institution to explore two topics:
How can open educational practices align with the institutional strategic direction
The barriers that exist at each institution when it comes to creating Open Education policy
As the groups shared their ideas, everybody learned from each other and got a few ideas for strategies that could be put into place at their own institutions. All these great ideas will be placed in the Forum report to come out soon, so stay tuned!
Guest speaker Daniel DeMarte, Vice President for Academic Affairs & Chief Academic Officer at Tidewater Community College, who worked with our own Amanda Coolidge to develop the OER Policy Development Tool, closed the day with a great reminder that there's no advantage to re-inventing the wheel when it comes to policy development. Daniel shared policy examples from Tidewater Community College and encourage everyone to use the OER Policy Development Tool to generate their own institutional policies with just a few mouse clicks.
After an inspirational and purposeful day of discussions about Open Education, we all left with a sense that while there's much to be done, together, through collaboration and the support of BCcampus, we don't have to move mountains… we have the tools to scale them to get to the top!
Want to see more?
Check out these great images from the 2016 Open Educations Strategy Forum