The provincial Kaltura Shared Service is expanding from 5 to 8 institutions as the project moves out of the pilot phase.
Vancouver Island University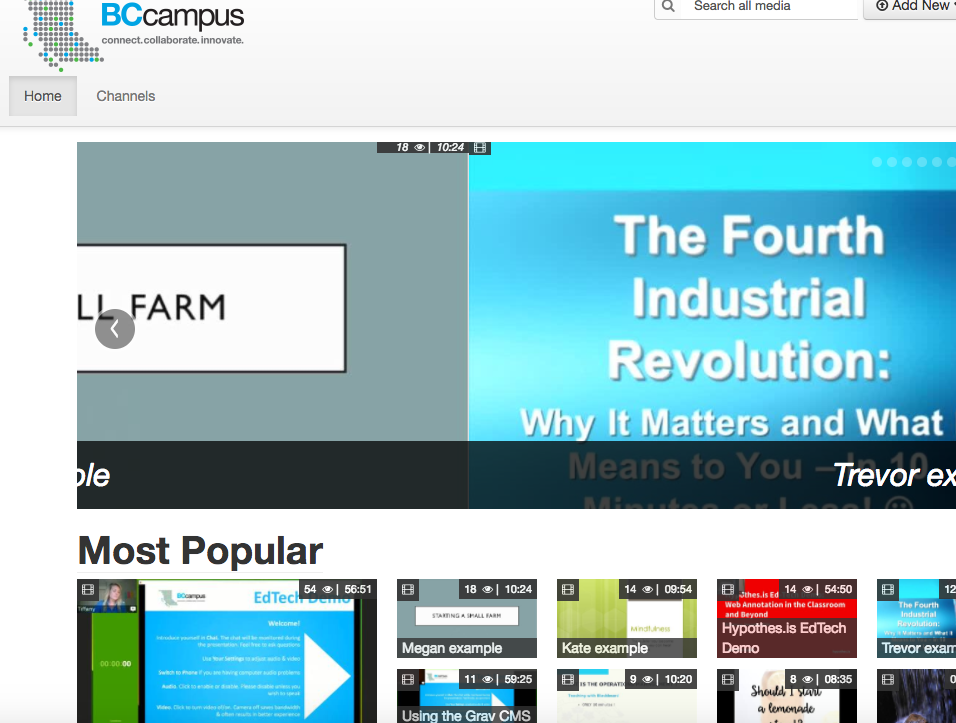 , Emily Carr University, and Kwantlen Polytechnic University join existing Kaltura Shared Service institutions Langara College, University of Northern British Columbia Douglas College, University of the Fraser Valley, and College of the Rockies in the Kaltura Shared Service as the service officially comes out of the pilot phase and launches as a BCNET Shared Service.
What is Kaltura?
Kaltura Shared Service (KSS) is a media repository and streaming media platform that allows institutions to manage their digital media assets. With tight integration with Learning Management Systems (LMS), Kaltura allows students, staff and faculty to upload and view audio and video materials from within the LMS. KSS institutions also have access to MediaSpace, a Kaltura tool that allows institutions to create a YouTube-like video site.
From pilot to operations
BCcampus led a multi-year, multi-institutional pilot project that began in 2012. In 2016, BCcampus worked to transition the shared service out of pilot and into production with our provincial service partners, BCNET. While governance and procurement is now handled by BCNET as a BCNET Shared Service, BCcampus remains involved with the Shared Service as both a user of the video service, and by providing support to the institutional members of the Shared Service. Additionally, BCcampus stewards the Kaltura Community of Practice, where institutions connect and collaborate on developing best pedagogical practices on using video in learning and teaching.
A three-way partnership
While BCNET and BCcampus are involved in the administration of the Shared Service, there is a third partner who plays an important role in providing the Shared Service in B.C., The University of British Columbia (UBC). UBC provides the technical infrastructure and project management support to maintain locally hosted application servers necessary to maintain FIPPA compliance.
Notable quotes:
"The Kaltura Shared Service is an excellent example of the kind of value that a successful collaboration between BCNET and BCcampus can bring to the BC post-secondary system." – Clint Lalonde, Manager, Education Technology, BCcampus
"The increase in cost savings as adoption of the Kaltura Shared Service grows is a leading factor that contributes to its success." – Soha Moosavi, Business Analyst, Shared Systems and Technology, BCNET
"The complexity and cost of running a FIPPA compliant enterprise video platform is not always feasible for institutions. The Kaltura Shared Service enables its members to avail of a video streaming service without the financial burden of providing in-house technical resources." – Jordi Hernandez, Business Analyst II, Learning Applications, UBC IT.
Learn more:
---
Join us at an upcoming event:
---
To stay informed with BCcampus by signing up for our newsletter, visiting our calendar and following @BCcampus on Twitter.
---