In a post-secondary system as dynamic and diverse as British Columbia's, we have many opportunities to learn from each other. It is within this context that BCcampus operates. Our organization works hard to build collaborative relationships with post-secondary partners province-wide and to bring them together to learn.
Post by Mary Burgess, Executive Director, BCcampus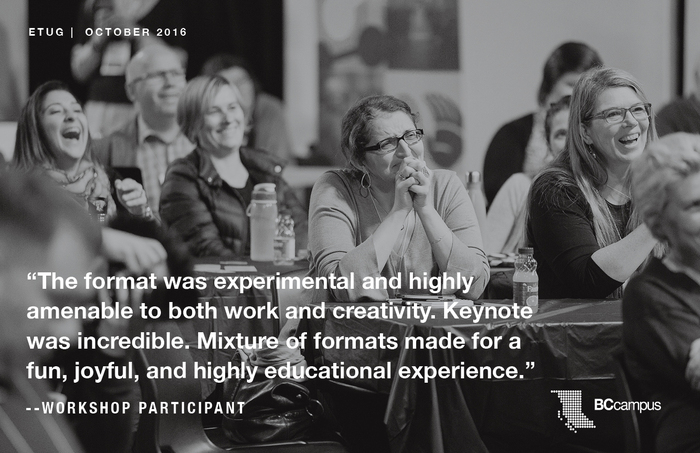 In 2016, we saw more B.C. faculty and instructors than ever participate in learning how to make their teaching practices more effective. In June, BCcampus hosted the inaugural Festival of Learning. This event demonstrated how eager our educators are to explore new methods to help students learn. Whether it's the use of educational technologies, new pedagogies, impactful instructional design, or open education practices, they are learning, sharing, and collaborating, making our post-secondary system stronger.
In June, the Ministry of Advanced Education also initiated a project to ensure that our Indigenous peoples' histories and epistemologies are well represented and respected in our post-secondary learning environments. This project is just one example of our role as a system-wide convener— a priority for BCcampus. Our goal is to connect experts with each other and those across the system to improve access to meaningful, flexible, and personalized learning for B.C. students. The adoption of open educational practices in B.C. institutions has positioned our post-secondary system as a global leader. These positive systemic changes enable more access to better learning environments and demonstrate the drive and passion of B.C. educators. BCcampus is proud to support them.
This review highlights all of the wonderful accomplishments we've achieved collectively throughout the year, but also shows a few things we have up our sleeves for 2017/18. So… without further ado, we bring you the BCcampus 2016/17 Annual Review (pdf).
Learn more:
---
Join us at an upcoming event:
---
To stay informed with BCcampus by signing up for our newsletter, visiting our calendar and following @BCcampus on Twitter.