As mentioned in the welcome back post last week, we will be making a few changes to the BCcampus website, such as modifying the look and feel so that our users have the best experience navigating our site(s). Also included in this update, is a consolidation of our blogs which have just started to transform as of this September.
Post by Erin Beattie, Digital Media Strategist, BCcampus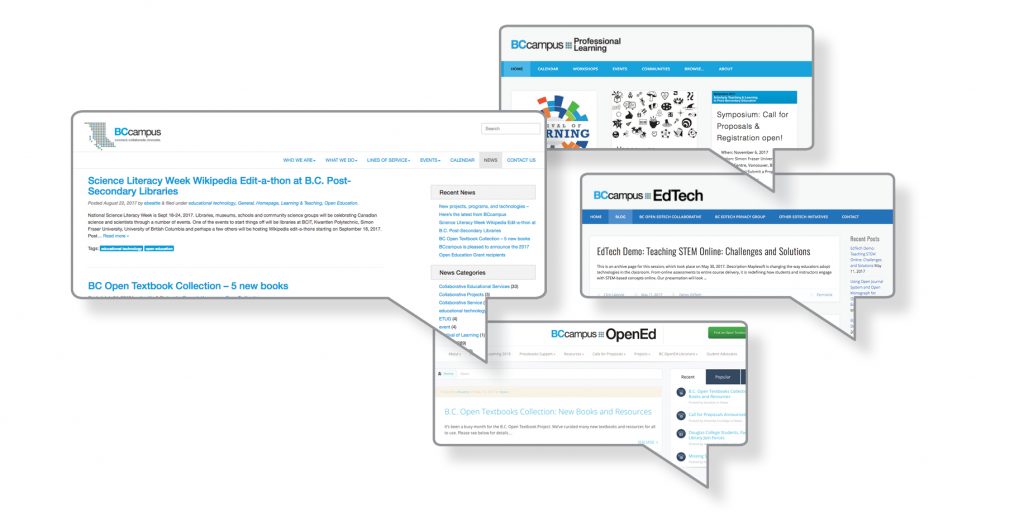 Consolidation of websites and new blog content, starting Sept. 2017
The BCcampus website consolidation plan has been moving along since last year. Starting this fall, we will be streamlining our users' web experience to better align our news with our strategy and goals. The EdTech and Professional Learning/Learning and Teaching websites and blog content will be consolidated into BCcampus.ca, whereas the OpenEd site will remain separate, as a subdomain.
Starting this September, all BCcampus-inspired news items and blog content will be published on the BCcampus site to create a one-stop-shop for our readers. This means that with all of this new content we will be increasing our publishing of articles from one day a week to two and as such we will also be increasing the publication schedule of our newsletter from every three weeks to every two weeks.
Publishing and archiving
We will also begin the process of consolidating all blog content from EdTech, Professional Learning/Learning and Teaching and OpenEd into the BCcampus news blog, meaning that all new blog content will be published on BCcampus.ca. Once this process is well underway, we will then transfer all published blog posts from EdTech, OpenEd, and ProfLearn over to BCcampus to create one central location for all our editorial content. We will update our categories, tagging, etc. so all our editorial content is easily searchable for our audiences.
Timeline and future updates
The second phase of this consolidation will include the amalgamation of the EdTech and Professional Learning/Learning and Teaching websites into BCcampus.ca by the end of 2017. OpenEd will remain its own separate website, which will continue to house open educational resources and the BC Open Textbook collection.
Also, by the end of 2017 or early in 2018, the BCcampus website will undergo a theme update to increase usability and enhance the look and feel.
---
Join us at an upcoming event:
---
To stay informed with BCcampus by signing up for our newsletter, visiting our calendar and following @BCcampus on Twitter.