Introduction by Mary Burgess, Executive Director, BCcampus

Last fall, Leva Lee of BCcampus and Steven Bishop of Douglas College wrote the article below about a workshop facilitated by Ross Laird, a Vancouver-based author and consultant. The relevancy of this conversation can't be overstated. We need to be thinking of students as whole people, not identical empty vessels to be filled with content. As we work together as a system on projects that change our thinking about what creates the most welcoming and impactful learning environments, keeping the ideas that came from this workshop in mind will serve us well.
In November 2016, we had a great opportunity to participate in a two-part workshop "Storming the Ivory Tower" hosted by the ATS team at Douglas College and facilitated by Ross Laird. With an eclectic background as a writer, counselor, technologist and craftsman, Ross, who has also been a facilitator for ETUG, was certain to get us to think creatively about approaches to the challenges we face in post-secondary and how we can move forward practically and purposefully towards positive change.
Contributed by Leva Lee, BCcampus and Steven Bishop, Douglas College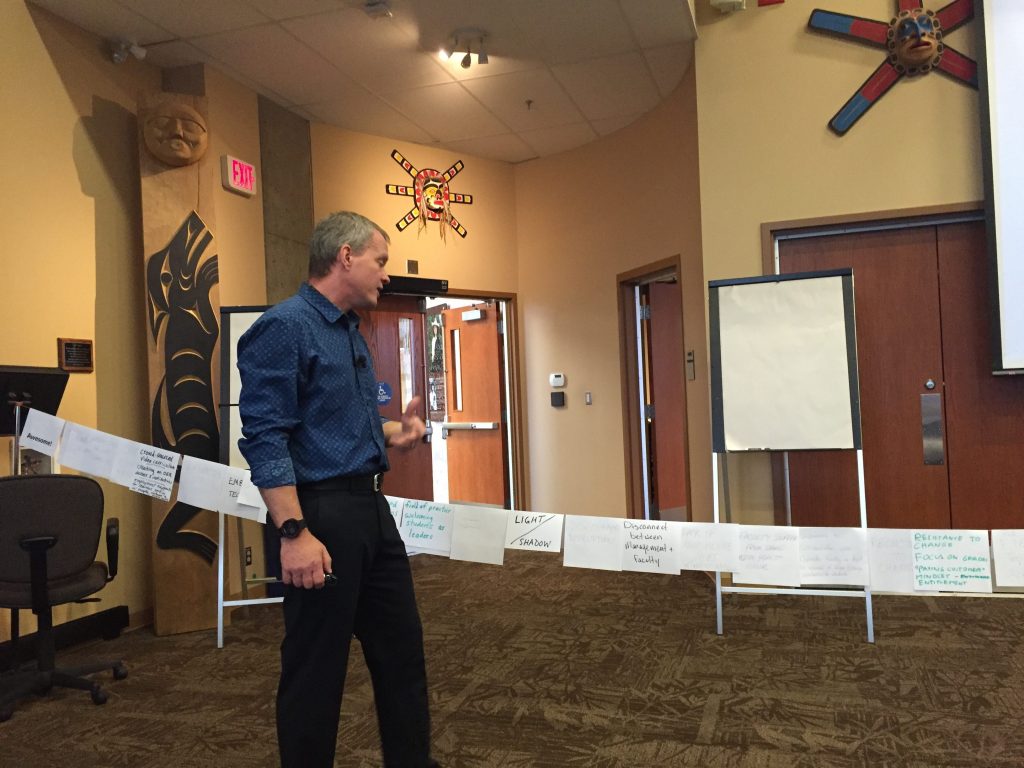 It was a dark and stormy Halloween morning when I arrived at the college. Ross set the scene by acknowledging that this day, when it is said the spirit and human worlds co-mingle, was well suited for us to talk about transformation and the current landscape of extreme turbulence in post-secondary.
The theme of "light and shadow" was reoccurring in the workshop. For our first group activity, we identified the things in our work we felt were positive, innovative, meaningful. Then we identified things that we felt were dysfunctional. We uncovered that many of us are doing great things that engage us and our students, but struggled against barriers to do our best work. We really needed to leverage what we are already doing that is good: endeavours that are learner-led, collaborative, open and crowd-sourced.
A key problem for us is that we have moved away from educating the whole person and preparing the student for life. We don't acknowledge the importance of the emotional or inner life. As well, encroaching upon us is tech addiction, mental illness and the personal development of our learners.
Though our education system is fractured and many of us feeling disconnected and overwhelmed, Ross suggests to move things in a positive direction, to transform post-secondary, we must start with ourselves. Ross concluded with a discussion of ten practical steps towards bridging the gap between what we want to do, and the barriers we encounter in post-secondary education. They are all cultivated towards the notion of how do we develop the whole person in education.
For educators:
Creating emotional safety
Development of self-awareness
Empathy
Character development
Facilitation skills
Mentorship
For students:
Emotional safety
Self-awareness development
Empathy
Character
Ross Laird gave all who attended much to think about, including the following:
the need to create transformative experiences for students;
the need to give educators an opportunity to learn facilitation skills;
the need to change to a more facilitative mode of instruction; and
the commitment to help develop well-rounded, self-aware, and empathic students and faculty of character.
We met again at Douglas College on November 4, 2016, for a follow-up session. Now the next action is for interested participants to gather for a third time to work on the 10 practical steps and how we can share and support each other. Watch for future posts on how things develop.
Learn more:
---
Join us at an upcoming event:
---
To stay informed with BCcampus by signing up for our newsletter, visiting our calendar and following @BCcampus on Twitter.
---