Welcome back! We're not sure if it's just us, or did the summer feel like it flew by for you too? Well, in any event, it's September which means that campuses throughout British Columbia are bursting with new and returning students, eager to start the term off strong. As always, we have lots of amazing events, workshops and demos planned to help bring you the newest technologies, techniques, and tools to help you further create powerful learning opportunities for the students of B.C.
Post by Erin Beattie, Digital Media Strategist, BCcampus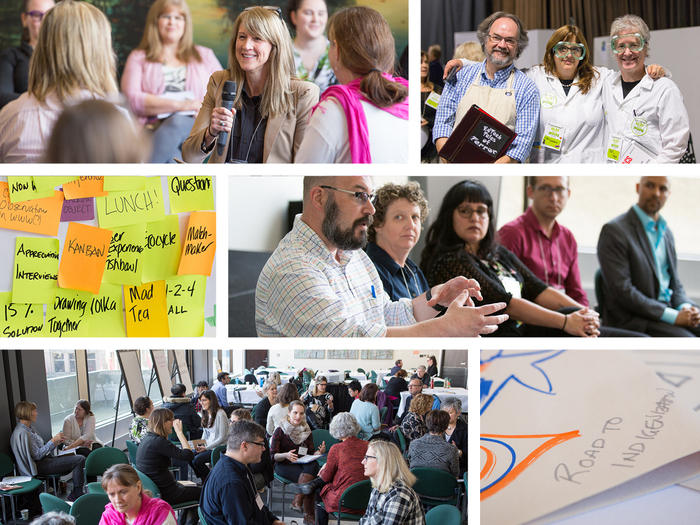 Each of our core services has something new and unique up their sleeves for the fall, but here's a quick taste to pique your interests:
Collaborative Projects
The Provincial Practical Nursing (PN) program curriculum guide revision and Provincial Access to Practical Nursing (APN) program curriculum guide revision has been taking place this last year and revised drafts of these curriculum guides will be shared with stakeholder groups for feedback in Fall 2017. Stay tuned on our BCcampus blog for an article about this in October 2017.
Content creation for the Indigenization project's open professional learning modules will begin in the Fall and we look forward to working with faculty, curriculum developers, and other subject-matter-experts from the B.C. post-secondary education system who will be working on this project.
The Early Years Professional Development Project (EYPD) at earlyyears.bc.ca is entering its second year of research and development with new features for learners including myEYPD – a professional profile page that allows registered users to record attended training events and to calculate accumulated professional development hours over time.
The Early Childhood Education Entry-to Practice Provincial Guiding Documents Steering Committee will be re-engaged in the Fall to plan the next steps for this project.
EdTech
The EdTech demonstration series will continue this fall, with the first one kicking off with Lumen Learning demonstrating Waymaker at 11am PDT on September 28. Sign up to be notified when registration opens.
Save the date for the ETUG Fall Workshop – October 27, 2017, at Vancouver Community College in Vancouver, B.C. The theme for the workshop will be Digital Literacies & the role of higher education in a post-truth society.
Learning + Teaching
We are excited to bring you new and returning courses and events that are sure to capture your interest and encourage learning in fun and creative ways.
Join us for two new FLO (Facilitating Learning Online) workshops this fall! FLO – Design and FLO – Synchronous, and stay tuned for our Designing Learning Online pilot coming soon. Check out the whole FLO Family of courses and find out how to adopt FLO at your institution!
Registration is well-underway for Symposium 2017: Scholarly Teaching & Learning in Post-Secondary Education, to be held on Nov. 6, 2017, at Simon Fraser University – Harbour Centre, Vancouver, B.C., Canada. We are thrilled to announce keynote speaker, Nancy Chick!
We're also incredibly pleased to announce that the 2018 Festival of Learning will take place May 28-30, 2018 in downtown Vancouver, B.C.
Finally, there are a few more brand new projects and initiatives underway which will be announced in greater detail in the coming weeks. In the meantime, here are some hints at what we're working on…
A Scholarly Teaching Fellows program designed to support faculty to bring their skills as scholars and researchers to their work as facilitators of learning

An open, online book club based on the book,

How Learning Works

A central online resource to find all learning opportunities about teaching and learning in B.C.
Marketing and Communications
There are some exciting changes coming up on the BCcampus website which includes a consolidation of the blogs from the Professional Learning, EdTech and OpenEd websites. Additionally, the content from the Professional Learning and EdTech websites will be amalgamated into the main, BCcampus corporate site by Jan. 31, 2018. We will be updating the BCcampus website with a new look. Stay tuned!
We are always adding our new events (BCcampus hosted events) and calendar sections (BCcampus hosted, partnered and external events), so please be sure to check back often. Or, better yet, to keep up-to-date on the latest events, news, opportunities by signing up for our newsletter.
Open Education
Nearing its 5th anniversary (more on this in October), The BC Open Textbook Project has reached a milestone of over $4 million in student savings. In addition, there are now over 190 open textbooks in the collection. Be sure to search for your subject area in the library.
We announced the newest Zed Cred grants! Congratulations to the successful applicants for the first Zed Cred program in both British Columbia and in Canada. Development of the programs begin this fall, stay up to date with the progress by following the BCcampus blog.
Kwantlen Polytechnic University – Certificate in Arts
Thompson Rivers University – Certificate in General Studies
The Justice Institute of British Columbia – Law Enforcement Studies Diploma
In addition to the Zed Cred grants, we accepted more OER projects through the Hewlett and Ministry of Advanced Education Grants. Congratulations to all recipients.
The Open Education team welcomed two new Open Education Advisors to the BCcampus this summer, Rajiv Jhangiani (KPU) and Lucas Wright (UBC).
September 18-25, 2017 is National Science Literacy Week. Libraries and other organizations will be highlighting Canadian Science and Scientists with a variety of events. In BC, in partnership between academic libraries and BCcampus, librarians and other educators are partnering on a Wikipedia Edit-a-thon. On Monday, Sept 18th – you can learn how to edit and join other editors at any of the following libraries: BCIT Library, Douglas College Library, Kwantlen Polytechnic University Library, SFU Library, Woodward Library and Koerner Library at UBC and more! Join the conversation by Twitter #scilit17 and #bc.
Interested in learning more about Pressbooks? Join us for an Introduction to Pressbooks on Tuesday, October 3, 2017, 10-11am PDT and/or the Intermediate 2: Layout and styling tips on Pressbooks, October 3, 2017, 11am-12pm PDT. Register here!
As you can see, we have many activities going on this year and we encourage you to connect and join us for as many as you can.
Notable quote:
"There is really exciting stuff happening in the world of education. Advances in teaching techniques, how technology can be used, and ways of collaborating with students are just a few of the topics we are digging into. I can't wait to see all the creative thinking that comes out of B.C. educators this year!" – Mary Burgess, Executive Director, BCcampus
Learn more:
Want to find out more? Check out some the archives from previous events, demos, and workshops held between September 2016-2017:
Flickr images:
Videos from Kaltura:
EdTech Demos:
Open Textbook Summit | May 24-25, 2017
---
Join us at an upcoming event:
---
To stay informed with BCcampus by signing up for our newsletter, visiting our calendar and following @BCcampus on Twitter.