On September 18, 2017, as part of Wikipedia Edit-a-thons with the goal of giving faculty, students and staff practical experiencing editing and improving Wikipedia by contributing to articles about Canadian scientists. The event is an example of how institutions can work together to teach digital literacy and improve the Internet.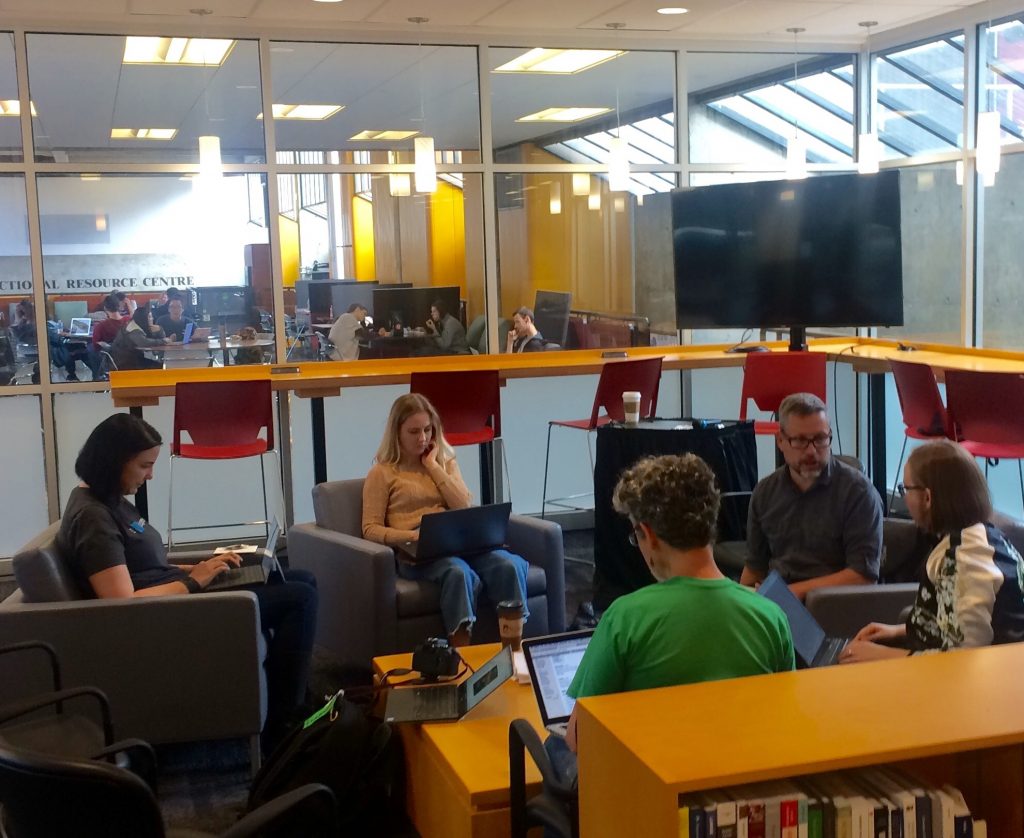 Post by Lucas Wright, Advisor, Open Education, BCcampus
This is the second Wikipedia Edit-a-thon focused on Science Literacy held in the province. Katherine Miller, Reference Librarian Woodward Library at the University of British Columbia was the key organizer of the event this year. She collaborated with librarians at Simon Fraser University (SFU), the University of British Columbia (UBC), Douglas College, the British Columbia Institute of Technology (BCIT) and Kwantlen Polytechnic University (KPU) to host meetups and promote editing Wikipedia as part of National Science Literacy Week from Sept 18-24, 2017. Each institution approached the edit-a-thon in different ways, at UBC, Douglas College, and KPU – the organizers held a 2-hour session that guided participants through the process of editing Wikipedia, while at BCIT the organizers set up a table in a common area and encouraged participation throughout the week.
Each of the participating institutions collaborated online using a Wikipedia dashboard that provided a space to communicate, share and recorded the activity from each participating institution.
Looking at the numbers, you quickly begin to realize the impact that an inter-institutional initiative can make to Wikipedia. Here is a snapshot of the activity:
5 participating institutions
30 editors
40 articles edited
127 edits
2,500 words added
For the Edit-a-thon, participants could choose which articles to edit, but were given a list of stubs about female Canadian scientists that needed editing or needed to be added to Wikipedia. The articles edited included topics ranging from female scientists to citizen science to human cloning.
Why Edit-a-thons matter
Wikipedia Edit-a-thons are a great way to help faculty, students and staff learn skills about how to write, cite and edit Wikipedia. They also help participants develop and practice digital literacy skills such as revision, evaluate, contribute, code (markup) and open practice.
As I looked through the Wikipedia stubs about female scientists what struck me was the lack of developed articles in this area. Wikipedia has become the go-to source for many for finding information yet it has significant biases. Wikipedia editors are still primarily white males. There are fewer articles about women and these articles tend to focus only on the more notable women. Similar bias can be found in terms of race, and language in Wikipedia. Wikipedia Edit-a-thons can not only improve our digital literacy they can help us to work together to bring in new editors and to fill these gaps, ultimately making the Internet more inclusive and equitable.  Other Wikipedia Edit-a-thons include the annual Art and Feminism Edit-a-thon which last year wrote 6,500 more women into art history, Human Rights defenders Edit-a-thons, and the upcoming World Soil Day Edit-a-thon and meet up that will be held at UBC on December 5, 2017.
This Wikipedia Edit-a-thon is an example of how those who work in higher education can connect, learn and contribute to our knowledge and understanding of the world.
Learn more:
---
Join us at an upcoming event:
---
To stay informed with BCcampus by signing up for our newsletter, visiting our calendar and following @BCcampus on Twitter.