Disneyland was a tantalizing few miles away from the 14th annual Open Education conference at the Hyatt Regency in Anaheim, California. Yet visiting the Magic Kingdom seemed to be the last thing on most attendees' minds. Instead, they immersed themselves in this year's program of sharing, gratitude, and hope.
Post by Lauri Aesoph, Manager, Open Education

At last year's conference, I noticed how old and new attendees were interacting. This year, I was struck by the depth of knowledge and experiences shared by presenters and colleagues from K-12 to post-secondary. Research, surveys, and empirical observations were aplenty and probed into unexplored areas such as evaluating open textbook reviews and how this data might guide future authors. Schools provided detailed reports on what has and has not worked in open education. Other sessions drilled down into the nitty-gritty of how OER impacts different disciplines.
It's all about the students
The most touching and heartfelt presentations, though, were from and about students starting with a welcome from Dr. Raul  Rodriguez, Chancellor of the Rancho Santiago Community College District. He described how low-income students enrolled at Santa Ana College, a short 15-minute car ride from the hotel, struggled to pay for school. A panel of students later told their stories. One single mother said reading an open textbook on her phone saved money (for car payments) and time which helped her keep up with schoolwork while caring for her children. A full-time student and stay-at-home dad explained that his family was living on one income and that free open textbooks allowed him to take a full course load and graduate on time. One young woman, who altered her plans to attend university when her father lost his job three years ago when she graduated from high school, said community college was her only option. When asked to summarize her thoughts on OER, she smiled and said: "Shout about it from the rooftop".
Ryan Merkley, Creative Commons' CEO and keynote speaker on the first day, spoke of the global breadth of his organization's work and the discomfort felt when a movement, such as open education, shifts from that of niche to mainstream. Look deep inside, he suggested, and ask "What if we win?" "What do we do now?" and "Are we ready?" He challenged us to cross the lines of difference in order to have meaningful and deep conversations with those we might not agree with. David Bollier, activist and author, brought these deep questions full circle with his wrap-up speech, urging us to take intentional steps toward stewarding the Commons where open resources reside.
Who's taking the plunge
People who have been swimming in the deep end of the open education pool for a while, like Sarah Hansen, Project Manager of MIT's OpenCourseWare Educator, said during her presentation that since 2001, 66% of the approximately 1,000 instructors at the Massachusetts Institute of Technology have contributed open teaching materials to their OpenCourseWare (OCW). To help faculty navigate this rich collection, in 2013 OCW Educator was created. To learn how instructors use these resources, Instructor Insights was included. Sarah outlined how she encourages faculty to open up about their experiences and insights using tactics like "time your request" and "expect and plan for chaos". Last, but not least, she said, show gratitude with an old-fashioned thank you card.
Over at Central Lakes College (CLC) in Brainerd, Minnesota, a relative newcomer, Karen Pikula, dove head first into open education after her introduction three years ago. She developed and delivers a 10-week Learning Circles program at CLC where faculty and staff from various disciplines and departments meet to learn how to practice OER review, adoption, course design, and authoring. Using the results from her PhD dissertation on novice learners, Karen makes sure Learning Circles participants have a mentor, create a work plan and journal for future reference, collaborate with fellow participants, and have time to think about what they've learned. This program has been so successful that Karen was recently selected as Minnesota's OER Coordinator and will lead a rollout of this training program to all colleges and universities in the state.
North America and beyond
Research on open education is piling up and Julian Prior, Ed Tech Advisor from Langara College in Vancouver, is contributing. When Langara's copyright librarian, Lindsay Tripp, noticed a dramatic spike in international student requests for reserved materials, including open textbooks, she and Julian decided to survey this group to learn why. While cost is certainly a factor, preliminary results show that many international students have given much thought to open textbooks and their education; they are not passive learners. When asked to define academic success, for example, these students said that community involvement and developing critical skills ranked up there with grades.
For Arizona State University (ASU), international students are those living in developing countries where OER is not so open. In their discussion on contributing to a healthier and more informed global society, Anali Perry, Bethany Weigele, and Lorrie McAllister described barriers to students and their teachers in sub-Saharan Africa where internet and electricity are expensive, unreliable, or absent. One of their solutions is Baobab, a social networking and learning content platform designed so local teachers can add and revise educational materials that reflect their community's culture and needs. In addition to this MasterCard Foundation Scholars Program – ASU is involved in several global education initiatives – is the SolarSPELL project. Dr. Laura Hosman described and demonstrated how this portable, solar-powered digital library has delivered OER to people in Micronesia, Samoa, Vanuatu, and Tonga with help from students and the U.S. Peace Corps.
What's next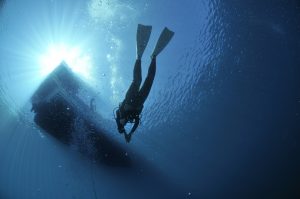 Sharing, gratitude, and hope were certainly recurring themes at this year's gathering along with equity, diversity, and inclusion. But it was the emerging depth of the conversations and presentations that stood out for me. During the upcoming year, I expect many of my colleagues will continue to submerge themselves in the open sea to hunt for more of these treasures. And, hopefully, many will share their discoveries – and profound thoughts – at OpenEd18.
Learn more:
---
Join us at an upcoming event:
---
To stay informed with BCcampus by signing up for our newsletter, visiting our calendar and following @BCcampus on Twitter.