It was in 2012, at the annual Open Education conference that we announced the creation of the B.C. Open Textbook Collection. Five years later, we have just returned from this year's Open Education conference in Anaheim, California, and are celebrating the 5th anniversary of the Collection – let's take a moment to reflect on how far we've come over the years.
Post by BCcampus' editorial team

Beginning in 2012, the B.C. Open Textbook's began with a grant from the Ministry of Advanced Education, Skills and Training for BCcampus to create free, or reduced cost, textbooks in the top 40 first and second-year subject areas for post-secondary students. The B.C. Open Textbooks were designed, "to increase access and reduce student debt," said Amanda Coolidge, Senior Manager, Open Education – by making textbooks free and easily adapted online, the reduction in costs to students is substantial. "Textbook costs are triple the rate of inflation," said Amanda, "and the consumer, in this case, the student, does not have a choice in the market."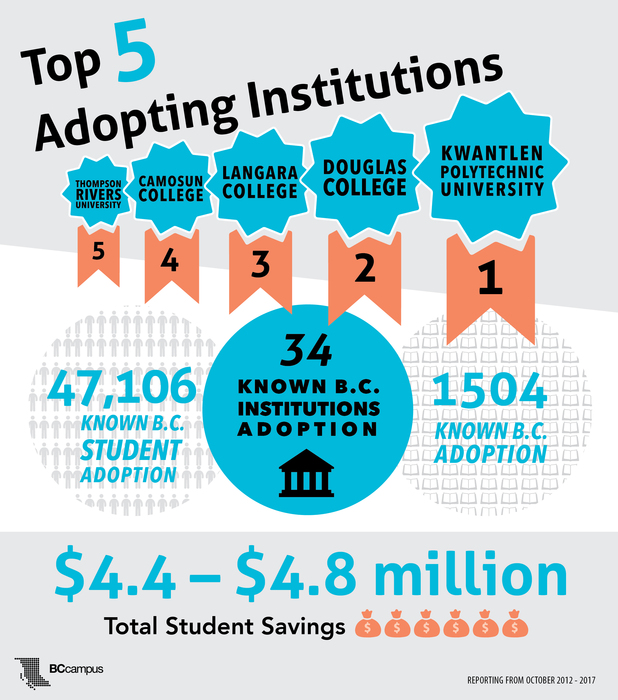 In 2015, we received funding from The Hewlett Foundation (thank you!), which gave us the ability to provide further open education materials and support to post-secondary institutions in B.C. Now, in its fifth year, there are over 220 open textbooks in the collection which are being used locally, nationally and internationally – saving students money on a global scale.
In B.C., "we saved students between $1.9 and $2.5 million in 2016," said Amanda and to date, the B.C. Open Textbooks have saved students upwards of $4.7 million dollars. We're really proud of that!
Momentum is growing and the profile of B.C Open Textbook Collection continues to rise as students are demanding solutions to increasing textbook prices.  Rajiv Jhangiani, University Teaching Fellow in Open Studies and a Psychology professor, Kwantlen Polytechnic University (KPU), first learned about the B.C. Open Textbook collection for his own students and is now expanding the scope and scale of educational resources available online through open source materials by working with BCcampus as an Advisor, Open Education on a secondment from KPU. "Advocacy for open textbooks is very interesting," said Rajiv. "People largely don't know about OER so when they do learn about them, it's a game changer" and, in Canada, BCcampus continues to champion this movement. Rajiv adds, "we are in the process of building what will be one of Canada's first entire degree programs with zero textbook costs."
In just five short years, the B.C. Open Textbook Collection through the work of BCcampus has carved itself out as a leader, but this truly is a group effort with a global reach – stretching well beyond BCcampus – and we must credit the open education community who continue to challenge, support, promote and collaborate with us, because, after all, like Nate Angell, Marketing Director, Hypothes.is, states, "We are [all] working together to make fundamental changes in the way knowledge is created and shared."
Notable quotes:
"The more we create awareness, the more we get backing from faculty, administrators and create a culture and a greater chance of moving forward."- Shifrah Gadamsetti, president of the students association at Mount Royal University (MRU) and the chair of the Canadian Alliance of Student Associations
"B.C. has been leading the way in many ways over the years." – Cordelia Snowdon, Vice-President Academic of the student's association, Mount Royal University (MRU)
"BCcampus has been able to do really quite a lot, with remarkably little and by extension, supporting the rest of the country." – Rajiv Jhangiani, Advisor, Open Education, BCcampus 
Learn more:
---
Join us at an upcoming event: