"Relevant, interactive, rejuvenating, and affirming" – just a few of the terms used to describe the recent Symposium 2017 in Vancouver, B.C. The day featured fabulous food at an inspiring venue, brilliant presenters, attentive participants, and a palpable feeling of camaraderie, inclusion, and a shared interest in exploring the continuum of scholarly teaching and the scholarship of teaching and learning.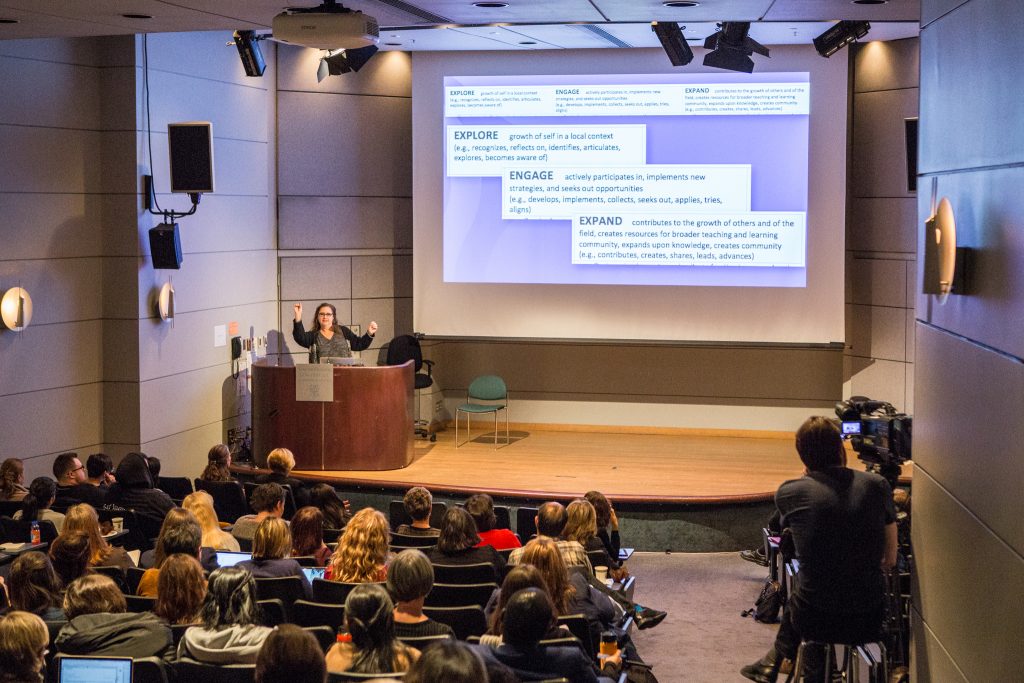 Post by BCcampus' editorial team
The most recent iteration of the Symposium was held on November 6, 2017, at Simon Fraser University – Harbour Centre in Vancouver. The one-day event, co-sponsored by BCcampus and the British Columbia Teaching and Learning Council (BCTLC), focused on Scholarly Teaching and Learning in post-secondary education in British Columbia, and was well-attended by faculty, instructors, and education professionals throughout the province.
"We're grateful for the hard work of the BCTLC co-chairs, Maureen Wideman and Theresa Southam, for their contribution to the development and success of Symposium 2017," shared Tracy Kelly, Senior Manager, BCcampus Learning and Teaching.
"For BCTLC, we found the presentations first-rate. As the proposals came forward, you could see knowledge clusters indicating the concerns of post-secondary institutions in the province. We pay attention to this insight to provide resources where they can be best used," said Maureen Wideman, Director of Teaching and Learning at the University of the Fraser Valley and BCTLC co-chair. "This understanding provides the foundation for more conversations as we move forward."
Reflection and analysis
One of the experiments we conducted this year was the elimination of printed schedules. We asked the attendees to use other options, such as printing the program themselves or accessing Sched.com via their favourite communication device to stay informed about the day's activities. The Sched.com platform made it easy for attendees to choose the track that best fit their requirements, and they could refer to it throughout the day on their smart device or laptop.
Feedback from participants has been supportive and productive, based on early responses to the 2017 Symposium Feedback form. If you attended the event, please click the link and fill out the quick questionnaire. Your input helps us improve our events year after year.
Keynote excellence
Dr. Nancy Chick, University Chair in Teaching and Learning; the Academic Director of the Taylor Institute for Teaching and Learning; and Teaching Professor of English at the University of Calgary was our keynote speaker. She delivered an exceptional presentation that introduced a development model for us to understand where we – faculty, administration, and support staff – are in our careers regarding teaching and scholarship. This framework helps faculty members and teaching and learning centres assess their developmental path and identify what is needed to advance their career.
On top of presenting to an enthralled audience at the Symposium, Dr. Chick was recently awarded the Distinguished Service Award for her contributions to the work of the International Society of the Scholarship of Teaching and Learning. We knew she was distinguished long before the ISSOTL recognized her genius, and it's gratifying to see them concur.
Research Bites
Three-minute, three-slide presentations once again proved to be a brilliant way to share transparent assessments of experiments in teaching and learning. The sessions weren't merely reports of individual successes – they were open and honest accounts of real-world experiences, including challenges, that provided a credible insight into actual outcomes.
The presentations included:
Why and how students use electronics to enhance their learning (Ivona Mladenovic)
Supporting Faculty Development in the Implementation of ePortolio: A Participatory Action Research Study (Michelle Johnson)
The Work of Learning (Bratislav Brad Mladenovic)
Taking integrity to the gym: Practicing integrity, using the honour system and reducing cheating (Jessica Motherwell)
JIBC Library/Faculty Collaboration: Students' Perception on the Development of Research Skills in an Applied Degree Program (Florence Daddey, Marjory Jardine)
Bringing Teaching and Research Together: Assessing Scholars' Experiences Writing for CanLit Guides (Ceilidh Hart)
Upside Down? The flipped classroom, cognitive load, and student expectations (Andrew Owen)
From Adoptions to Zed Creds: The next phase of Open Education in B.C. (Rajiv Jhangiani)
Future events
"One thing we'd like to explore in future iterations of this event is to livestream the Research Bites segment – they're tremendously fun and offer an abundance of experience and information," shared Ms. Kelly.
As well as an increase in Research Bites, we would like to explore livestreaming the keynote speakers and consider new venues in different communities across the province. Through our experience, and in partnership with BCTLC, we're confident that future symposiums will continue to deliver a powerful learning experience that facilitates connections and improves the teaching and learning communities of British Columbia. See you next time!
Notable quotes
"Scholarly teaching is what every one of us should be engaged in every day that we are in a classroom, in our office with students, tutoring, lecturing, conducting discussions, all the roles we play pedagogically." ~Lee. S. Shulman, president emeritus of the Carnegie Foundation for the Advancement of Teaching
"It's inspiring and encouraging to see the volume of important work taking place in the province: the collection of engaged educators working hard in service for their students. We are delighted to have them join us every year to listen and learn." ~Tracy Kelly, Senior Manager, Learning and Teaching, BCcampus
"This is a truly important one-day conference in B.C. It gives the faculty members the opportunity to share their scholarship with peers before taking it to a Canadian or international stage. It is a great place to start sharing their research around the scholarship of teaching and learning and their scholarly learning." ~Maureen Wideman, Director of Teaching and Learning, University of the Fraser Valley
Learn more:

Keynote video:
Symposium images:
For more archives from this fabulous event, please visit the Symposium 2017 archives page.
---
Join us at an upcoming event:
---
To stay informed with BCcampus by signing up for our newsletter, visiting our calendar and following @BCcampus on Twitter.