In June we kicked off our first MicroCourse! It was called "Create your course intro video"
Why MicroCourses?
There are several reasons for offering MicroCourses. Here are the top three: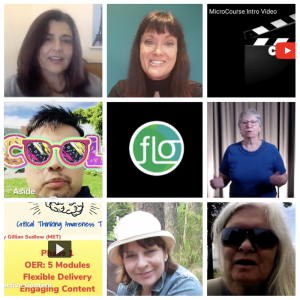 They're short, manageable chunks of productive learning
They provide a taste before committing to a full FLO course — experience facilitated, active, peer-supported, outcome-based learning
They provide an opportunity to practice facilitation
Participation
The level of participation in the course was perfect — enough to make it interesting but not so many we felt overwhelmed. Registrants showed up from a variety of institutions, including out of province and international. As always, you expect more registrants than active participants in a free course, but the ratio was good. We collected eleven video projects and all were peer reviewed.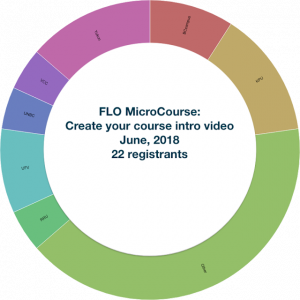 This log was captured during the week of the course. As an open course, the resource will continued to be viewed.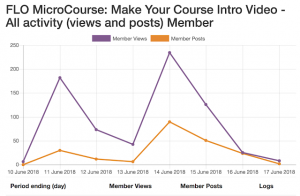 How did the participants feel about the course?
At the end of the course participants are asked to provide feedback about their experience. All reported they were satisfied or very satisfied. Here's what one videographer had to say:
Friendly congenial group and instructor energy, great feedback and this was something I had been intending to work on for a long time – the course gave me the motivation to plunge in and start making intro videos!
Overall, it was a great experience and we're looking forward to the 
next FLO MicroCourse, Creating and using rubrics
, which runs September 17 – 21, 2018. Our facilitators for that course will be Jacquie Harrison from Vancouver Community College and Bettina Boyle, Capilano University.