Over half of B.C. students do not buy the required textbooks for a course, and over a quarter of potential learners choose not to register for a class due to excessive textbook costs. #TextbookBrokeBC, an awareness campaign running on campuses across the province, is returning this fall to help educators and students understand that high-quality alternatives are available and affordable.
Post by BCcampus' editorial team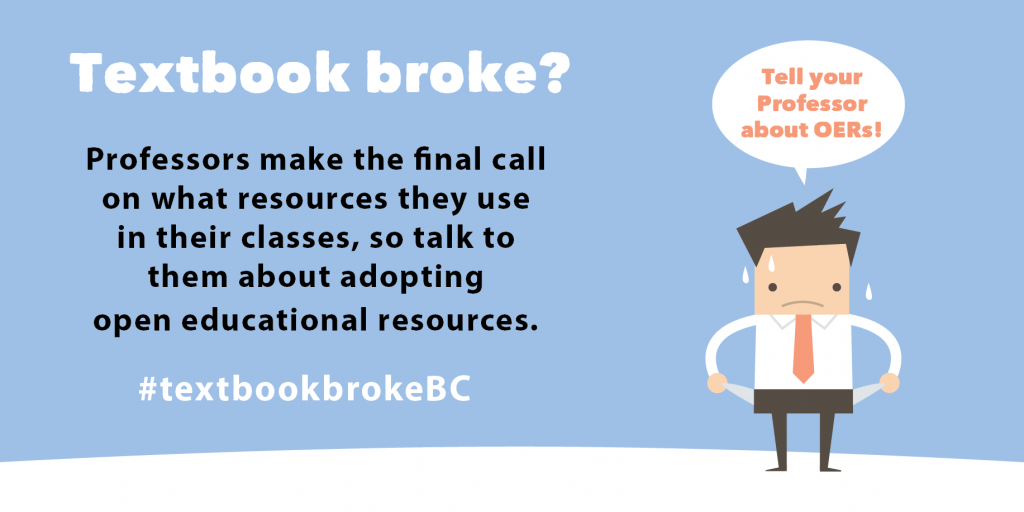 If your first thought when looking at a syllabus for a course is "can I afford to buy the textbook?" you might be among the 54% of students in B.C. who chose not to purchase a required textbook for their upcoming course. It doesn't take a textbook author to appreciate that this approach is not good for the student, the instructors, the institutions, nor the post-secondary education system of B.C. Something has to change to make education more affordable.
Fortunately, there's a campaign returning this fall to help raise awareness for a viable alternative to expensive textbooks.
Creating awareness
Aran Armutlu, Chairperson for the British Columbia Federation of Students, told us about the BCFS' efforts to raise awareness for #TextbookBrokeBC: "We're using a three-tier strategy to develop a long-term solution: we're on campus, reaching out to students to introduce them to open educational resources (OER); we're connecting with faculty and admin to show them the tools and resources available through BCcampus to adopt and adapt open textbooks; and we're working with the provincial government, meeting with MLAs and the Ministry of Advanced Education, Skills, and Training to show them how they can help promote and support the use of OER across the province."
Telka Pesklevits, Director of College Relations at Douglas Students Union, shared that, "we have two approaches that we're taking this year, separately, but with the same goal. Our student union will be running an awareness campaign, with tabling and lots of direct contact with students and professors to introduce them to open educational resources. We also offer a grant program through the OpenDouglas group to help fund open textbooks with our professors."
"This fall, we're planning an OER action week across multiple campuses, asking students what they would have used the $500 they spent on textbooks for, and playing games that look at current textbooks cost and how much they've risen over the past few years," said Brianne Berchowitz, Executive Director of the Okanagan College Students' Union. "With new textbooks coming out with minimal changes, or syllabuses only using four or five chapters for the course, we need to find a better solution for students in the Okanagan and across the province."
Borrowing books
The alternative to purchasing your own textbook used to be as simple as going to the library and checking out the current version. Some libraries now offer Course Reserve Materials, but the loan periods are set by the instructor and extremely limited, sometimes as low as two hours. With a full course load, a class where over half of the students will need access to the same learning materials, and for many, a part-time job to afford post-secondary education, a two-hour window is unrealistic and indirectly supports outright piracy: students are forced to photocopy the copyrighted materials so they can have time to actually use it. One group was told by the library that the library itself "couldn't afford to buy all the textbooks." That statement alone is terrifying.
Improving education
"There's an opportunity for students to work with professors to develop OER, including open textbooks," explained Sydney Sullivan from the Students' Union of Vancouver Community College. "Not only does it make the course more affordable, it offers experiential learning for the student and provides a 'living document' with the flexibility to grow and develop as the subject matter matures, which is great for future learners as well as the teaching staff."
Zed Creds and Z-Degrees
Recognizing the need for affordable learning solutions, three institutions in B.C. have taken on the challenge to develop courses with zero textbook costs. Thompson Rivers University, Justice Institute of British Columbia, and Kwantlen Polytechnic University were the successful applicants for the first Zed Cred program funding in B.C. and Canada, and are actively working on creating affordable, sustainable, and effective OER-based solutions.
Notable quote:
"While our primary goal is to have mainstream adoption of open education practices, such as open textbooks, open pedagogy, open educational resources, and open course design, at BCcampus, we are in the business of open because we fundamentally believe it is the right of every person to be able to access quality educational materials and to improve student learning." – Amanda Coolidge, BCcampus Senior Manager, Open Education
Learn more