Ever wonder where artists find their motivation? Jamie Nole, the Northwest Coast artist commissioned to create the logo for Symposium 2019, shares her inspiration for and experience with creating art.
Post by BCcampus' editorial team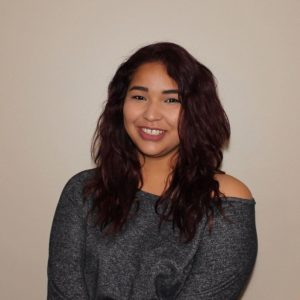 When BCcampus commissioned Jamie Nole to create the logo for the upcoming Symposium 2019, scheduled for October 25, 2019, in Terrace at Coast Mountain College, we recognized and appreciated that she had an abundance of artistic talent but had no idea how skilled she was at blending her cultural background with modern marketing techniques. The end result is simply brilliant and will help us ensure that this Symposium is com-frog-able, un-frog-gettable, and trans-frog-mative.
"Ever since I was a child, I wanted to be an artist," explained Jamie Nole. "My uncle taught me the basic shapes and it seems like I've been doodling ever since. I enrolled in the First Nation Fine Arts program at Coast Mountain College with a bit of a pause in 2011 to have my first son. He is my main motivation to work harder so I can provide for him and help him learn how to reach his own dreams. I returned to school after he turned three."
Jamie Nole is a Northwest Coast artist who creates beautiful and moving stories with paintbrushes, carving tools, and other media. With an encouraging and supportive family, Jamie has been able to explore her artistic abilities through First Nations fine arts, such as cedar bark weaving, button blanket creation, and crest design. Jamie has been challenged and encouraged by a variety of art teachers over the years to do her best and never give up on her dream of becoming a successful artist.
By all measures, Jamie is well on her way to realizing her success: selling her first painting in 2011, being commissioned for the first time in 2012, and winning design contests for the Terrace Nisga'a dance group in 2013, and the Terrace Nisga'a Office in 2014, where she was hired to paint her winning design on a community mural. In 2017, and again in 2018, Jamie won a YVR Art Foundation Youth Award, winning a scholarship and the opportunity to exhibit her art to more than 25 million passengers who travel through the Vancouver International Airport every year.
Inspiring the design for Symposium 2019
"In First Nations culture we have clans," shared Jamie. "Our house is the Ganada clan, the 'holders and messengers of knowledge,' and we identify with the raven and frog. The design I created for Symposium is a frog reading a book. I chose a frog because frogs are known as animals of transformation for the First Nation's people of the coast, and I wanted to show transformation through the metaphor of learning. I portrayed the frog reading a book because I struggled with reading while I was growing up and I was worried that my son would struggle too, but he's a big bookworm. When he was a baby, he'd pass me a book, and we'd read it together. Reading has helped him overcome some speech challenges in his early years."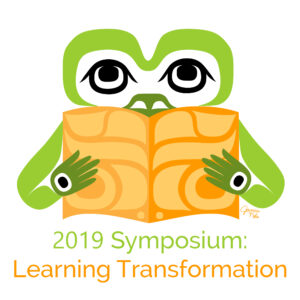 The new logo augments traditional First Nation design with modern colour psychology. "After completing an entrepreneur program last year, I got to learn about the business side of art. I like adding that to my artwork now, showing what I've learned and bringing the two worlds together. My mother has been teaching me colour therapy, so I went with green and orange for the main logo and grey for the header logo. I picked my palette based on colour marketing psychology: green to symbolize growth and stability, orange to be fun and friendly, and grey to showcase professionalism. As an artist, I like to mix the traditional with the contemporary to show growth and create opportunities."
We're looking forward to more beautiful work from Jamie Nole, who recently welcomed baby number two, she is sure to be widely recognized very soon.
Symposium 2019
Symposium 2019 focuses on the impact that experiential, place-based learning has on learning transformation and will be held in Terrace, B.C. on October 25, 2019 at Coast Mountain College.
The one-day event – with pre- and post-event educational opportunities for attendees– offers a chance for learning professionals to come together to build understanding and shared language, from the K-12 classroom through advanced education.
Notable quote:
"My son is my main motivation to work harder, to provide for him, and to help him know how to reach his dreams" – Jamie Nole
Learn more: