A quick look at the content, campus, and keynote for Symposium 2019 – slated for October 25th at the Coast Mountain College campus in Terrace, B.C.
Post by BCcampus' editorial team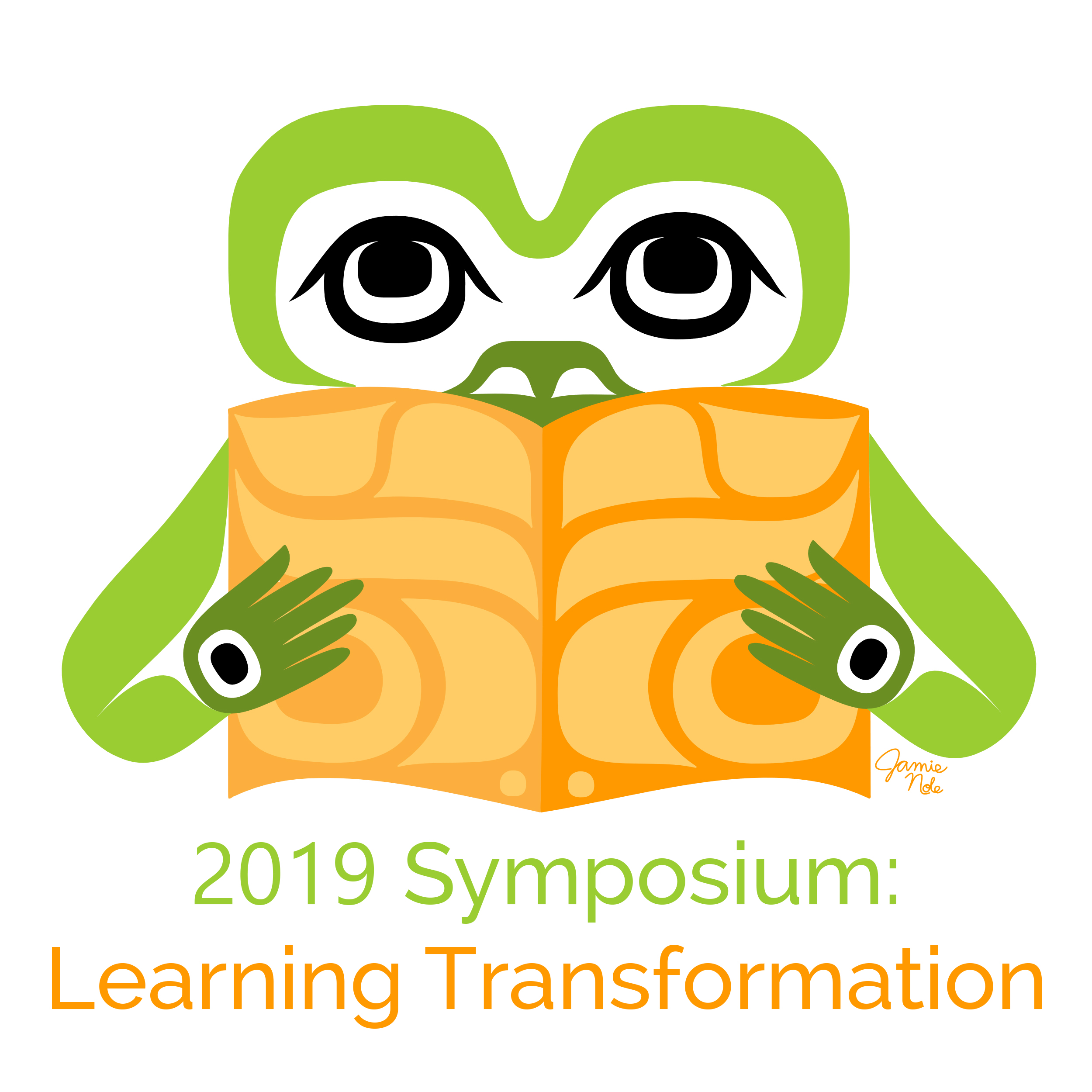 With a focus on experiential, place-based learning, the decision to hold the 2019 Symposium in Terrace, B.C. on the Coast Mountain College campus was a perfect fit. The 2019 Symposium, scheduled for October 25th, is a one-day event (with pre- and post-conference events to extend the learning) to explore our approaches and practices to teaching and learning.
"The three core streams for the conference are transformation and inclusion; transformation and teaching; and transformation and scholarly inquiry," explained Symposium co-chair, Carrie Nolan, Dean – Strategic Initiatives at Coast Mountain College. "We're looking at ways to reshape, transform, and create new directions, and reimagine how we do education."
The decision to host the event outside of Vancouver gives access to educators who might not be able to regularly join events and offers a chance for everyone to experience place-based learning. "As hosts, we're really looking forward to showcasing teaching and learning in our slightly northern setting. The main event will be held in our Waap Galts'ap Community House, that we're excited to share, and we have the yurt teaching lab: a visual artifact of learning transformation and trying to reshape learning."
One of the many exciting things about this Symposium is the focus on K-16. We've expanded our reach to include K-12 teaching partners, learning and sharing with each other and improving the bridges between our institutions.
Keynote speaker
Dr. Jay Roberts, Associate Vice President of Academic Affairs and Professor of Education at Earlham College, will be the keynote speaker at Symposium 2019.
"My background is in experiential education; I brought that to the table when I came here, but it was a new role for me. While looking for people doing great work in this field, I discovered that Jay Roberts was a friend of a friend," said Carrie. "His work on the research side, as an instructor doing incredible experiential work with his students and as a faculty developer, brings a depth of practice and theory in the field of experiential education that connects wonderfully with our theme of learning transformation. We're really looking forward to his contribution to the Symposium conversations."
"To build more conversation around experiential education, we need to have a shared language," said Jay. "I've found that people are doing a lot of this kind of work, innovating in colleges and universities as well as in K-12 environments, but they're not calling it the same thing. We can sometimes view the K-12 sector and the higher education sector as so entirely different in terms of pedagogy – but the questions and innovations from the teachers in both spaces can be quite similar.
"There's a misconception that experiential education is only for applied or social sciences, but in fact, it's not discipline-specific at all. There are great examples of professors of the classics doing experiential education, teachers in a K-12 context teaching math in an experiential way, and history professors using experiential concepts in their courses.
"There's an opportunity for groups, like those coming to Symposium 2019, to get together to build understanding and shared language, then use those concepts to imagine new, exciting, and effective ways to reach the learners of the 21st century. It's less about "here's the specific way you need to apply experiential learning in your context," and much more about "here are some broad concepts and intriguing examples – now what can you imagine?"
Terrace, B.C.
With a quick 90-minute flight from Vancouver to Terrace, many attendees might find the commute to Symposium 2019 easier than their daily drive. But don't just come up for the day, join in the pre- and post-event activities, including a Liberating Structures course and a field day to immerse yourself in an experiential place-based learning environment, exploring the Nass Valley to discover the lava beds, or touring the Nisga'a Museum and Laxgalts'ap (Nisga'a community) –  both options feature a relaxing, reflective soak in a natural hot spring, so remember to bring your swimsuit.
Highly affordable accommodations are available at The Comfort Inn, just a few minutes away from the Coast Mountain College campus – this trip to Terrace might be a great way to save money while learning with colleagues and friends!
Notable quotes:
"A common misconception with experiential education is that it's for workforce development only, and while it does work particularly well for students developing their aptitudes – if you want to be a nurse, experiential education works for you, and sure, teachers get practicum experience in a classroom – but there are lots of ways in which experiential education is done well within a traditional classroom concept." – Jay Roberts, Associate Vice President of Academic Affairs and Professor of Education, Earlham College
"We're really happy to have the opportunity to work with the events team at BCcampus – they've helped us put a lot of care and thought into how we receive participants, as well as the overall participant experience. As a previous participant at BCcampus events, and now working with them to coordinate Symposium 2019, I am confident that this will be another event worthy of people's time and money." – Carrie Nolan, Dean – Strategic Initiatives, Coast Mountain College
Learn more:
Paddles and Pedagogy – an eight-day field school professional development opportunity for instructors in the form of a sea kayak learning journey in Mexico