We're excited to share an infographic about our learnings from a survey completed by teaching and learning support staff across the province in 2020. Link to full size infographic [pdf].
Post by BCcampus' editorial team
Last spring, we conducted a survey with faculty and educators in B.C. to better understand how the urgent pivot to online was affecting them. This fall, we reached out to teaching and learning support staff with the same curiosity: what has been the impact of the pandemic on those who work in support of those educators in teaching and learning centres around B.C.?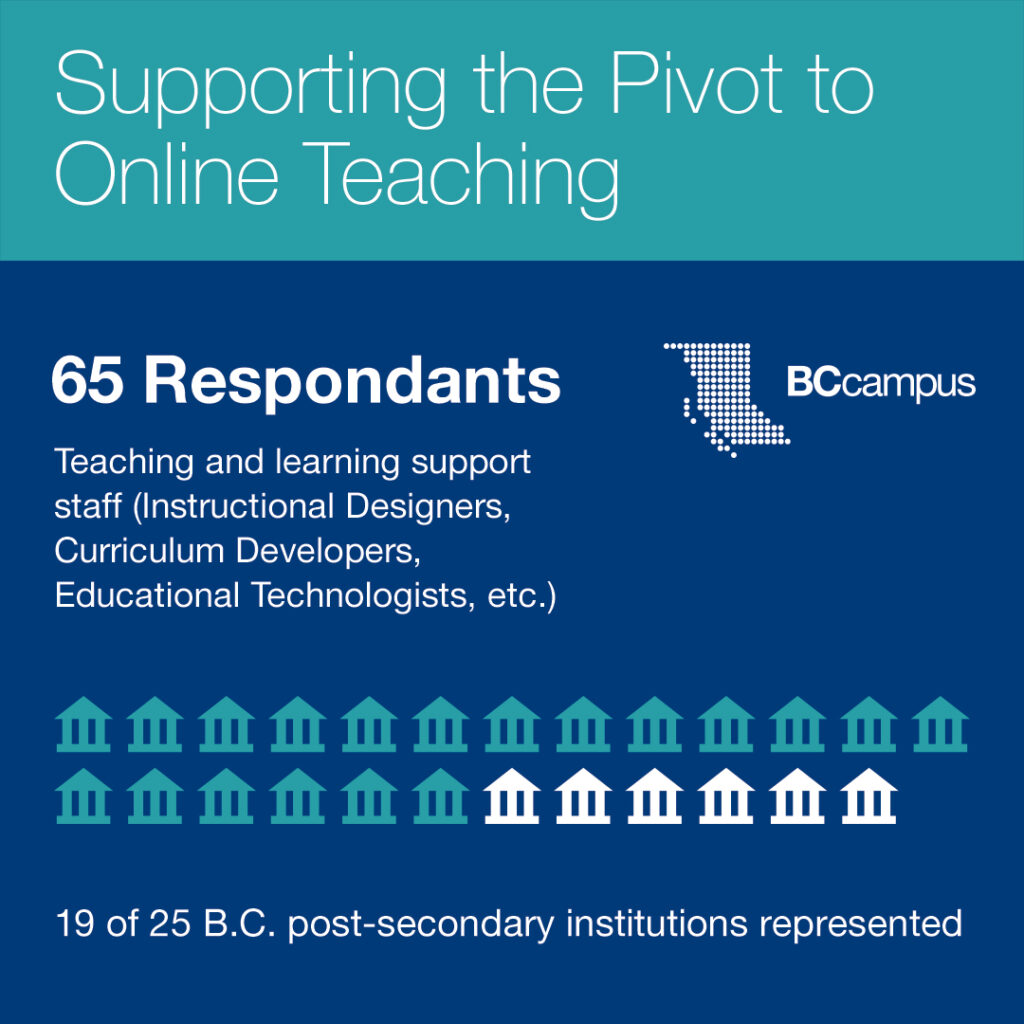 The respondents shared that there was a huge impact on what they had to do in their position each day. Whether it was the workload on the support staff or the way in which faculty had to create and deliver their courses, there was a lot of change that led to an overwhelming sense of instability. It severely impacted people on a deeply personal level. Some thrive in change, while others prefer a more strategic approach.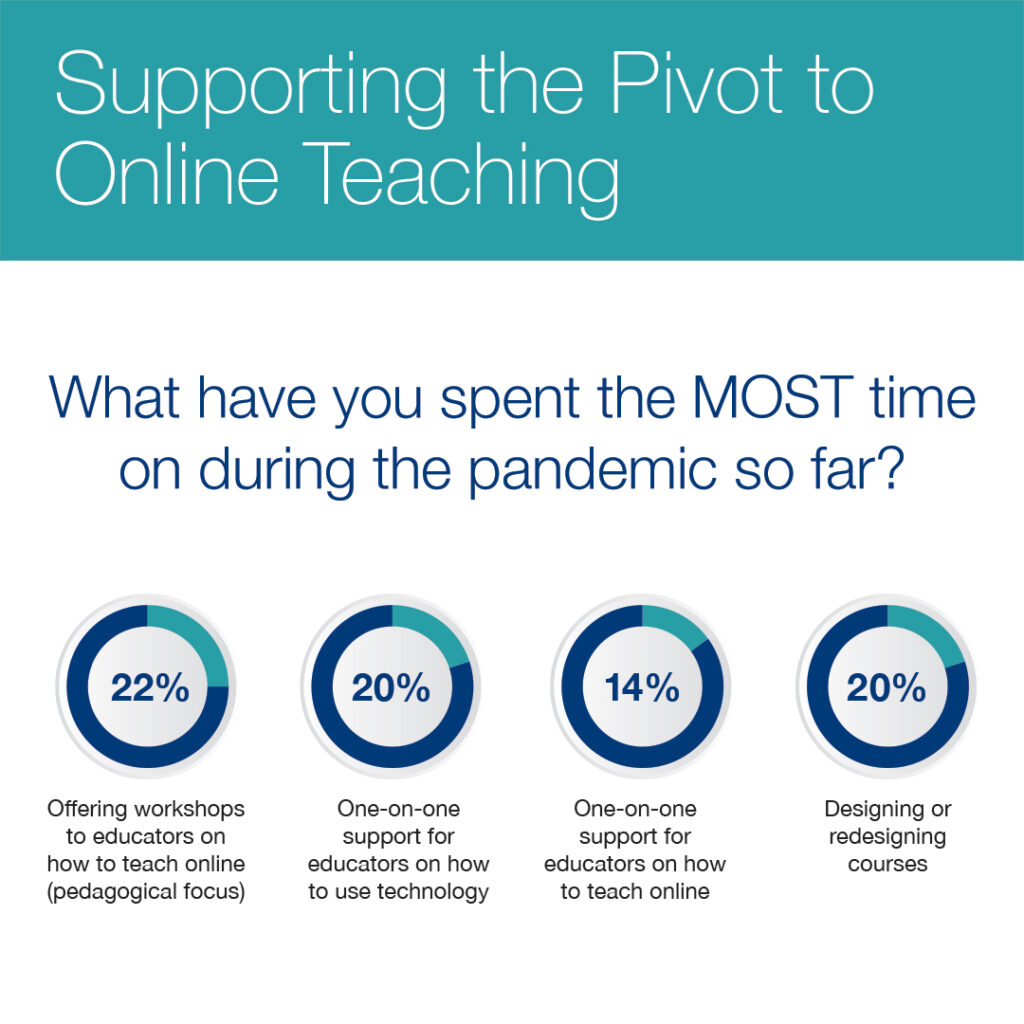 A major takeaway from the surveys: get to know your teaching and learning centre. They have the tools and talent to help you with just about anything you need for teaching online, and if they don't have it, they have the tenacity to find a solution for you through a global network of likeminded professionals.
An Opportunity to Improve
"The pandemic is not yet behind us," said Tracy Roberts, director of learning + teaching at BCcampus. "It's now and for the foreseeable future. There's an ongoing need for learning design expertise to create engaging and equitable online spaces that support learning — it's an opportunity to do something other than shifting 'sage-on-the-stage' practice to 'talks-in-the-box' practice. Many are inspired to re-think and shift to more flexible and equitable learning environments that support all students.
"We have learned that not everyone has equitable access to technology, be that hardware or internet, and these are problems that still need to be fixed. Going forward, as part of the emergency planning for institutions, we need to be ready to go fully online quickly. Nobody wants to have to do that drastic, urgent kind of pivot again."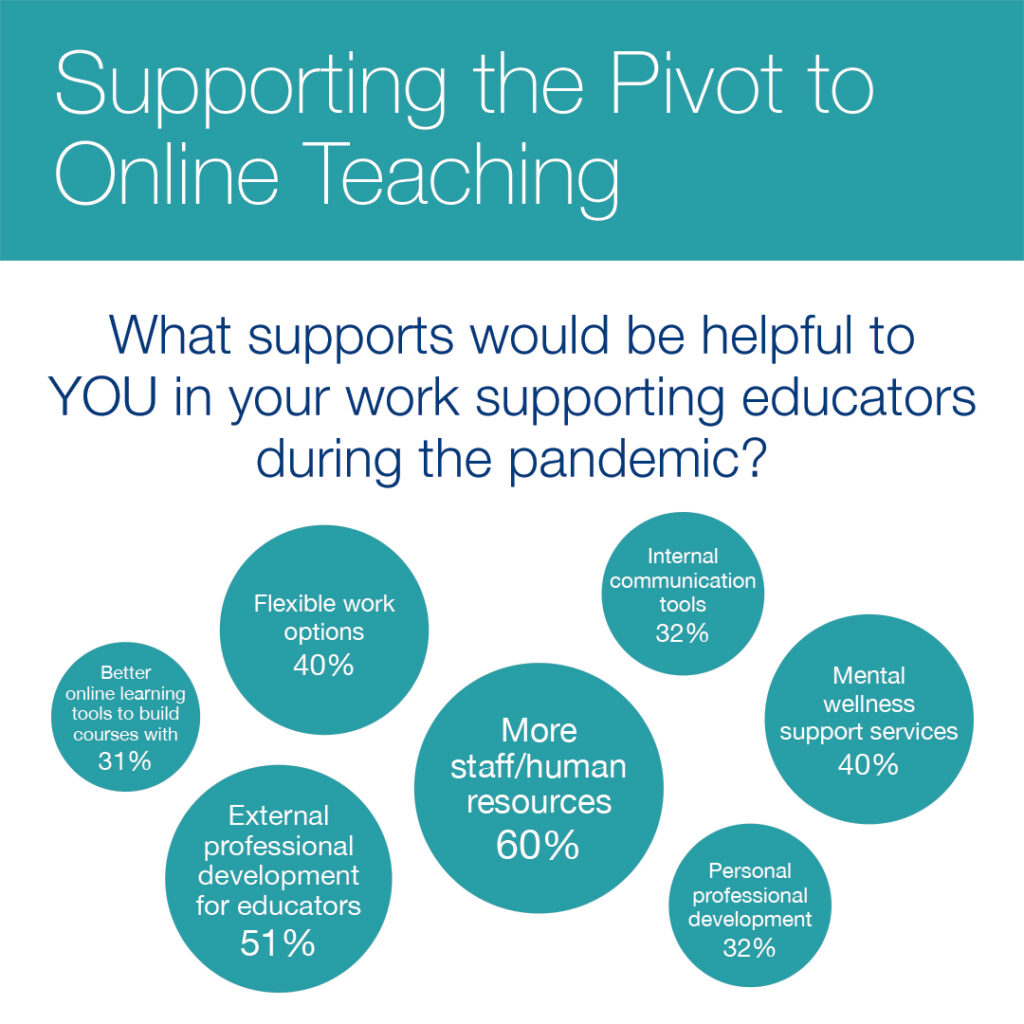 A Community Rich with Empathy
"Some of the things that really stood out in the survey data," said Rebecca Shortt, learning + teaching coordinator at BCcampus, "were the responses to the question 'What do senior leaders need to know about learning and teaching centres right now?' We learned that faculty and support workers are overworked and there's a lot of work to do still, but we also heard positive feedback that shows their resilience and support. People understand that faculty are struggling, particularly with the technology shift, and they recognize the need for an empathetic approach to support each other. They acknowledge that this is how learning and teaching needs to move forward.
"Another aspect that shone through in the survey responses was that the teaching and learning centres are there to help. We had comments along the lines of 'we're here to support people' and 'we want people to know that we have the skills to help them succeed, all they need to do is ask.'"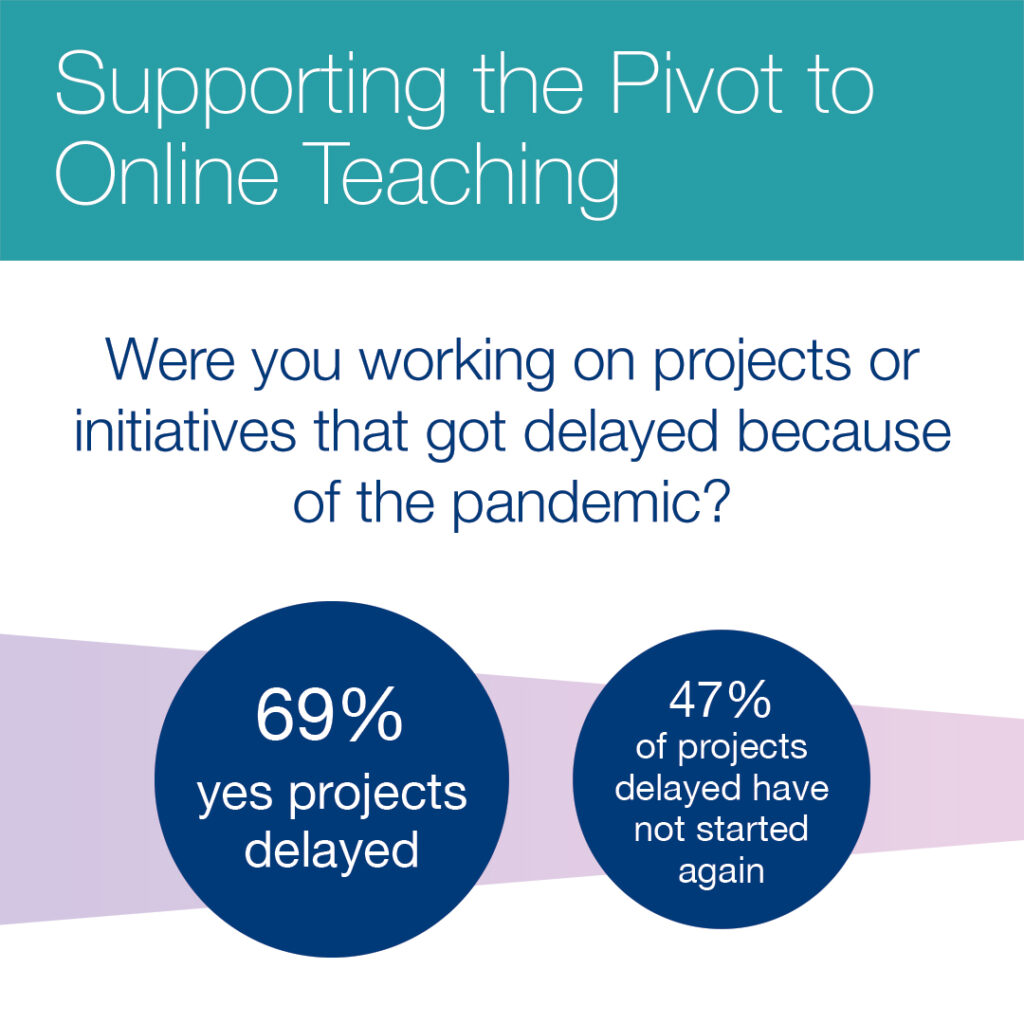 BCcampus: Moving Forward
"To help faculty and support staff plan for next semester and next year," said Rebecca, "we've analyzed the data, themed it, and taken it to our team to identify where people most need support. For example, we noted that 51 per cent of the respondents wanted more professional development for educators about online teaching with resources outside of their institution: how to move their courses online and how to teach online. Our team is looking at ways to help with this, such as our Facilitating Learning Online (FLO) courses and bootcamp series sharing the fundamentals for delivering courses online. We have the FLO Zoom sandbox sessions to help people come together to learn how to use the tools and technology, and we're also looking at ways to help educators learn more about assessments.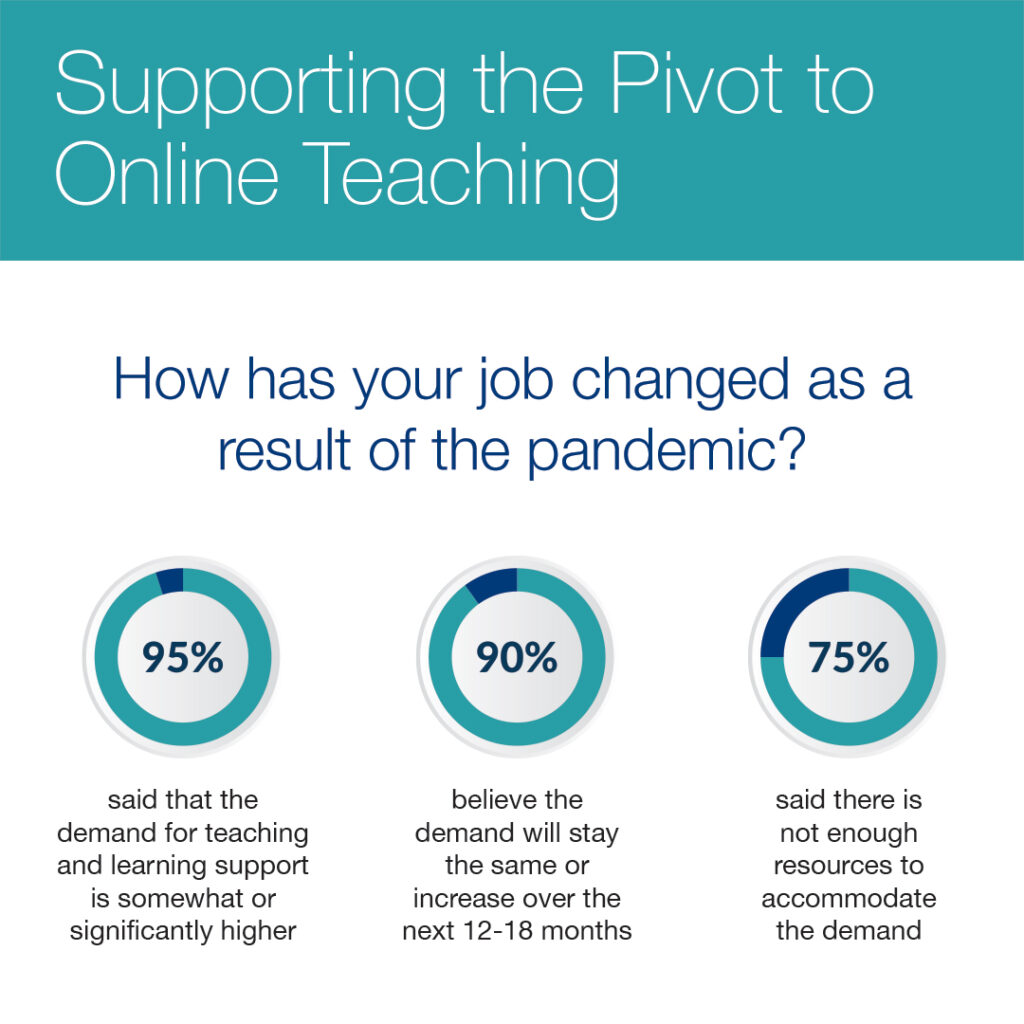 "There's still an opinion that, once we get through this pandemic, things will all go back to normal. But the skills people are learning to bring their courses online today are also ideal for improving accessibility, Universal Design for Learning (UDL), and other aspects that will continue to provide value long after the pandemic is over. We need to look at this experience as an opportunity to improve our skill-building capacity, knowing that the change is a significant and substantial improvement to your approach to pedagogy."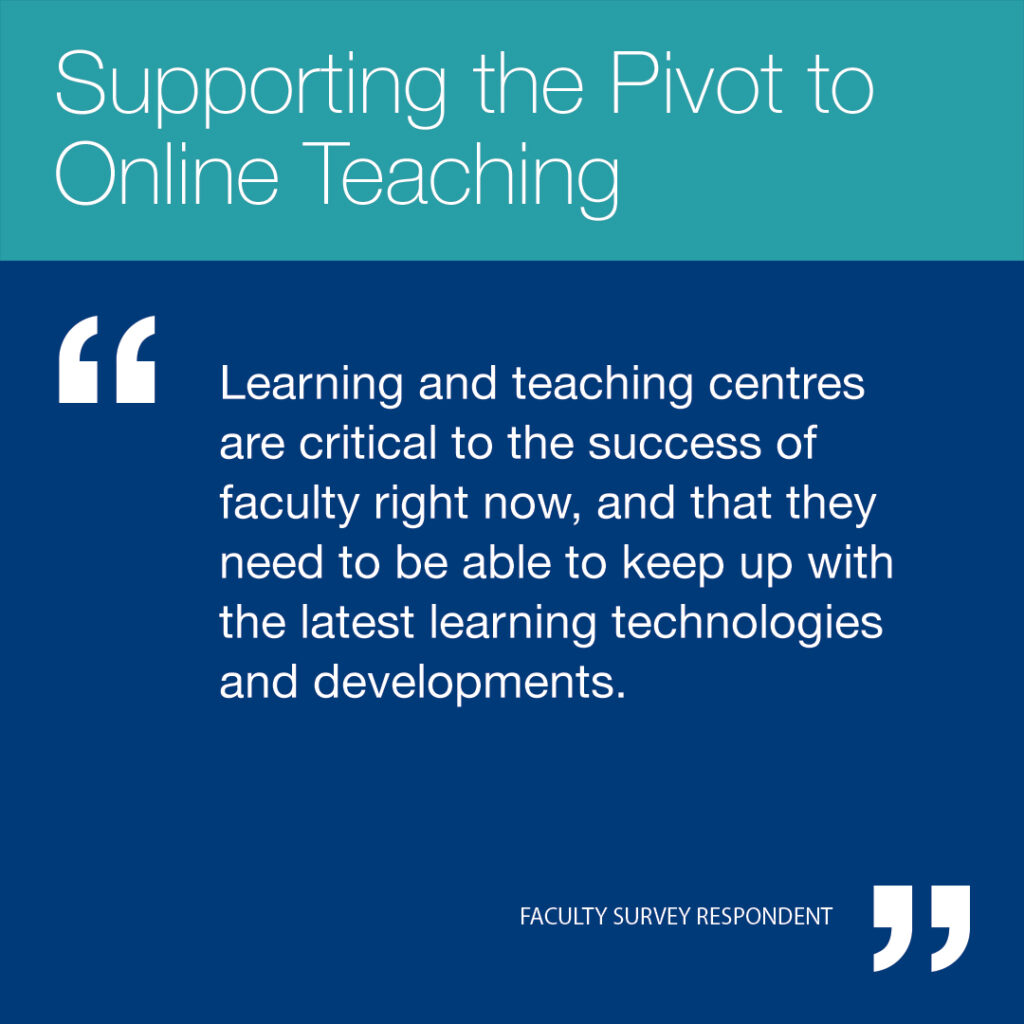 Notable Quote
"There are so many technically low-level instructors [who] are afraid of showing their technical shortcomings. It's very important to create a relaxing environment where those instructors can learn how to use technology without any fear or shame."

—Faculty survey respondent
Learn More: