We are heartbroken, hurt, and angry about the discovery of the remains of 215 children on the grounds of the former Kamloops Indian Residential School on the territory of the Tk'emlúps te Secwépemc First Nation last week. Our hearts are with the Survivors and their loved ones, who have always known what we have all just had confirmed. We mourn the loss of their children and grieve with their families and for all the children who are still missing and yet to be found. We stand together with and lift up Tk'emlúps te Secwépemc in their time of grief. Pulling together has never been more important.
At BCcampus, we have been incredibly lucky to receive teachings from many generous Indigenous educators, and our hearts are also with them and their communities.
We are taking time as a group and as individuals to honour the children with the dignity and respect they were not afforded by their so-called caregivers.
For many, this is the beginning of a journey of unlearning and learning. We are here to support those people, as well as those who have already been engaged in the work of decolonizing their own minds and our post-secondary system. Our plans for Indigenous History Month include providing lots of learning. We are more focused than ever on ensuring our work supports Indigenous people, particularly students.

June is National Indigenous History Month in Canada: an opportunity for us to honour the history, heritage, and diversity of Indigenous peoples in our country and to recognize the strength and resilience of Indigenous communities past and present.
First Nations, Métis, and Inuit (FNMI) people have contributed significantly to the mosaic that is Canada, but for many Canadians, the true history of Indigenous peoples and the effects of colonialism were exempt from what we were taught in school. The importance of treaties, the trauma of residential schools, the historic implications of the Indian Act, the impact of the Sixties Scoop, and many more government-sanctioned acts of cultural genocide and attempted assimilation are coming to light. Voices once silenced, stripped of culture and land, are being heard once more as we learn about, and begin to appreciate and acknowledge, Indigenous knowledge systems, traditions, and culture. Yet we are still only at the beginning of this work.
To redress the legacy of residential schools and advance reconciliation, in its final report, the Truth and Reconciliation Commission of Canada (TRC) called on governments, educational and religious institutions, civil society groups, and all Canadians to take action on its 94 Calls to Action.
Many of the TRC's Calls to Action relate to education and have spurred a systemic change across Canadian post-secondary institutions with regard to decolonization, reconciliation, and Indigenization. The Pulling Together learning series includes open educational resource guides created to support this change. The guides, a result of collaboration between BCcampus, the Ministry of Advanced Education and Skills Training, and a steering committee of Indigenous education leaders, are living resources that can be adapted and localized, offering instruction and best practices that B.C. post-secondary institutions can use to Indigenize their institutions. The resources are intended to augment the existing training currently offered, recognizing that place-based Indigenous knowledges, languages, and practices are reflected in the localized delivery of Indigenized learning resources.
You can find links below to each guide in the series, a Foundations Guide, and audience-specific guides for leaders and administrators; teachers and instructors; front-line staff, advisors, and student services; researchers; and curriculum developers.
Publishing these guides in 2018 was not the end of Indigenization work at BCcampus for post-secondary educators in B.C. but just the beginning. Workshops inspired by the guides and led by facilitators Jewell Gillies and Marlene Erickson began in fall 2020. In the first six-part series, participants were invited to take up the paddle and travel along with Chetwood, Kahkah, Leloo, and Sammon (four modules in Pulling Together: A Guide for Leaders and Administrators). During the sessions, participants were encouraged to embrace reconciliation and create equitable space for Indigenous peoples in educational institutions by examining their own roles in the post-secondary sphere and particular ways of gathering knowledge and sharing it within their communities.
This April we wrapped up another six-part series, this time on Pulling Together: A Guide for Front-Line Staff, Student Services, and Advisors. The series was fully booked and attended by staff from over a dozen post-secondary institutions across B.C. The synchronous course focused on analyzing and improving staff interaction with Indigenous student populations at post-secondary institutions. In many instances, FNMI students are seen as being under the umbrella of the Aboriginal student services centre of the Department of Native Studies and not ingrained in the institution as a whole. Therefore, this series focused on how staff can meaningfully and competently help Indigenous students navigate their educational journey, as one negative experience can have an extreme impact on students' views of the integrity of their school.
One participant in the spring series said, "I deeply appreciate the organizers, speakers, Elders, and knowledge-keepers who led us through this Indigenous learning piece. We have so much to learn, and I was moved by the kindness and understanding of all who led and attended."
Below are the themes from each session along with the amazing visual recordings from our graphic recorders Michelle Buchholz and Tiaré Lani, who joined us each week to document our journey through their art.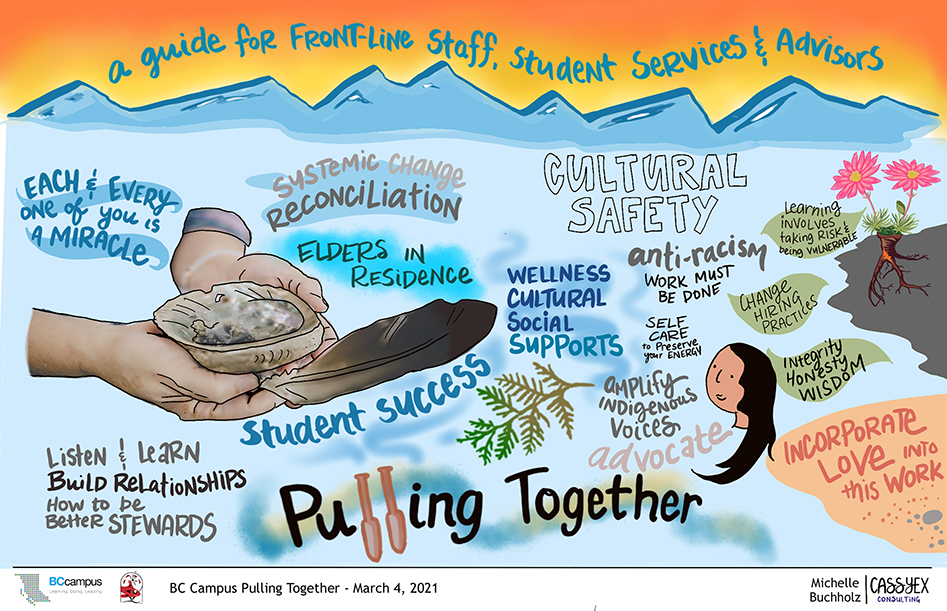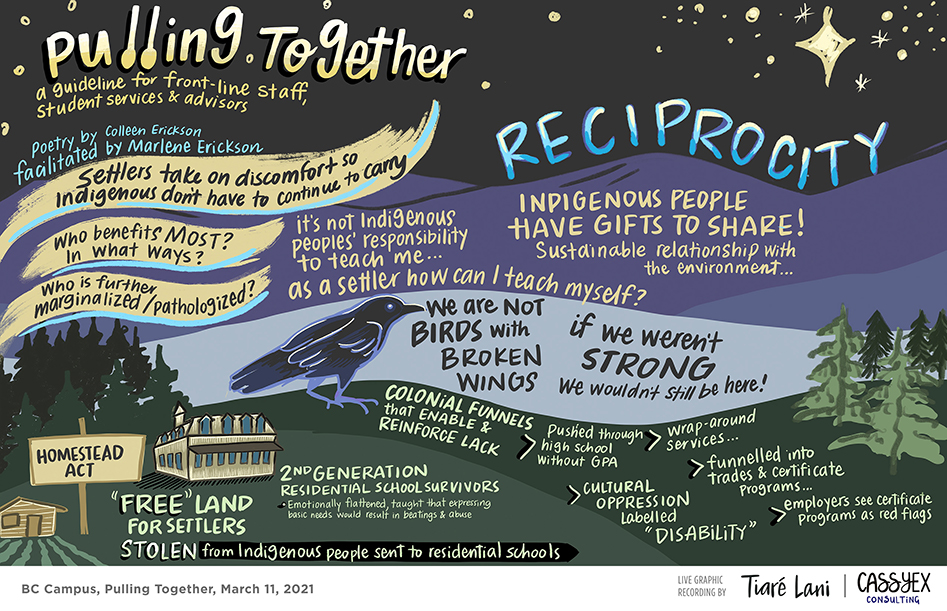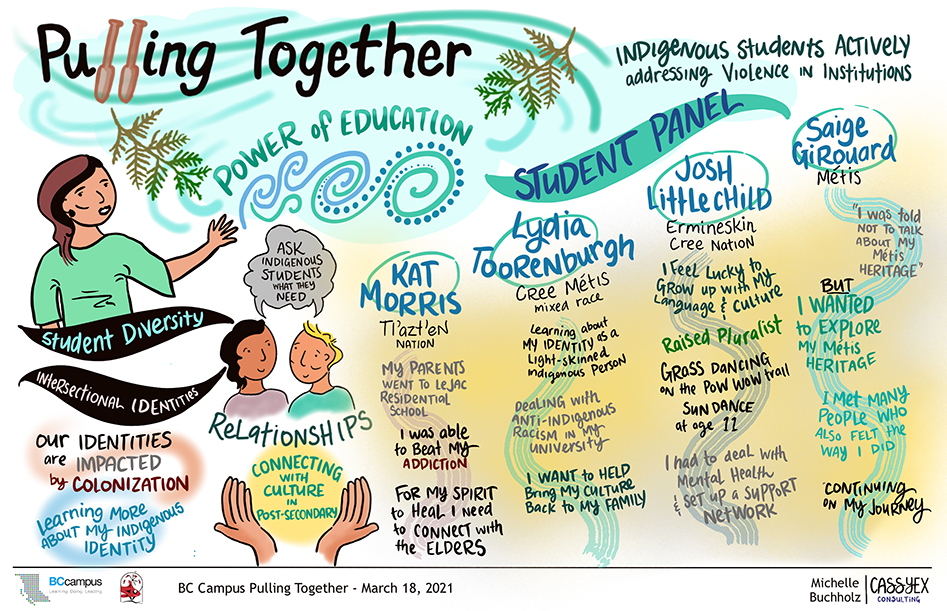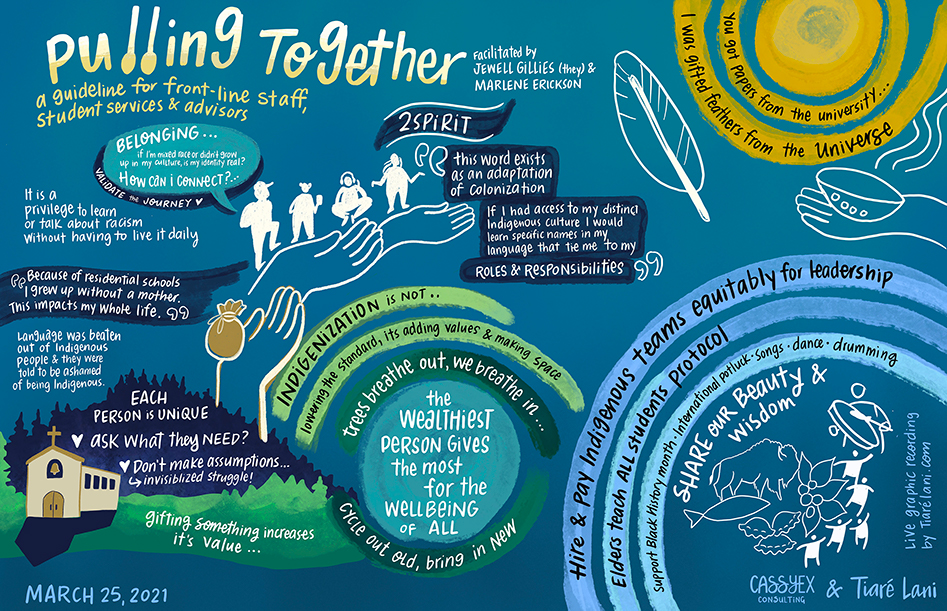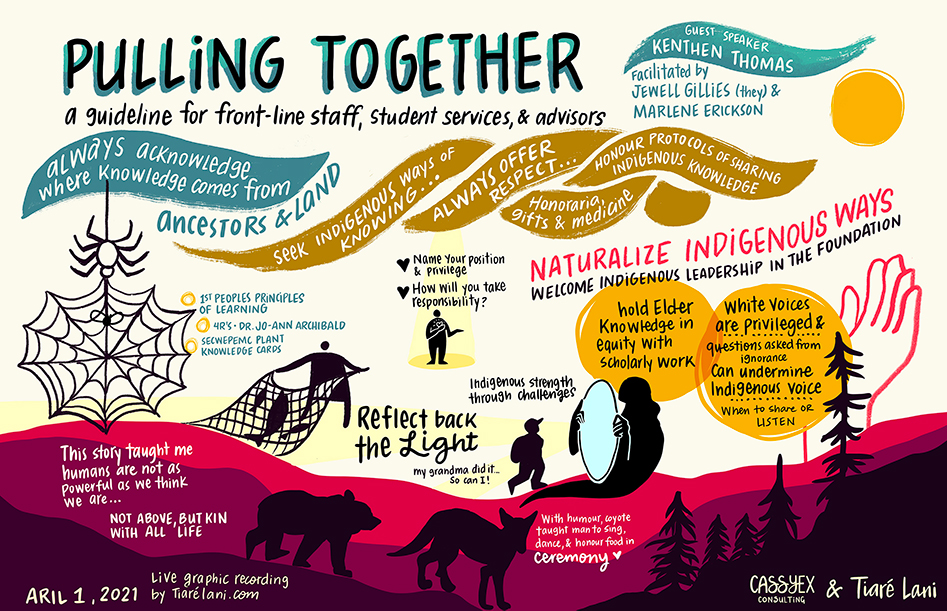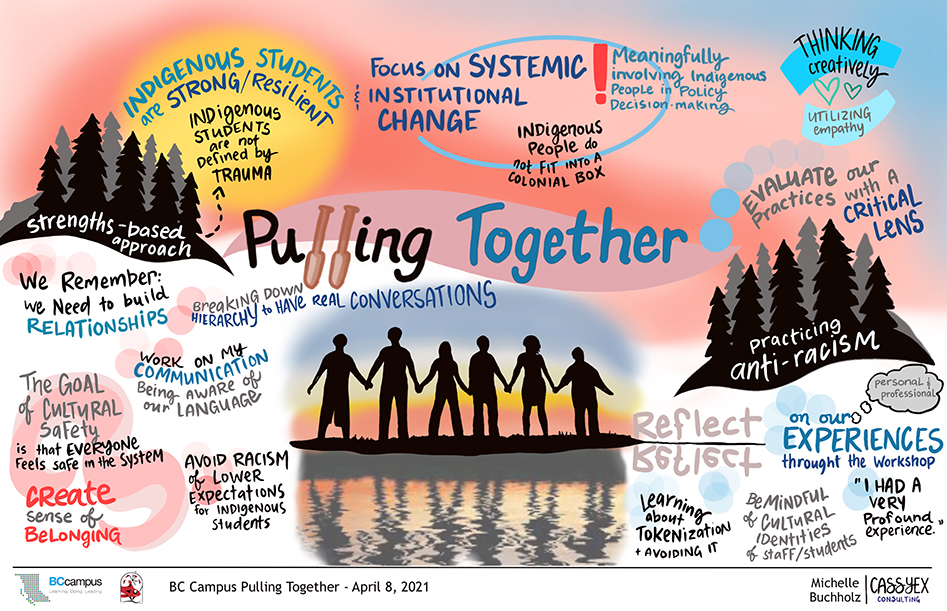 What makes these series exceptionally unique is a multifaceted learning approach that contrasts traditional online teaching methods. Some highlights from this series are as follows:
All participants were mailed materials to create their own medicine pouch, which they were encouraged to work on during each weekly session. Participants then shared the bags they had created and imbued with meaningful items and intention for our last day (see photo of one participant's medicine bag below).
Graphic recorders Michelle Buchholz and Tiare Lani visually documented our journey for each session (see graphic recordings above).
Poetry readings from Colleen Erickson.
Visual interpretations of artwork and photography, traditional storytelling, singing, and drumming sprinkled throughout each session. One highlight was being joined by Indigenous educator and storyteller Kenthen Thomas.
A variety of guest speakers, including a student panel, educators, storytellers, and knowledge-keepers.
The honour of having territorial Elder Darlene McIntosh perform opening and closing ceremonies and imbue us with her knowledge, stories, and spiritual teachings.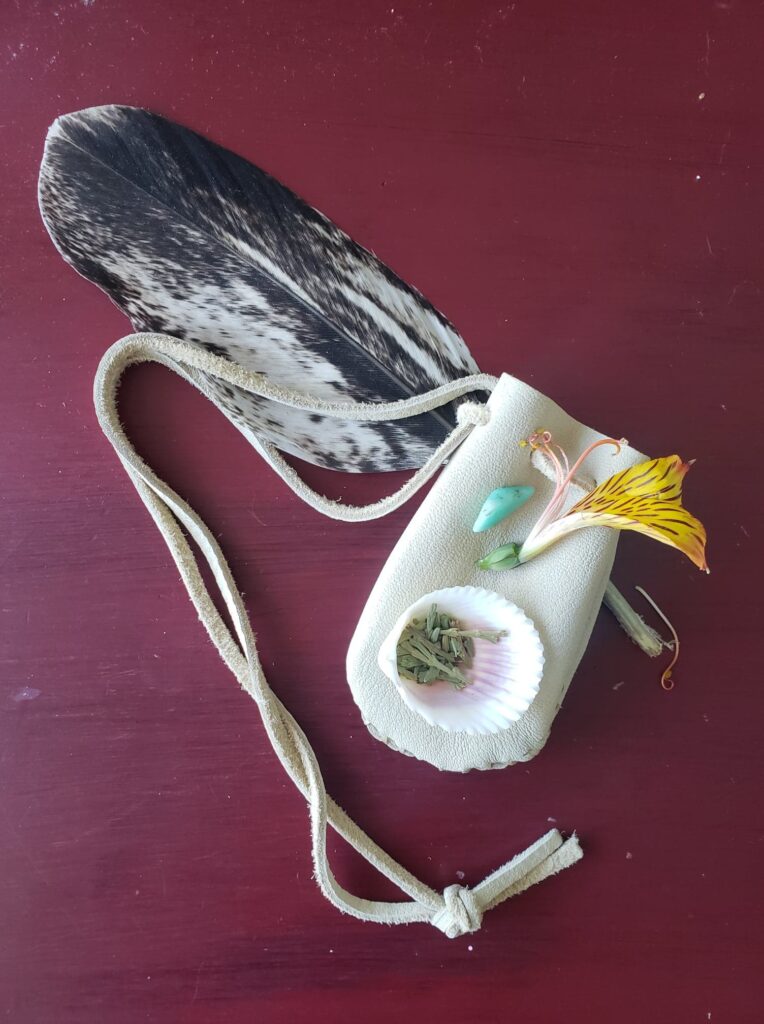 Upcoming Learning Opportunities:
Last summer BCcampus hosted four Indigenous speaker sessions. These included A Conversation with Mixed First Nations Beader Lisa Walker, Land Acknowledgements – A Conversation with Post-Secondary Students, A Conversation with Co-Founder of Sisters Sage Lynn-Marie Angus, and A Conversation with TELŦIN TŦE WILNEW Instructor Ruth Lyall.
This June we will host two more webinars in a series that celebrates National Indigenous History Month. The first of these celebrates Indigenous peoples, cultures, and knowledge with facilitators Karleen Delaurier-Lyle and Corrina Sparrow, and is available for registration now! Register here.
Relevant links and resources:
Further learning: