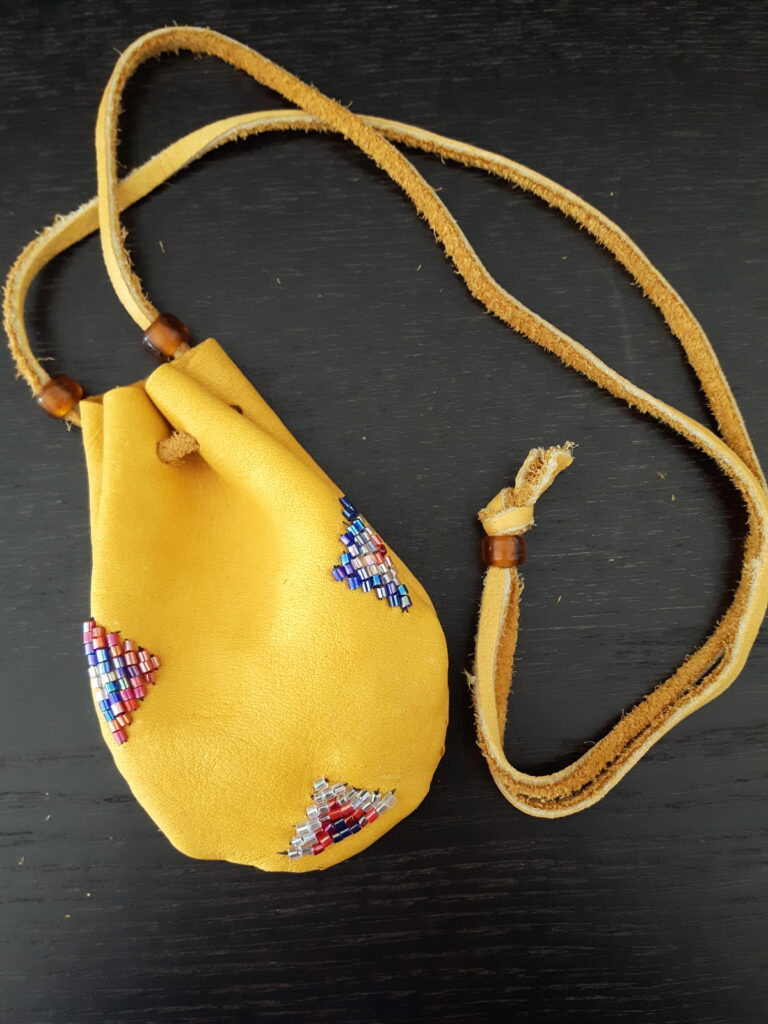 In fall 2021 BCcampus hosted the Pulling Together: A Guide for Researchers series. The six-week workshop, facilitated by Dianne Biin and John Chenoweth, provided an overview of Pulling Together: A Guide for Researchers, an open educational resource that was the sixth and final installment of the BCcampus Indigenization guide project. We created the guide to help researchers of all levels "respectfully and accurately conduct their research: researching with rather than on Indigenous Peoples," said Gabrielle Lamontagne, coordinator for Indigenization and Collaborative Projects at BCcampus. The Kwaḱwala term hiłḱala means "one who is allowed or has permission" and was the overarching theme for this journey.
The series, which took place from November 10 to December 16, brought together 50 participants from various post-secondary institutions in B.C. and included guest speakers from Washington, the Maritimes, and as far away as Australia. Each participant was mailed a medicine pouch kit on registration and instructed how to assemble it later during one of the synchronous sessions. (See photo above.) This shared activity was a unique aspect of the Pulling Together speaker series as it provided a way for participants to hold space for themselves and their own self-care during their learning journey. 
Graphic recording is a modern take on the witnessing ceremony. The group was joined by Michelle Buchholz, Tiare Jung, and Carina Nilsson, who sought to capture the essence of each session with stunning pieces of visual artwork that were later shared with the participants.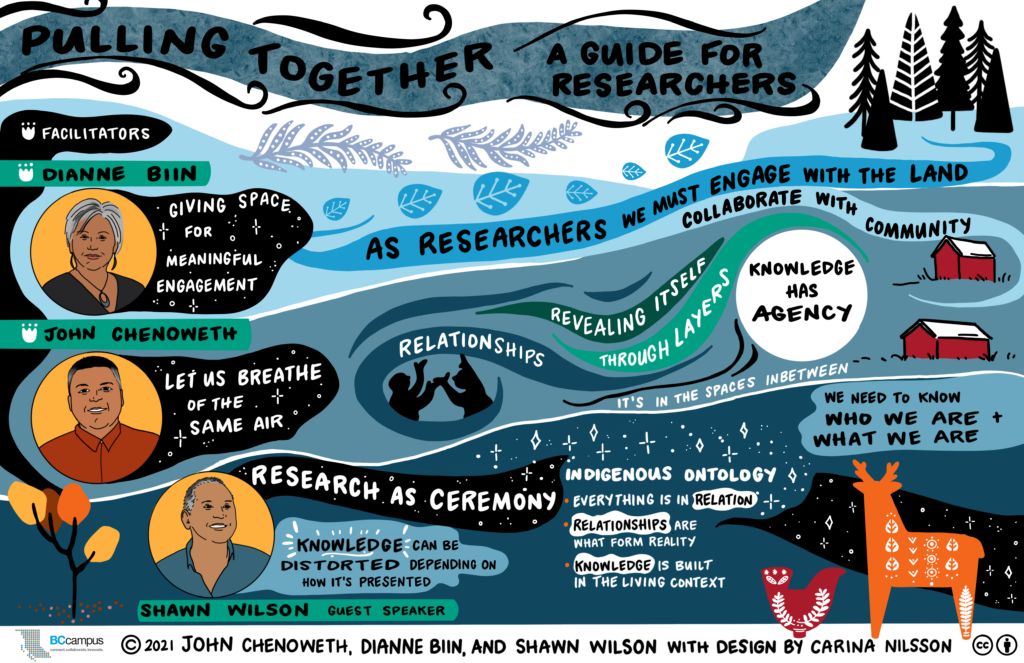 The researchers series had three main goals:
Provide a grounding in Indigenization, decolonization, and reconciliation approaches to research.
Give space to practice how to place yourself as an ally or supporter of Indigenous revitalization through research practice.
Work with others to discuss how to Indigenize research paradigms to support reconciliation pathways in your post-secondary institution and community.
Participants were also introduced to the SPECIALTYPATHLIST acronym and John Chenoweth's language course and work.
SPECIALTYPATHLIST is an acronym for the following aspects a researcher should consider when undertaking a research project in an Indigenous community:
Social
Political/physical/policy/partnerships/protocol
Economic/emotional/educational/Elder
Cultural/community/children
Intellectual
Artistic/academic/administrative
Linguistic/language
Traditions/traditional
Youth
Philosophical/principles/parental
Accountability/accessibility
Technology/technological
Heritage/health/holistic/honour
Legislative/legal
Integrity/infant
Spiritual
Theory/theoretical
SPECIALTYPATHLIST has many benefits, including:
It helps you check your assumptions about what the research will do.
It helps you identify the resources you have and the resources you might discover.
It helps you determine if your intention for doing the project or research is actually meeting a need.
It begins to build a research partnership plan.
During one session, when participants were asked what their favourite part about the series was, the themes of reciprocity and community emerged as the most popular aspects: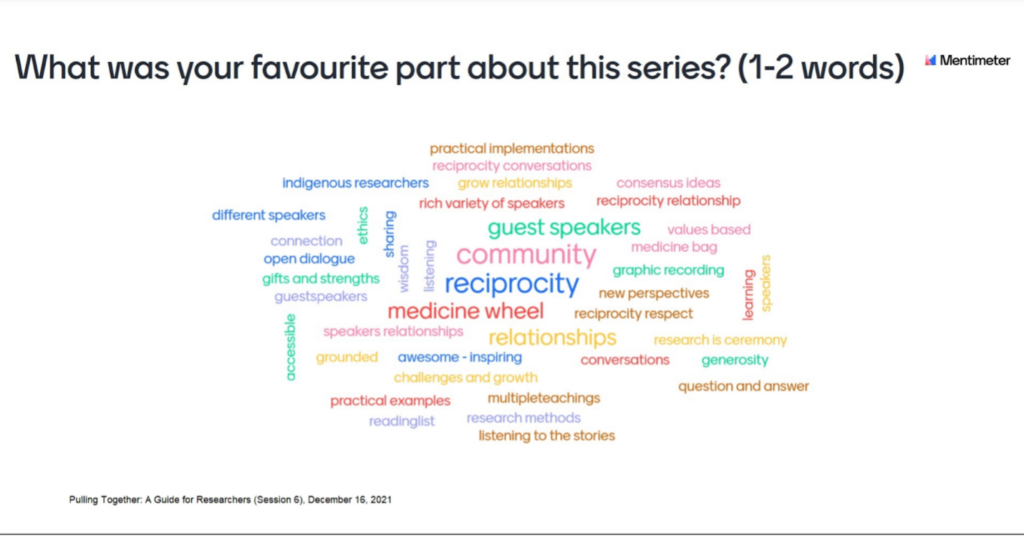 A post-event survey brought the following quotes from participants about their experiences during the sessions:
"The line-up for the guest speakers was amazing. The graphic recorders did a stellar job of putting into images the ideas that circulated, and the sessions felt more like conversations than formal presentations! Gabrielle did a wonderful job of welcoming everyone and making sure the sessions ran smoothly each time, and I am ever so thankful for Dianne's and John's sharings every session too! Finally, I loved the medicine bag kit that was gifted to each participant. Such a kind thing to do! I'm very grateful for this."
"I thought this webinar series was consistently very high quality and gave a number of different Indigenous perspectives. The speakers/leaders of the series were well chosen. I found Dr. Verna Billy-Minnabarriet's, Lou-Anne Neal's, and Christopher Horsethief's sessions to be particularly thought-provoking. Dianne Biin and John Chenoweth did a great job tying up at the end of each session and were great at answering questions authentically. I absolutely loved the graphic recordings."
"The series helped me to evolve and re-frame how I was thinking about Indigenization and reconciliation. I think I moved from thinking of it as something 'in addition to' what I do to a shift in how I do what I do."
"The focus on non-objective aspects, community of practice (doing research in a good way, setting intentions), language, connection, reciprocity, and accountability has been incorporated into my daily life since taking this course. With some previous knowledge on some subjects, there are still so many things I have learned in this series that I am so thankful for, especially as an early-career researcher."
"It was a captivating experience. The session has exceeded my expectations in terms of emotional involvement."
"My experience was comfortable even though it was through a virtual platform. I liked the interplay between the hosts and the accessibility participants in expressing their thoughts and reflections."
"Experience was phenomenal and well above my expectations! The guest speakers were fantastic, the organization was amazing, the thought and space provided to learn and ask questions were always available. I felt welcomed."
Looking Ahead
BCampus is gearing up to host another Pulling Together Series beginning in April 2022! This series will be based on Pulling Together: A Guide for Teachers and Instructors, which explores how to Indigenize your practice by building new relationships with Indigenous pedagogy and knowledge. We'll host a session every Thursday from April 21 to May 26. Facilitators and guest speakers are yet to be announced.
Pulling Together: A Guide for Teachers and Instructors mirrors the structure of curriculum design and pedagogical processes to support learning by focusing on three processes: content, context, and application. Content acts as prior knowledge bridging and exploring how we got here today. Context grounds you to recognize, respect, and honour Indigenous worldviews and suggests ways to invite into your classroom and practice. Application encourages movement forward by providing tangible ideas and next steps for Indigenization. This guide can be used as part of a learning community or in a group-learning experience, adapting and augmenting it to include Indigenization pathways at your institution for Indigenous students and communities.
Pulling Together: A Guide for Teachers and Instructors was created by Bruce Allan, Amy Perreault, John Chenoweth, Dianne Biin, Sharon Hobenshield, Todd Ormiston, Shirley Anne Hardman, Louise Lacerte, Lucas Wright, and Justin Wilson.
Registration will open soon for this next series. Make sure you get the latest information on news and events by subscribing to the BCcampus newsletter!
Learn more:
If you would like a copy of any of the guides in the Pulling Together series, please visit the BCcampus Open Textbook Collection.