In 2021–2022, BCcampus sponsored the Co-designing with Anti-oppressive Action Frameworks for Curriculum and Pedagogy initiative, funded by the BCcampus Decolonization Grant Program. The work was conducted by professors Bonne Zabolotney and Cameron Neat of Emily Carr University of Art + Design.
The following is the final instalment in a series of excerpts from an interview with Bonne and Cameron to help introduce their framework, what the framework is, how it is designed to be used, and the learning that happened for them along the way.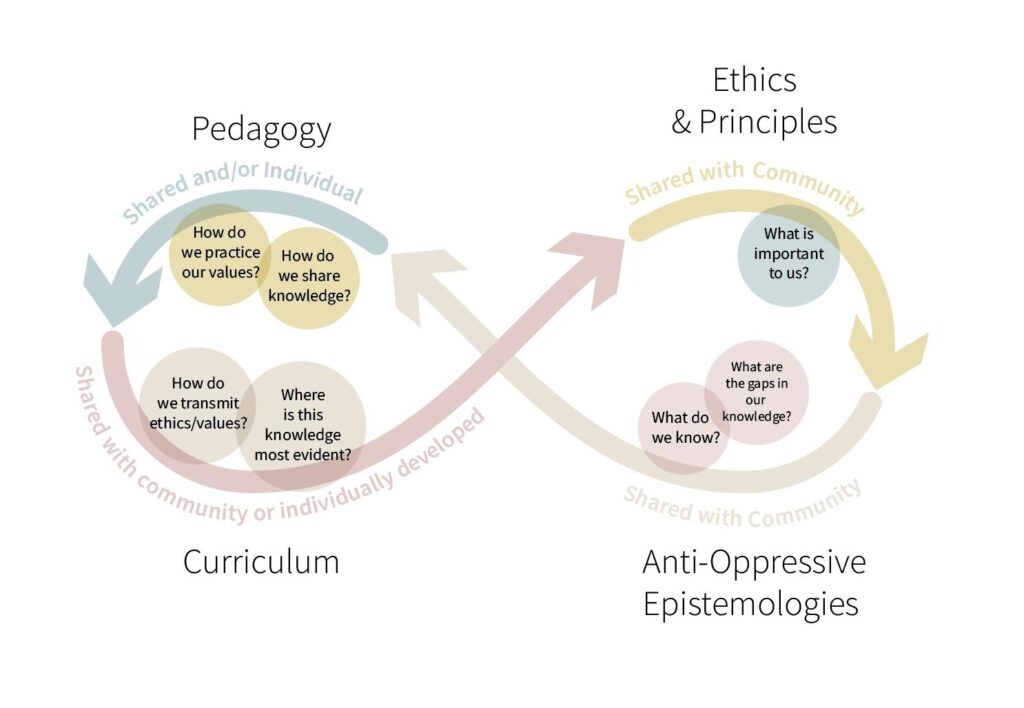 Their Framework: Co-designing with Anti-oppressive Action Frameworks for Curriculum and Pedagogy [PDF]
Listen to Part One of this interview.
Listen to Part Two of this interview.
Clip 11: What else would you like to highlight or share about the work?
BONNE:
I really do want to be able to say this is meant to be a flexible framework. In the spirit of open education, we expect for people to adapt to the work. It's not a prescription for how to move forward in this phase. I think the difficult starting point for this is you need to have a group that is invested in making changes and wanting the change. If it becomes a prescription or a mandate for people to use, I'm not sure you will get genuine, usable responses. It really does have to be emergent. That's really important. Because these kinds of frameworks don't matter really what it is. If it's not flexible, it just becomes outdated and brittle after a time. We really do hope people will take what they need from it and then go ahead and make those changes and adapt it to the environment you want to be able to use it for.
Clip 12: What's next?
CAMERON:
I feel like there's still work with the group we were working with, some logical next steps that would be great to start working with. That's really bringing it into even more concrete forms, like we got to curriculum and pedagogy, but to formalize them in the tool to pedagogy. What, from these values and this process, would we envision as an assessment criteria? What would we envision as a project brief? What are some changes to the facilities we need to make? What needs to happen with the physical plan or the technology? There seems to be one more step.
LEVA:
In application.
CAMERON:
In many directions. Does that make sense? Each one of those —a concrete discussion of assessment criteria would be great. That's where I would like to go at this point if we could with this group.
Clip 13: What's needed now?
BONNE:
Right away, we had set up a column. If you identify gaps or barriers that prevent us from doing the kind of work we want to do, let's just put it in this space, because that is really becomes the to-do list for future work. I think as Cameron's already identifying there's so much structural work to be done to uphold. We can't just change curriculum and pedagogy and not have university policies that help support that work. Or that help students navigate through the complex institutional spaces we have. It doesn't extend into student services. Or library services, or counselling, or that sort of thing. You can see automatically just as a process of working within our contained area how quickly you need to make this a structural system of work. You can see those sorts of supporting structures as gaps right away. Then we could really hear so many times throughout our workshops where faculty were saying, "We need space. We need chairs and a table in a room where we can sit with our colleagues and safely discuss this kind of work. Where we can actually share challenges with each other and try to help each other work through some of these issues." The one thing Zoom will do is make you feel like you are working in this very restricted space. You know, it's very transactional, that space. I think what we really heard from faculty was this need to remove themselves from transactional spaces and more into this co-designed, shared, trustworthy space, where people could feel okay about being vulnerable and where we would help each other when someone is feeling vulnerable. Just rooms, chairs, tables.
LEVA:
Hmm, that's interesting.
BONNE:
You know, that's really important.
Clip 14: Acknowledgment of BCcampus support
BONNE:
I'm happy to be able to work with BCcampus on it. You guys have been really generous with your grant and for supporting this. I think that has been a real positive force in our work. For that, I'm really grateful. I'm really thankful. Thank you so much for that.
About the authors: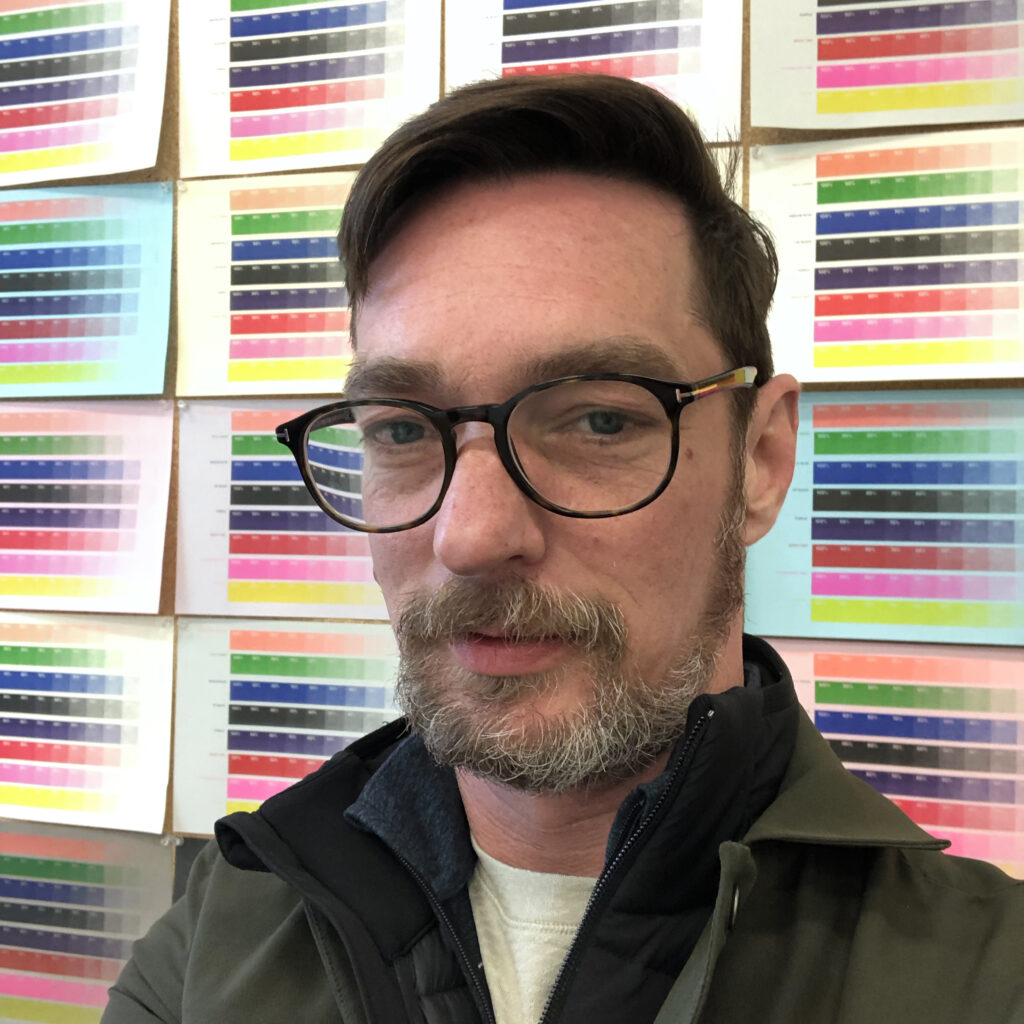 Associate professor of Communication Design
Emily Carr University of Art + Design
Cameron is a communication designer and educator who joined the faculty at Emily Carr in 2016. He holds a BFA in visual communications from Cornish College of the Arts and an MFA in graphic design from the Rhode Island School of Design. His current practices are focused on visual communication and information design for the public health sector as well as community engagement projects aimed at making visible the varied stories of the LGBT+ community.
Dr. Bonne Zabolotney (She/her)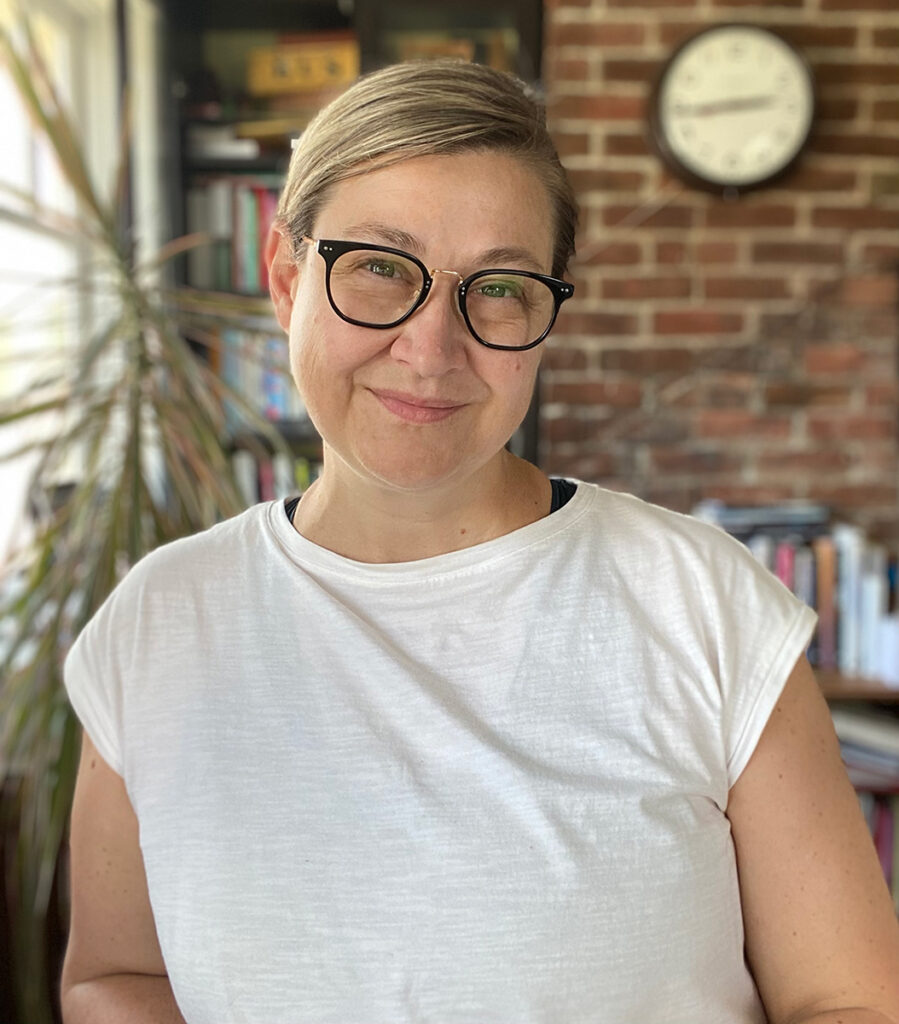 Professor, Faculty of Design and Dynamic Media
Dr. Bonne Zabolotneyis an interdisciplinary designer, educator, and researcher who focuses on Canadian design culture — particularly anonymous and unacknowledged works — and the political economy of design. She holds a PhD in design from the Royal Melbourne Institute of Technology in Australia, an MA in liberal arts from Simon Fraser University in Vancouver, and a BDes from Alberta University of the Arts. She teaches critical studies and communication design at Emily Carr University.
Emily Carr University is situated on traditional unceded territory of the Coast Salish peoples — the Sḵwx̱wú7mesh (Squamish), Stó:lō and Səl̓ílwətaʔ/Selilwitulh (Tsleil-Waututh), and xʷməθkʷəy̓əm (Musqueam) Nations.
The framework above is published under a Creative Commons Attribution 4.0 International License (CC-BY).
---
The featured image for this post (viewable in the BCcampus News section at the bottom of our homepage) is by David Bartus from Pexels