In 2021–2022, BCcampus sponsored the Co-designing with Anti-oppressive Action Frameworks for Curriculum and Pedagogy initiative, funded by the BCcampus Decolonization Grant Program. The work was conducted by professors Bonne Zabolotney and Cameron Neat of Emily Carr University of Art + Design.
The following is the first of a series of excerpts from an interview with Bonne and Cameron to help introduce their framework, what the framework is, how it is designed to be used, and the learning that happened for them along the way.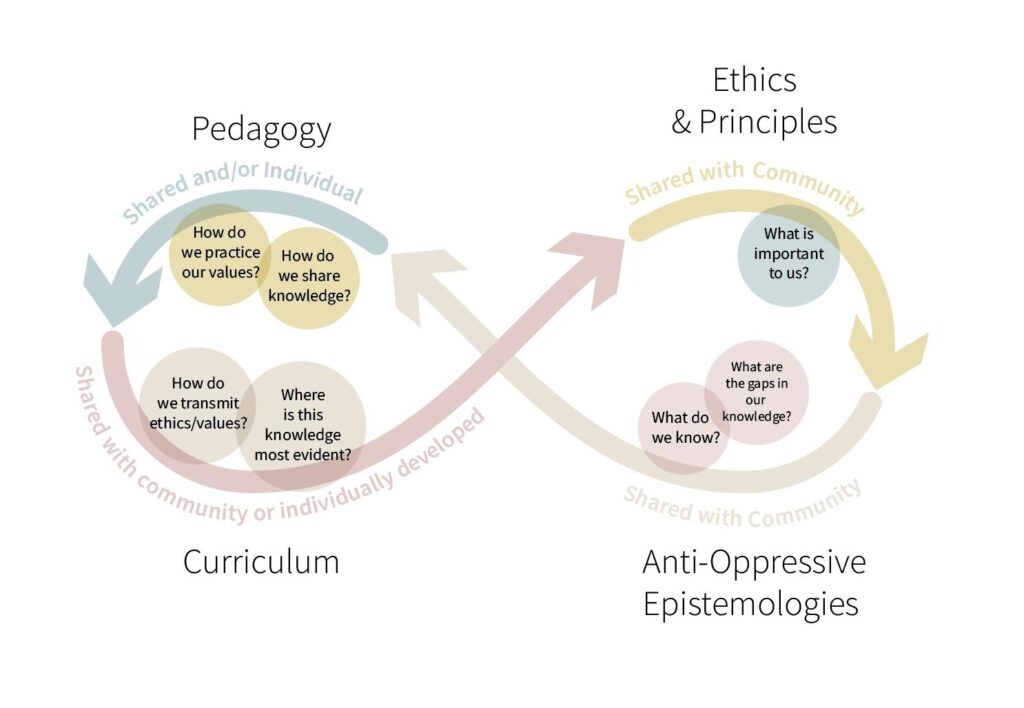 Their framework: Co-designing with Anti-oppressive Action Frameworks for Curriculum and Pedagogy [PDF]
Audio Clips and Transcripts
Clip 1: Introductions
LEVA:
I'd like to introduce Bonne Zabolotney and Cameron Neat, both from Emily Carr. Maybe you could tell us a little bit about the work you do at Emily Carr and introduce yourself as well.
BONNE:
Sure. I'm an associate professor at Emily Carr. I'm in the Communication Design Program, in the Bachelor of Design, in the Faculty of Design and Dynamic Media. But I had been teaching mainly history and theory classes for designers. I'm lucky enough to be in the studio once a year so far. In the springtime, I run one third-year studio. But I am a part of communication design practices and consider myself a communication designer first and foremost. I work with Cameron in the same program.
CAMERON:
Hi, I'm Cameron Neat. I also am an associate professor at Emily Carr University. Like Bonne, I teach in the Communication Design Program. I teach mostly in the studio. That's applied design, where it's very practice-prompt-driven education. I also have the privilege to teach in the master's program, starting more often, so I have involvement in our Interdisciplinary Design master's degree as well.
Clip 2: What is the framework and its purpose?
BONNE:
The framework is really a guiding tool. It is a structured process that is meant to help develop conversations about anti-oppression. It's meant to lead to real action, real practical responses in your curriculum and in your pedagogical approaches to the curriculum. It starts with understanding what the shared principles and values and ethics actually are within your community. It doesn't really matter which discipline or field you're working in. It's getting to know what faculty know and really value and building from that point. It's very practical, the framework. It's also meant to ensure the curriculum is developed in an emergent way. It rises up through the values and principles and ethics that faculty agree on and build together. It's not meant to be top-down. That becomes this mandate to apply certain kinds of principles. It should be easily upheld because it comes from that personal space to start with.
Clip 3: The framework as a tool for conversation and co-creation
CAMERON:
When someone takes part in creating the framework, there's an investment there, a kind of ownership that comes from it, making it easier to relate to and understand how to apply. The other thing is we don't know what we don't know, right? Those conversations can illuminate either in big or small ways knowledges we hold as a faculty, and individually, we may not be aware of.
Clip 4: What inspired you to pursue this project?
BONNE:
I think the first time I started talking to you about this, I had just been reading Sasha Costanza-Chock's work about design justice and the kinds of design-justice principles. I realized those don't have to be conceptual principles. They don't have to be invisible. We can actually build a practical response, a practical framework that commits to those principles and starts to assert change.
(Cont'd)
CAMERON:
What really comes to mind as far as the inspiration for me, and many of us actually, is in the summer of 2020, a lot of things were happening. We had the murder of George Floyd in the U.S. We had a lot of uncovering here in B.C. At Emily Carr we had a very articulate response from a student petition about asking the faculty and administration to really take seriously a call for an anti-racist curriculum and to really bring attention to it and reflect and take action. This was this sense that this whole notion of an anti-oppressive pedagogy has been really a strong focal point and how I've been starting to approach classes. I did a lot of reviewing at that point. Then I was in shared conversations with many of my colleagues and faculty. Those were at times, particularly at the beginning, quite difficult. They weren't easy conversations, particularly as we got started, and they're still not terribly easy at times. But oftentimes some of these really fruitful conversations were happening, like me and another colleague would be working on something together, trying to find ways we could expand that outward from just individual relationships and sharing knowledges among close peer groups. To bring more folks to the table.
---
Listen to Part Two of this interview.
Listen to Part Three of this interview.
About the authors: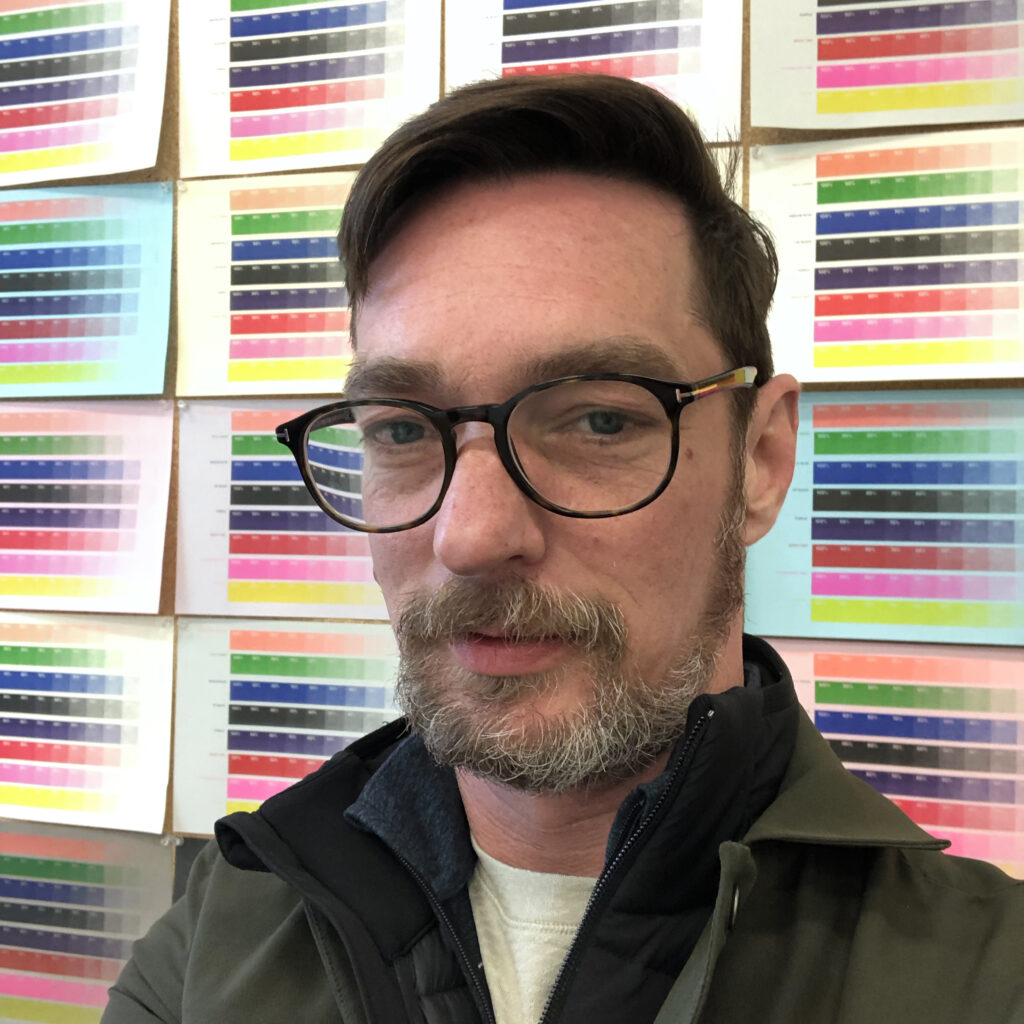 Cameron Neat (He/him)
Associate professor of Communication Design
Emily Carr University of Art + Design
Cameron is a communication designer and educator who joined the faculty at Emily Carr in 2016. He holds a BFA in visual communications from Cornish College of the Arts and an MFA in graphic design from the Rhode Island School of Design. His current practices are focused on visual communication and information design for the public health sector as well as community engagement projects aimed at making visible the varied stories of the LGBT+ community.
Dr. Bonne Zabolotney (She/her)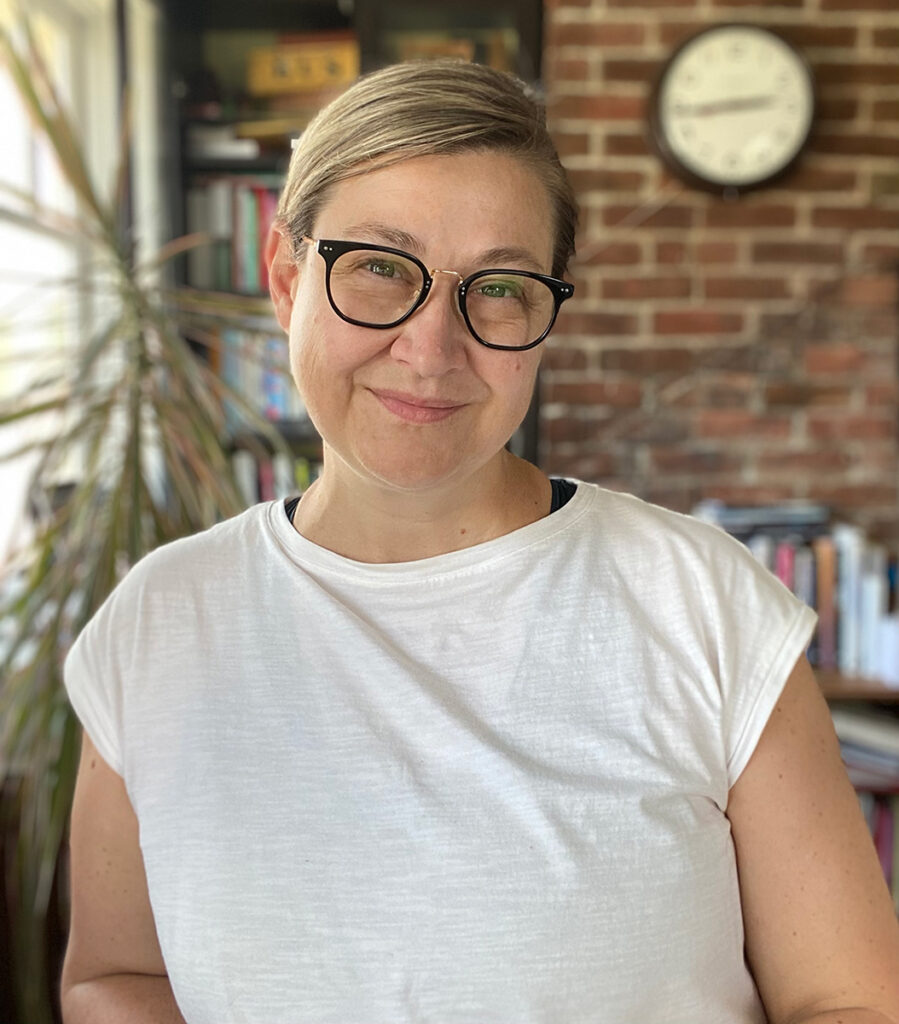 Professor, Faculty of Design and Dynamic Media
Dr. Bonne Zabolotneyis an interdisciplinary designer, educator, and researcher who focuses on Canadian design culture — particularly anonymous and unacknowledged works — and the political economy of design. She holds a PhD in design from the Royal Melbourne Institute of Technology in Australia, an MA in liberal arts from Simon Fraser University in Vancouver, and a BDes from Alberta University of the Arts. She teaches critical studies and communication design at Emily Carr University.
Emily Carr University is situated on traditional unceded territory of the Coast Salish peoples — the Sḵwx̱wú7mesh (Squamish), Stó:lō and Səl̓ílwətaʔ/Selilwitulh (Tsleil-Waututh), and xʷməθkʷəy̓əm (Musqueam) Nations.
The framework above is published under a Creative Commons Attribution 4.0 International License (CC-BY).
---
The featured image for this post (viewable in the BCcampus News section at the bottom of our homepage) is by Magda Ehlers