Introduction
BCcampus strives to ensure our events are as inclusive and universally accessible as possible. This page contains a list of our general accessibility practices and procedures. If you have a suggestion for how we can improve the accessibility of events hosted or sponsored by BCcampus, please contact us.
Accessible Practices and Procedures
Alternative Formats
We are committed to providing accessible information and recognize that people often use methods other than standard print to access information. We provide correspondence, reports, and other documentation in an alternative format where possible on request. Alternative formats available:
Hard copy or email
Large print
If another type of format is requested, we do our best to ensure those needs are met.
Sign language interpreting or Communication Access Realtime Translation (CART) is available on request.
Accessibility Requests
Our organizers manage each request personally with the requestee. If you have specific requirements, you will have the opportunity to communicate them on our registration forms, or you can ask a question by filling out the contact us form.
Assistive Devices
We often have attendees who use personal assistive devices to help them with daily living. They include auxiliary aids such as communication aids, cognition aids, personal mobility aids, and medical aids. We work closely with our audio-visual providers to help provide the necessary equipment. All spaces are equipped with microphones and a house PA or speakers.
Support Persons
A person with a disability who is accompanied by a support person is permitted to have that person accompany them at our events. Some people with disabilities rely on supports to help with communication, mobility, personal care, or medical needs. A support person may be a paid professional, volunteer, family member, or friend and does not need to have special training or qualifications. Fees are not charged for the support person, who is sponsored by BCcampus. Let us know during registration, and we can have your support person registered for catering purposes.
If you do not have a support person but do require extra assistance, volunteers and event staff are available to assist at any time during the event.
Support Animals
A few examples of service animals include dogs used by people who are blind, hearing alert animals for people who are deaf or hard of hearing, and animals trained to alert an individual to an oncoming seizure and lead them to safety. As always, and by law, service animals are welcome at our events. We provide the closest park and dog-run locations for guide dog potty breaks.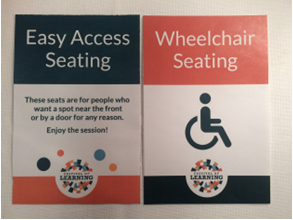 Seating
BCcampus dedicates easy access and accessible seating (e.g., close to entrances/exits) at all our in-person events.
Sensory Bags
Sensory bags are available to borrow at our event registration desks. Each bag includes a weighted blanket, noise-cancelling headphones, various types of fidget toys, a colouring book, and gum.
Quiet Room
This unique area is designed to help participants stay relaxed and grounded so they can do their best learning and networking during our events. Quiet rooms are intended to provide a quiet, calm space where attendees can spend time away from the noise, lights, and other stimuli of our event spaces. The quiet room is not for conversations or meetings.
Lap Blankets
Feeling chilly? We know venue central air can be hit and miss. We have you covered! Our registration desk has a stock of lap blankets you can check out and return.
Frequent and Extended Breaks
Health and wellness are first priorities while hosting BCcampus events. We often incorporate a later start time, earlier end time, and extra and extended break times into our event schedules.
Affordability
BCcampus runs events in a cost-recovery, non-profit format, and we aim to keep our registration fees free or low-cost. BCcampus often partners with post-secondary institutions for venue spaces and supports in kind, financially helping cover costs to allow for free student registration. If your organization is interested in sponsoring a BCcampus event, please contact events@bccampus.ca.
Childcare
Attending an event sometimes means choosing professional development at the expense of spending time with family, but for large, multi-day events hosted by BCcampus, participants don't have to choose one over the other.
To enable participants to bring their children to an event, we offer
Professional child care services
Invitations to children to join us for nutritious and delicious meals
Games, art supplies, age-appropriate toys, and books
BCcampus t-shirts to easily identify the children in our care
Lactation room (please let us know on the registration form so we can provide a private space)
Complimentary childcare is available to attendees of most BCcampus events. Please note spaces are limited for each event.
Photography Opt-Out Option
From time to time, we have a photographer present at in-person BCcampus events to capture images to be shared on our digital properties and promotional materials. Attendees are always able to decline the media release of photos. Red lanyards denote an attendee who does not want to be photographed. No photos of children are taken if they are on the conference floor.
Code of Conduct and Incident Reporting
BCcampus strives to provide a safe, harassment-free learning environment. All event attendees, speakers, sponsors, organizers, and volunteers must agree with the BCcampus code of conduct as part of registration. Thank you for helping co-create a learning environment where the exchange of ideas is vibrant, respectful, and free of harassment.
Reporting an Incident
If you experience a violation of the code of conduct at one of our events or witness an incident you would like to report, head to the registration desk to let us know. We will conduct an interview in a private, secure, confidential space. You may also email us.
Venue Information and Accessibility Guide
For larger in-person events, we provide registrants with a package that includes venue-specific details such as emergency safety and security procedures, flooring, lighting, entrances, the location of universal washrooms, quiet rooms, charging stations, and amenities that may not be easily accessed. Registrants receive this package closer to the event date but well in advance, so they can use it to help plan their experience.