It's no secret that online learning has become the wave of the future, but for one British Columbia post-secondary institution, mobile learning through the use of handheld devices and "apps" is offering even broader opportunities for providing "on-the-go" information in the classroom and out in the field.
Last year, the Justice Institute of British Columbia (JIBC) developed its very first (free) app for smart phones and tablets: Incident Command System/Incident Management System (ICS/IMS). The iPhone app provides a glossary of over 125 terms commonly used in emergency management, complementing popular ICS training provided by the JIBC through its Emergency Management Division.  Since then, the JIBC has been working to further expand mobile learning with two more apps and an e-book.
"We aren't just creating apps for our learners – we're providing important tools designed to link emergency services personnel in all regions of the province," explains Tannis Morgan, Associate Dean, JIBC Centre for Teaching, Learning and Innovation. "More and more people are using handheld devices rather than personal computers. Once our learners leave the JIBC, they can continue to call up valuable information on their phones and tablets and draw upon it while they are out in the field."
Two more apps and one e-book are under development:
Emergency Social Services (ESS): a practical tool for planning and responding to emergencies and disasters – it's also a supplement to JIBC ESS training. Currently, planning tools used by ESS responders are paper-based. The new mobile app, available later this year, will make it easier for ESS reception centre and group lodging managers and team members to provide their important services through the use of handheld devices.
A hazardous materials awareness app (HazAware) to provide students and fire service personnel with a quick study option and reference resource. Created by JIBC Fire Safety Division, the app allows students to review information about hazardous materials and challenge their knowledge through a series of quizzes. It can be used to prepare for a class, support classroom learning, or act as a reference post-course or during a hazardous materials incident.
Further, when the HazAware app and e-book become available through the Apple store, likely this summer, they'll be a low-cost alternative to an entire course and textbook.
"We've been seeing a real shift in people wanting to access key information right at their fingertips," says Dennis Yip, JIBC Senior Web Developer. "As such, we've been working to tailor our learning technologies to better meet the needs of our students. Providing these types of innovative and responsive resources allows our students to better serve communities across British Columbia."
The JIBC is also exploring other technological innovations, including a pilot project where iPad Minis will be used in vehicles such as taxis to measure and track a student's driving skills. Students can observe their braking, cornering, and acceleration G forces on live graphs. The pilot will be implemented with the Pacific Traffic Education Centre later this spring.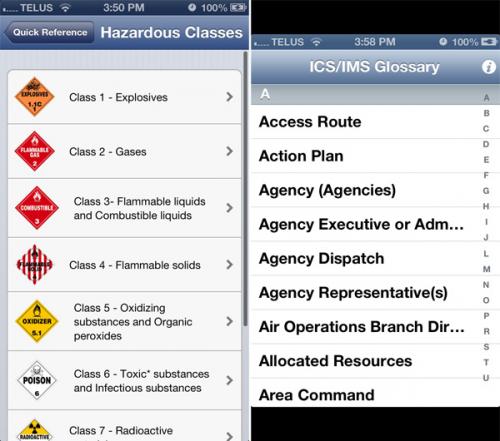 Screenshots from two of JIBC's iPhone apps: HazAware (left) and ICS/IMS (right).
Posted by BCcampus Editorial Staff