In March, for our first Friday diversion blog post, the BCcampus editorial staff brought you 7 YouTube Channels to Make You Smarter.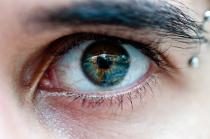 For April's installment, we've scoured the web to bring you our top ten science videos covering astronomy, biology, geology, geometry, mathematics, technology and physics.
We'd love to know which ones stimulate your thinking and ignite your imagination.
I believe our future depends powerfully
On how well we understand this cosmos
In which we float like a mote of dust
In the morning sky
The Pleasure of Finding Things Out – Richard Feynman was an American theoretical physicist and Nobel Prize recipient. A master storyteller, Richard shares his love for science and the joy of scientific discovery in this 50-minute candid interview produced by the BBC and PBS.
Earth 100 Million Years From Now – Worried about climate change and tectonic shifts? This video shows how today's continents are thought to have evolved over the last 600 million years, and where they'll end up in the next 100 million years, in about three minutes.
And a bonus:
Want to brush up on your biology, chemistry or ecology but don't have a lot of time? You'll want to check out the Crash Course YouTube Channel by brothers Hank and John Green. Since the channel's launch in December 2011, their videos have garnered over 24 million views. Their episodes have been used in classrooms across the world. This episode is called Precipitation Reactions.
[iframe width="400″ height="225″ src="//www.youtube.com/embed/IIu16dy3ThI?rel=0″ frameborder="0″]
Photo credits: Dudu.Maroja via photopin; cc
Posted by BCcampus Editorial Staff