If you took a map of British Columbia and drew a circle around the land from Haida Gwaii to Houston, you'd see how widely spread the communities served by Northwest Community College (NWCC) are.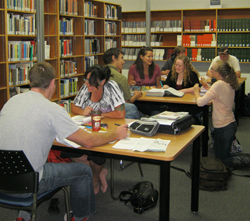 While physical NWCC libraries can be found at the Prince Rupert, Terrace, and Smithers campuses, library services extend far and wide to learners and faculty at other northern communities. This extension is achieved through the provision of electronic resources, virtual assistance, phone calls, emails, and librarian site visits.
A focus on community is at the heart of the NWCC library. The Terrace campus library for example, has just completed renovations to create a warm, welcoming environment for learners and to make library staff more accessible. The library space has been set up with a recognition that "different students have different needs", says Melanie Wilke, Library Coordinator. Moving through the library, you will see comfortable sofas and tables near the entrance for bustling group study, with study carrels towards the far end for quiet work.
Bandwidth can be an issue for the remote communities of BC's northwest. "The whole idea that VHS/DVD is dead or dying is not the reality for us," says Wilke, "there are a lot of pieces that have to fall into place before a complete transition [to electronic formats]." The library supports distributed learning by making streaming videos and digital content available – some through BC ELN licenses – but also supports a vast interlibrary loan system to meet the needs of learners that prefer or rely on physical items.
Partnerships go a long way to link NWCC learners with the resources they need. Wilke explains: "When you know everyone by name, it's really easy to say 'I have a student who needs this from your library and I think you could help them.'" Acting on student feedback, Wilke recently collaborated with the public library to make a collection of video games and DVDs available for students living in dorms to borrow on campus. Working together results in library barriers being removed – a distinct goal in Wilke's opinion.
"To me, what's really important is that we're working with our communities," says Wilke, "and that just comes naturally up here in the North."
This article has been reprinted with permission from the B.C. Electronic Library Network's October newsletter.