Last November, we highlighted this made-in-Canada transcript exchange project on our BCcampus blog. Now we are pleased to report the project has gone live.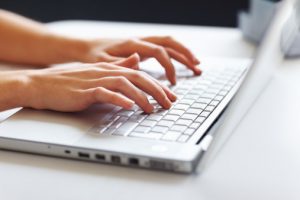 The BC2ON transcript exchange project is a project by BCcampus and the Ontario Universities' Application Centre (OUAC) developed to send electronic transcripts using the new transcript data standards from B.C. to Ontario through Canada.
This project will enable British Columbia student transcript information to stay in Canada, when applying to institutions in Ontario. B.C. students benefit by having their personal transcript data sent more quickly and securely to the institutions as part of the application process.
For this pilot, Douglas College is the first and only institution involved in the transcript exchange project. Up until now, the college had been sending their transcripts to Ontario via a transcript service located in Texas, using older transcript data standards.
This project will enable Douglas College to send their students' transcripts securely, while adhering to B.C.'s strict privacy laws, via the BCcampus TranscriptsBC hub to the Ontario universities via the OUAC's electronic transcript exchange system.
This project has provided a proof of concept for sending post-secondary electronic transcripts inter-provincially using the new transcript data standards.
Other B.C. post-secondary institutions who are interested in either participating or learning more should contact: Cathy van Soest, Client Services Manager, Student and Data Exchange Services or Randy Bruce, Director, Student and Data Exchange Services.
Notable Quotes
Douglas College was pleased to be part of the pilot project for electronic transcript exchange between British Columbia and Ontario.  This electronic transcript will provide an improved service that is more efficient, faster and secure for our students. The fact that the transcript exchange will now occur solely within Canada is a positive step forward in upholding B.C.'s privacy laws. – Anne MacMillan, Associate Registrar, Douglas College and BC2ON Project Team Member
For the OUAC, the electronic transcript project with BCcampus is an initial step in our strategic objective to increase electronic transcript exchanges across the country. This is our first Canadian partnership outside of Ontario, and it sets the stage for many future opportunities. Ontario students and universities will reap numerous benefits as more inter-provincial partnerships are developed. – Trudy Sykes, Director of Operations, Ontario Universities' Application Centre
This innovative project will benefit many students over time and make the process of applying to post-secondary institutions more efficient, ensuring that students' transcripts arrive in time to meet admission deadlines. – Cathy van Soest
Learn more: