Our Open Textbooks Project continues to generate interest from faculty and students not only across British Columbia, but internationally. Just this week, SFU student newspaper, The Peak published a special feature called The End of Textbooks and featured our very own Clint Lalonde, who is the project lead on BC Open Textbook project.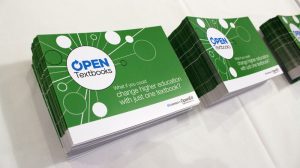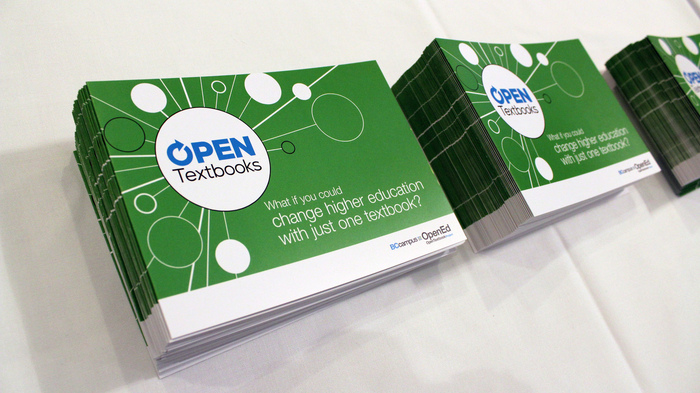 The introductory open Canadian Geography textbook created during June's sprint and mentioned in the SFU newspaper article will be released this fall.
New Open Textbook Adaptations Available
BCcampus will also be releasing new adaptations including:
Intro to Psychology (along with the accompanying test bank of questions)
Social Psychology
Intro to Sociology
Database Design
Project Management (along with accompanying PowerPoints, chapter questions and audio version of the book)
Introductory Chemistry
Mastering Strategic Management
Currently, we have 64 Open Textbooks in more than 35 different subject areas. 23 of our Open Textbooks have peer reviews. And, there are a total of 55 peer reviews on the open.bccampus.ca site.
Sharing Lessons Learned, Best Practices and Research
September through November finds BCcampus staff called upon to share their expertise and insights about open education, teaching and learning practices and scholarly research by either leading/chairing sessions or participating on panels. Registration for many of the conferences and workshops listed remains open and you'll want to click on the associated links to learn more.
Open Textbooks: A How-to Guide on Adaptation and Adoption
When: September 23, 2014
Where: KPU Surrey Campus
Description
What is Openness in education? What is an Open Educational Resource (OER)? What is an Open Textbook? Join Dr. Rajiv Jhangiani (KPU), Mary Burgess (BCcampus), and Amanda Coolidge (BCcampus) for a hands-on session that will explore these questions, discuss the advantages and disadvantages of adopting open textbooks, and provide a guide for how you can easily adapt these to suit your needs.
When: September 29, 2014 – October 31, 2014
Where: Online
Description
Through participation in this online workshop, instructors develop the skills needed to effectively facilitate learning in online environments.
The design is based on the Instructional Skills Workshop in that activities provide an authentic environment for faculty to learn about and practice skills related to facilitating and assessing learning. There are opportunities for peer feedback as well as reflection on ones' own experiences as a participant in the course, acting in the role of facilitator. Participants should expect to spend 8 – 15 hours during each of the 5 weeks engaged in synchronous and asynchronous activities. Continuous, active participation is necessary to make this course successful for everyone. Completion of this form indicates your interest in participating in the ISWO. Enrolment is offered to the first 15 participants currently employed at a public British Columbia post-secondary institution. Contact Sylvia Currie scurrie@bccampus.ca to be placed on the waitlist or find out more.
When: October 2, 2014 – October 3, 2014
Where:  Faculty of Social Sciences, 120 University (map)
Description
Since the 1970s, technology has been involved in streamlining the entire society and the university's education system. Engineering processes have helped reduce costs and standardize quality by streamlining the training process. Computers and networks have democratized learning in universities. The best experts will present an overview of the research and practices in the field to ultimately participate in the development and technological transformation of higher education.
When: October 20, 2014 – October 28, 2014
Where: Online and SFU Harbour Centre
As part of the eighth global Open Access Week, SFU will be hosting two separate panels about Open Textbooks.
Mary Burgess, Acting Executive Director and Lauri Aesoph, Operations Manager will be on two separate panels (October 23 and October 28) about Open Textbooks for SFU and UBC Open Access Week offerings.
Description
Open Access Week, a global event, is an opportunity for the academic and research community to continue to learn about the potential benefits of Open Access, to share what they've learned with colleagues, and to help inspire wider participation in helping to make Open Access a new norm in scholarship and research.
When: November 14, 2014
Where: SFU Harbour Centre
Description
BCcampus invite you to join us for the first provincial Symposium on Scholarly Inquiry into Teaching and Learning Practice. This day includes a variety of keynote speakers, presentations and round table discussions to assist all faculty, teaching assistants and graduate students at any B.C. post-secondary institution to learn more about the exciting world of conducting inquiries into personal teaching and learning practices. This symposium is an important opportunity for people to connect with colleagues from provincial institutions to synthesize knowledge and explore the development of potential collaborations.
Registration is limited to 100 people and payment ($40 per person) is through Simon Fraser University's registration service.
International Venues: November
BCcampus will be a key participant at the OER Foundation Board Meeting and two OERu meetings:
photo credit: BCcampus_News via photopin cc