A new testing protocol will be available to TranscriptsBC current and future member institutions to enable their in-house teams to test updated and new PESC XML transcripts, independent of testing partners; ensuring participating institutions can 'self-certify' transcripts before sending to destination institutions.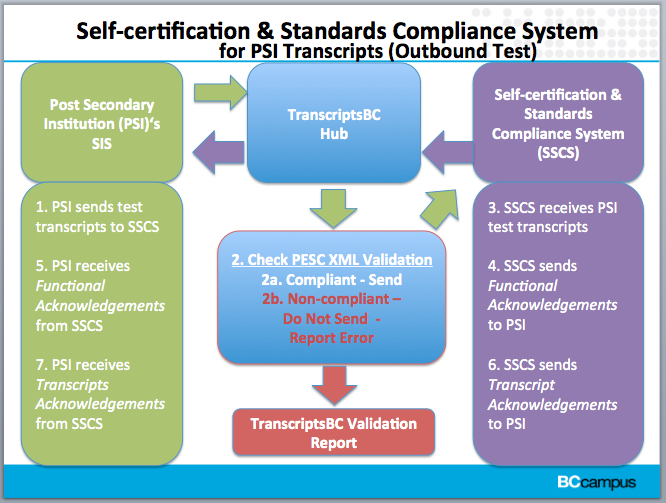 Delivering useful information efficiently and effectively is an important part of Student Data Services at BCcampus; we're focused on providing the institutions in B.C. with the services they need today and for the future. TranscriptsBC, the BCcampus service used by post-secondary institutions throughout the province, is in the process of introducing a new testing protocol to enable member institutions to verify updated and new standards-based transcripts without requiring a testing partner.
The new system will electronically check transcripts to ensure they adhere to the technical standards for e-transcript exchange as outlined by the current PESC standards. The system will be available to B.C. post-secondary institutions when BCcampus launches the Connector3 system architecture in 2016. The new system will replace the Connector2 system, which has been in place since the spring of 2010, and provided security enhancements and performance improvements over the original Connector system.
Testing process
The updated protocol testing process requires the post-secondary institution to create test transcripts within their Student Information System (SIS), and submit these transcripts to the destination institution. The TranscriptsBC Hub will then verify each transcript against the PESC XML College Transcript Standard. Noncompliant transcripts won't be sent through this system. This gives the sending institution the opportunity to make the necessary changes to the test transcript to become compliant, prior to sending official transcripts in PESC XML to other institutions.
Detailed instructions can be found via TranscriptsBC.
Previously, some visibility into the transcript process was handled by the MyCreditsBC program, a standalone service used by students to access an unofficial course record from the B.C. public post-secondary institutions they attended. The current iteration of MyCreditsBC will be decommissioned as of November 26, 2015, with plans to be reintegrated into the TranscriptsBC structure in the future. The MyCreditsBC program is a natural fit for TranscriptsBC, and we will announce when the service is available again.
Notable quotes
"This new capability will allow institutions to independently self-test their transcripts during their development process before going into production, enabling them to establish an accurate timeline for moving into production, faster." ~Cathy van Soest, Manager, Student Data Services, BCcampus
Learn more
---
Join us at an upcoming event:
---
---