Amanda Coolidge and I recently spent a few days on a Mississippi river boat with a lot of big Open Education brains thanks to the very generous Hewlett Foundation. Some of the discussions that happened on the boat were about next steps for our Open work and about being more transparent with each other about our development. This blog post is our crack at that.
Post by Mary Burgess, Executive Director, adapted from educhew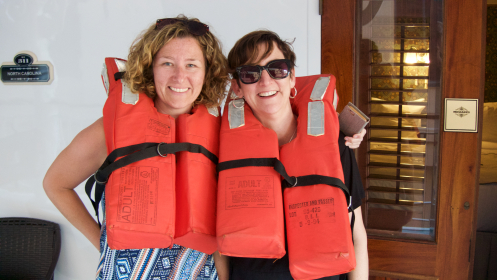 As many are aware, at BCcampus we've been actively working on the creation, adaptation, and adoption of open textbooks throughout the B.C. post-secondary system for a little over 3 years. To date, we have 139 open textbooks in our collection, with 375 known adoptions, and a student savings of $1.4 million.
How we got here
While we continue to work on the supply side, and see that work as crucial to the long-term success and sustainability of our work, we are also moving forward in expanding the open eco-system, which includes open educational practices, such as open pedagogy. You can see our previous musings on open pedagogy, in which we built on Dr. David Wiley's work, here and here, and a set of open pedagogy examples we solicited from the community here.
We are trying to marry our work in content supply with powerful practices in teaching and learning that engage students in ways only open licenses afford us. What follows are some activities we're trying to use to evolve and expand open educational practices within British Columbia and elsewhere. We hope that by sharing our concrete action steps (#oerboat), we'll stimulate yet more of a snowball effect in the teaching and learning community so we can all help move this development forward.
Open Pedagogy Workshop at the Festival of Learning
At the upcoming Festival of Learning (join us!!), the BCcampus Open Education team will work with other members of the open community in delivering an Open Pedagogy workshop. This hands-on offering will provide participants with the opportunity to further understand what open pedagogy is. More importantly, they will apply open pedagogy in their own contexts by developing and/or redeveloping curriculum so that it makes use of open licensing to not only use OER rather than traditionally published materials, but to better engage students in authentic, learner-centered activities. We envision, for example, an instructor bringing their course to this workshop and working back from learning outcomes to select OER as content and design activities that enable students to co-create knowledge that is then openly available to others to learn from.
OER Resource Grants
The latest BCcampus Calls for Proposals includes the OER Resource Grants. This call is for groups within and between institutions (e.g. Teaching and Learning Centre, Library, OER working groups, Articulation Committee, Discipline/Department) in British Columbia to work together to:
Adapt open textbooks and other open educational resources

Create new open educational resources

Redesign courses using open educational resources
By providing funding for these projects, we hope to stimulate curriculum design and redesign that makes use of OP principles and we have stated in the call that we will give preference to proposals that include working with instructional designers and that make use of open pedagogy.
More information about the grant can be found at our Current Calls for Proposals page >> OER Resource Grant..
Ancillary Materials Development Grant
One area that is frequently seen as a barrier to OER adoption is the lack of quality ancillary resources to accompany the open textbooks. These materials are sometimes used in conjunction with a textbook to further engage and or/assess students in face-to-face and online environments. Some examples are test banks, presentations, and online homework systems. Our colleague Dr. David Wiley has recently shared his thoughts on this perceived scarcity and some of the ways in which Lumen Learning is helping resolve the problem through a collaborative sharing model.  At BCcampus, we also see the need to shoot this gap in order to remove yet another barrier to the adoption of OER.  In this call for ancillary materials development, we are using the same criteria I mentioned above, i.e. if a proposal to create an ancillary resource includes a plan to work with instructional designers and a commitment to design the materials in ways that take the best advantage of open licenses, that proposal will rank more highly in our evaluation process.
More information about the grant can be found at our Current Calls for Proposals page >> Ancillary Materials Development Grant.
Open Instructional Design Community of Practice – The B.C. ID OER group
Instructional Designers are crucial to the evolution of open educational practices. In the next few months, we will begin to foster a community of B.C. Instructional Designers as we have done with the BCOER Librarians. The intention of this group is to not only advocate for open educational practices, but also to develop templates and strategies for implementing open pedagogy in course design and teaching practices. The more Instructional Designers are informed about open pedagogy, the more they can support each other, and the more they can support and advise faculty. I can hardly wait for this one to get started!
Workshop Development Sprint
On March 31 and April 1, 2016, the BCcampus Open Education team will bring together representatives from a variety of B.C. Institutions for a two-day workshop development sprint. The intention of the sprint is to develop workshop lesson templates for the following:
Adoption of OER workshops for both faculty and staff (an online and F2F version)

Adaptation of OER workshops for both faculty and staff (an online and F2F version)
Building on work developed and delivered by Lumen Learning and the Open Textbook Network, these workshops will include instruction on not only the necessary learning outcomes for using OER, but also for how to use them in the most pedagogically sound ways that take advantage of the affordances of open licenses. Once developed, these workshop templates will be available to the entire system and will also be used in delivering workshops across the B.C. post-secondary system to enhance the adoption of OER and the inclusion of open educational practices.
Building Open Pedagogy into our Textbooks
In addition to what we plan on doing, BCcampus has also already done some work in this area. In 2013, we worked with Geography faculty from around the province in a sprint format to develop a new B.C. Geography textbook. This textbook not only includes some great content, but also learning activities for students that adhere to the tenets of Open Pedagogy. You can find that textbook here and the activities under the suggested activities for each chapter.
Content AND Pedagogy
Before I leave this topic, I wanted to say a few words about the content vs. pedagogy narrative that has been bubbling up in the Open community over the last few months. At BCcampus, we believe the two are not mutually exclusive. Content is crucial to the forward momentum we have in achieving our goals of making Open the default. We MUST have replacements to offer when faculty are looking to move to Open. That said, content must be developed by subject experts who also have expertise with teaching and learning, or are supported and advised by those who do. Coupling the OER supply chain with a commitment to making the best use of open licenses for effective pedagogy is where we all need to be.
Learn more
---
Join us at an upcoming event:
---
---