Student-driven innovative application designed to improve access to justice while minimizing billable time – via team from Thompson Rivers University.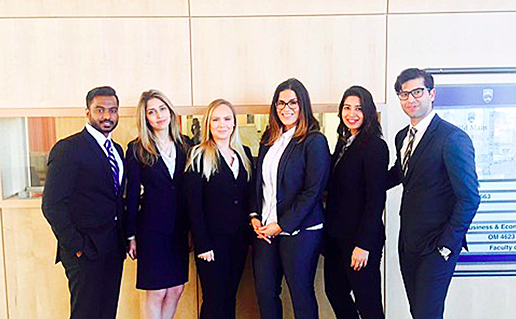 While we generally share stories and projects that have a direct connection to BCcampus, we recognize that there are many groups working on open education across the province and around the world. When we see something cool, we try to share it to give them the exposure they deserve and to encourage more activity in the world of open. Such is the case for a project that started at Thompson Rivers University last year, in the Lawyering in the 21st Century course offered at TRU Law by Assistant Professor Katie Sykes.
Student innovation
LawHacks is a component of the Lawyering in the 21st Century course, and challenges students to identify an existing legal process to find a way to make it more efficient or develop a better solution. One of the LawHack groups, consisting of Nawel Izard (née Benrabah), Servesh Jeet, Nikta Shirazian, Megan Sahlstrom, Harman Bains, and Houtan Sanandaji, chose to work on a problem experienced in courtrooms across the nation that makes it difficult for people to represent themselves as well as introducing  potentially substantial – and unnecessary – legal fees for those who have representation.
"Lawyers and laymen alike spend countless wasted hours waiting around court registries to have their short interlocutory matters heard – even if it's a five-minute application," shared Nawel Izard.
Traditionally, lawyers and self-represented litigants are required to notify the court registry on the morning of their day in court, then expected to wait around until they can be heard. This often results in the self-litigant taking an entire workday off, even if it was just to complete a simple legal application, and for those being represented by legal counsel, it could result in additional billable hours, as the lawyer must stay until they can present their case.
SUMMONS the app
To make the procedure more efficient, Izard's team looked at processes used in similar situations around the world. They settled on and modeled their idea after a process used in a passport office in North Africa, where the office personnel communicate appointment times via cellphones. Much like the system used in many family restaurants, the people in need of an appointment are notified when it is their turn via a text message.
The team saw the potential in this approach, and commissioned a programming and coding team in North Africa to create the first iteration of the app and the software needed to integrate it with the current court software. The app takes the requests as they're submitted, and through an algorithm that uses expected wait times based on a daily live-updated list of hearing requests and estimated length of hearings, the system parcels the court schedule out as per available space. It then alerts the lawyers and self-representatives of their expected court time via the app on their phone.
Local contributions
SUMMONS the App is currently working towards undergoing a pilot project in Kamloops, and hopes to make a formal presentation to the Vancouver judiciary in the fall. Izard and her team are working to put together a full package for testing and review. They have set up a working email for coders/programmers/app developers and anyone else interested in helping to make this app a reality.
The team is not looking at this app as an opportunity for commercial success. In fact, they're not planning on making money off the idea at all. Instead, they're hoping to make a useful platform that can help minimize wasted time in the court for everyone involved, enabling lawyers to get more done for more clients, and empowering self-represented litigants to meaningfully access the law with minimal interruption to their lives.
Notable quotes:
"It's important to acknowledge that the current system is flawed, but with existing technology and organization, we can make access to justice possible. People deserve a better way to deal with the law and the courts" – Nawel Izard
Learn more:
---
Join us at an upcoming event:
---
To stay informed with BCcampus by signing up for our newsletter, visiting our calendar and following @BCcampus on Twitter.