If you're enthusiastic about teaching, learning and educational technology and haven't discovered ETUG yet, you're missing out.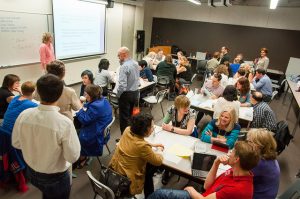 ETUG is the BC Educational Technology Users Group, a grassroots community of BC educators (since 1994) who are interested in teaching, learning, educational technology (ed tech) and higher education. They have a dynamic community and a website rich with activities, workshops and resources sharing good ed tech practice. There are lots of ways you can get involved with ETUG and lots of reasons why you should!
The group's About Us webpage states: "Our core value is a commitment to nurturing a vibrant, innovative, evolving, and supportive community that thrives with the collegial sharing of ideas, resources, and ongoing professional development through face-to-face workshops and online activities."
Leva Lee, ETUG facilitator
Leva Lee is the facilitator for the group and the community steward and logistical lead for SCETUG (Steering Committee for ETUG). Ms. Lee described her role in the group: "I help shepherd the work of the group in response to the needs identified by our community and the key issues of the day, and look for ways for members to connect with each other and share their knowledge and good practice."
Ms. Lee, a librarian whose expertise is online information systems, online resource development, and distributed and blended learning, is enthusiastic about ETUG. She writes, "I love this community for its grassroots beginnings and it openness and generosity to share ideas and experiments in teaching, learning and technology. This is a safe community to try out new things and just 'go with it'."
Leva Lee is also the Manager of Professional Learning and Open Education Resources for BCcampus.
ETUG Institutional updates: What's happening around the province?
ETUG has a long history of inter-institutional sharing as an informal community of practitioners. Leva Lee commented, "We've shared updates at our workshops and introduced reports as a regular feature to our web blog site this past year given the popularity of our monthly ETUG News." The institutional reports, which are posted to the ETUG website, help the community learn about what is happening throughout the province and encourages knowledge and resource sharing.
T.E.L.L. (Tuesdays with ETUG Lunch and Learn webinars)
With ETUG lunch and learn webinars you can find out more about topics such as: "How to Create Your Very Own Personal Cloud Storage Network" and, "Finding the Best Tool for Creating Slides with Audio." The lunch and learn webinars are recorded and shared with the slides and associated resources under the archives menu. You won't want to miss. "Do You Poodll When You Moodle?" , which Leva Lee writes is, "An interactive romp for even the most experienced Moodlers." Or you might want to catch up on such gems as the webinar on "Developing Edmedia Practitioners through Mentorship" presented by facilitators SFU, Teaching Learning Centre.
Sign up for "The ETUG News", a monthly community update
Stay on top of the latest news, institutional reports, Calls for Proposals and upcoming workshops.
Become a member
ETUG's membership page highlights the many opportunities and events available to you when you become a member.
What members enjoy about the ETUG community
"I get to meet people who do similar work around the province. Hearing success stories and how other people approach teaching and learning has been the best professional development. And it's so nice being able to keep in touch with people and see them again twice a year." V. Chan UBC Okanagan
"Lively discussions and willingness to share ideas and experiences are some of the features for me. I learn a lot from the workshops – it's also a great way to meet up with former students and other folks I haven't seen in years." S. Rogers, Royal Roads University
Attend the 2015 Spring Workshop
The ETUG Spring Workshop took place June 4th and 5th, 2015 at SFU Burnaby. Take a look at the workshop resource list here.
If you are new to ETUG, check out the resources from past workshops to get a sense of what they are all about. Hope to see you there!
Notable Quotes
"I love this community for its grassroots beginnings and it openness and generosity to share ideas and experiments in teaching, learning and technology. This is a safe community to try out new things and just 'go with it'." Leva Lee
Learn More