Thought-leaders, open education practitioners, pioneers and newbies alike came together for two days, from May 24-25, at Simon Fraser University, in beautiful, Vancouver, B.C. We shared experiences and exchanged ideas, explored what other institutions are doing to move the open textbook agenda forward, and looked ahead at how open pedagogy can influence open textbook development to enhance teaching and learning.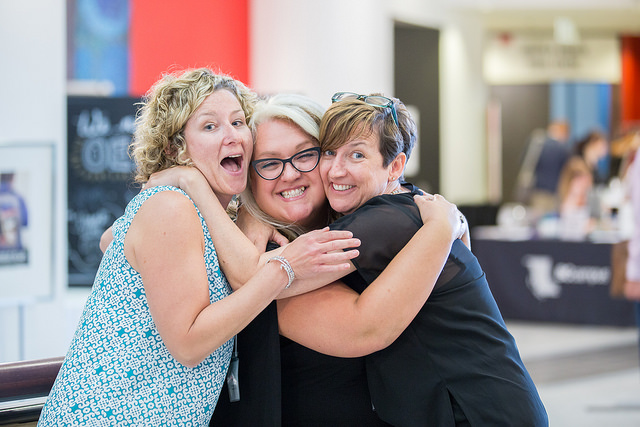 What was new this year?
This year, we introduced 30 minute sessions, 60 minute workshops and 90-minute panel presentations, with many of these sessions having hands-on, practical applications.
A highlight at this year's Summit was the showcase of the UBC Virtual Reality and Augmented Reality Field Trips, co-created by faculty and students using open source 3D software. This was an example of one of BCcampus' grant funded, open innovation projects and one that not only highlights best practices in openness, but also in open pedagogy.
Keynote sessions
Our Keynotes this year were open education professionals and advocates, Ryan Merkley and Kory Wilson, and they did not disappoint, but don't take our word for it, see for yourself.
Presentation slides:
The presentation slides are rolling in and we are adding them to our SlideShare account as quickly as we can, they can be found on the BCcampus SlideShare, tagged with #OTSummit17
Photos:
There was a wide of array of images, capturing all aspects of the event, from travel to presentations, sightseeing to reconnecting, check them out and feel free to share them as they're listed with a CC-BY attribution.
There are several other images, tagged with #OTSummit17 on Flickr and Instagram so be sure to check those out too.
Weren't able to attend?
Join us at the Festival of Learning 2018, where we will feature an OER stream.
Testimonials:
"The Open Textbook Summit was an amazing opportunity to meet like-minded people and share ideas! Truly an inspiring event!"
"BCcampus and the team are to be commended for their effort on OER!"
"Informative and worthwhile event. Increased my awareness and understanding of what OER is about and inspired me to use resources in the courses I teach."
Notable quote:

"Thank you to all participants of the Open Textbook Summit! This year we saw almost 60% of the audience comprised of new attendees. Momentum is growing. BCcampus hosts the Open Textbook Summit to help facilitate collaboration across institutions and to express our gratitude to the community for the work in open education. Again, thank you to all of the advocacy and sharing." – Amanda Coolidge, Senior Manager, Open Education, BCcampus
Learn more:
---
Join us at an upcoming event:
---
To stay informed with BCcampus by signing up for our newsletter, visiting our calendar and following @BCcampus on Twitter.