Earlier in November, I had the opportunity to travel to Berlin, Germany, to attend OpenCon 2017, a three-day annual conference that brings together early-year career professionals from all over the world who work in Open Access, Open Education, and Open Data.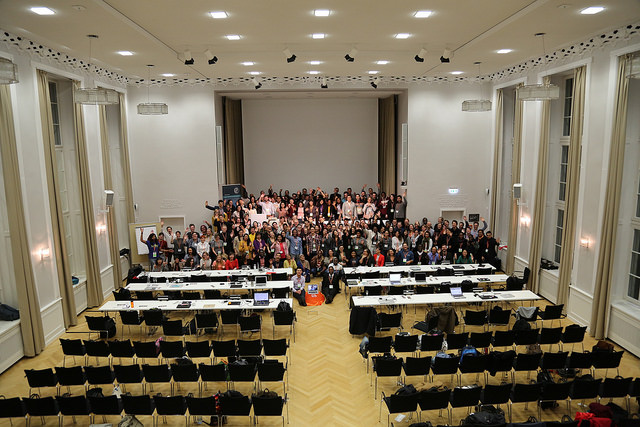 Post by Josie Gray, Open Education Production Assistant
Although I've been working with the BCcampus Open Education team for over a year now, I still feel new to the Open community, and OpenCon's broader focus on Open Access, Open Data, and Open Research presented a sharp learning curve. Coming from my focused and localized experience working with open textbooks, I often felt lost in discussions around preprints, open science policies, open data, and open-access journals.
But that's not to say I didn't enjoy it.
Due to my experience as an undergraduate student, I appreciated the talks that demonstrated how the practice of releasing data openly can help ensure quality, reproducibility, and transparency in scientific research. Although my university library currently allows me access to numerous academic journals that are otherwise behind paywalls, I lose that access when I graduate in April.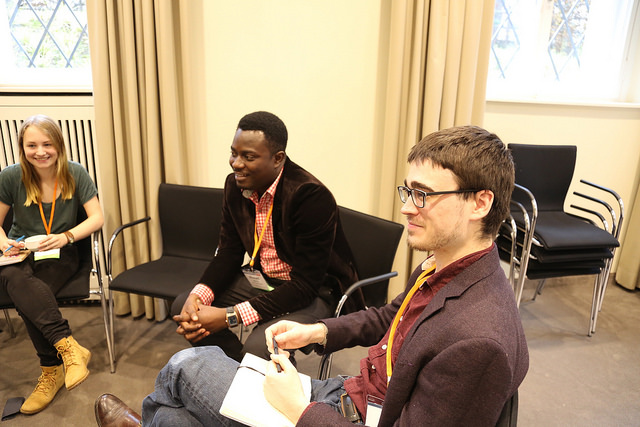 My work focuses on a British Columbia/Canadian context, so it was good to hear about Open Education initiatives in other parts of the world. For example, Danyal Hayat works with the Prime Minister's Youth Program (PMYP) in Pakistan providing laptops to students. In Pakistan, free online resources weren't good enough as many people didn't have the tools to access them. As such, distributing laptops has become a priority and is having a huge impact.
Danyal's experience highlights the unspoken caveats that are present when we say that open educational resources (OER) are accessible to anyone. In many cases, they are only accessible to those who have access to devices that can connect to the Internet.
Networking and collaboration
While I may not have related to many of the higher-level themes at OpenCon, the inclusion of unconferences, workshops, and the Do-a-thon allowed people to come together in smaller groups around topics that interested them. On the first day, I participated in an unconference on Open Textbooks where I was able to direct those interested in adopting or creating their own textbooks to BCcampus' toolkits and guides and answer questions about BCcampus' textbook review process. In addition, I participated in a North American workshop looking at how might we understand and address the time demands of working on open initiatives.
The last day of OpenCon was dedicated to the Do-a-thon: A day to bring people together to collaborate on projects or challenges related to Open Research and Education. Anyone could propose a Do-a-thon project, and we were free to contribute to any project we wanted.
I started the day on the OER Repository project, which is an expansion of a project recently started by Lauri Aesoph at BCcampus. The idea is to create a curated collection of open educational resources organized by subject matter to make it easier for instructors to find them. While open textbook collections are easy to find and search, many great OERs get lost in cyberspace because instructors don't know where to look for them.
In addition to expanding on existing projects, a number of Do-a-thon initiatives emerged at the last minute in response to the previous two days of presentations, unconferences, and workshops. For example, with many under the impression that the focus of this year's OpenCon leaned towards open science, those in humanities and social science fields coalesced around a Do-a-thon project that sought to create an Open Humanities and Social Sciences (OHSS) group. While I only joined this project near the end of the day, I plan to stay involved. Although still in the process of getting set up, the OHSS now has an email list, a Twitter account, and a Zotero group, and it plans to hold monthly community calls. More information can be found on the Open Humanities and Social Sciences website.
Staying critical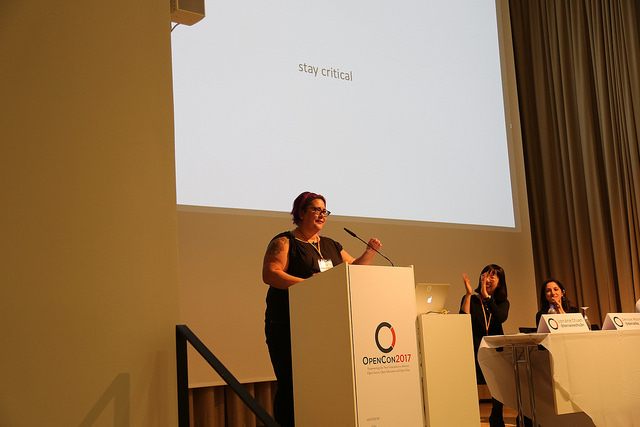 After two days of discussing and celebrating all things Open, the Diversity, Equity, and Inclusion panel sought to turn a critical eye back on the open community. And it proved to be hard-hitting, with each of the panelists focusing on questions of power and dominance, structural barriers, and biases within the Open movement.
Denisse Albornoz, who works on the Knowledge G.A.P. project, talked about the power and inequality in Open Science discourses and how this has resulted in entire communities being excluded from or ignored by Open Science initiatives.
Tara Robertson, Diversity and Inclusion Strategic Partner at Mozilla, asked everyone in the room to consider who is missing from their projects and workplaces. In addition, she drew attention to the damage that can come from a blind commitment to Open Access. She argued that despite the value we all put on open access to information, it should never come at the expense of an individual or group's privacy and safety.
Thomas Mboa, a researcher at the Université Laval and International President of APSOHA, the Association for the Promotion of OpenScience in Haiti and Africa, spoke about how the neo-colonial nature of the Open Access movement is reinforcing the domination of North over the South where western and English-language research is valued over everything else.
Finally, Siko Bouterse, co-founder of Whose Knowledge?, talked about how biases in how we define reliable knowledge leads to the knowledge and history of people from marginalized communities being ignored or discarded as untrustworthy.
If you want to learn more about this panel, please watch the video below.
In all, OpenCon was an incredible experience. The combination of panel discussions with smaller workshops and unconferences meant that I was able to learn about areas of Open Access outside of my experience while still being about to discuss and collaborate on things that relate directly to what I work on in Open Education. To be selected to attend OpenCon out of more than 10,000 applicants was a real honour and I am grateful for the opportunity.
I'd like to thank SPARC, the Right to Research Coalition, and the OpenCon 2017 organizing committee for all the work they did putting together such a remarkable conference. And most importantly, thank you to Amanda Coolidge for encouraging me to apply and the entire Open Education team at BCcampus for all of their support and encouragement in the work that I do.
Learn more:
---
Join us for an upcoming event:
---
To stay informed with BCcampus by signing up for our newsletter, visiting our calendar and following @BCcampus on Twitter.