In the fall of 2020, BCcampus regional open education representatives were provided an opportunity to issue grants to post-secondary institutions that wanted to kick-start or expand the use of open educational resources (OER). As the common refrain was "I would if only I had the time," removing the barrier of time appeared to be the best way to meet those institutions' needs. This focus on time as a barrier resulted in BCcampus creating the Open Education Time Investment Grant. Here is the story of how one institution used it.
Post by Carolee Clyne, former open education advisor, BCcampus
Melissa Fournier, work-integrated learning coordinator at College of New Caledonia (CNC), identified the time investment grant as an opportunity to create an innovative resource to improve OER adoption at CNC. She saw the opportunity to create an online student resource for those heading into work-integrated learning opportunities. This resource helps bridge a gap in students' access to learning that would have otherwise been provided through experiential learning but was interrupted due the COVID-19 pandemic. The resource is designed to foster key knowledge and skills. Through learning activities, students have opportunity to develop workplace communication skills, learn more about giving and receiving feedback in appropriate ways, problem solve, and learn to use work-integrated learning to leverage their own career opportunities. The material is built with the long-term goal of being integrated into the institution's learning management system for cross-disciplinary use.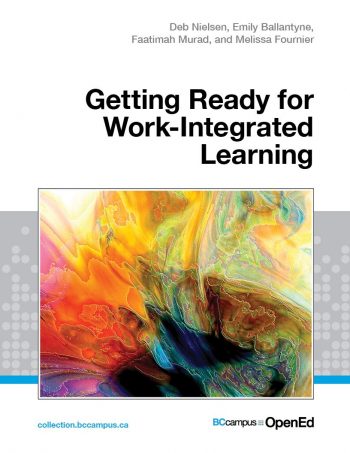 Melissa's aim was to develop 10 chapters for a work-integrated learning student OER, and she achieved this with the support and help of a very talented team. One reflection of the project was that content development took the largest part of the dedicated time. The intent of this resource is that it will remain a work in progress and continue to evolve. A chapter on Indigenous Peoples, communities, and cultural safety remains in the preparation stage and will be added at a future time, after sufficient feedback and review.
When asked if she had any comments, Melissa's reflection on the project included, "It would be important to highlight the collective/group effort it took to create the OER and the teaching and learning expertise that was applied in the development of the OER content. The creation of the OER would not have been feasible without the participation and expertise of Deb Nielsen, Emily Ballantyne, and Fatima Murad."
This Time Investment Grant successfully provided the time for a team of professionals to create a needed resource.
Check out this great resource now available to help students better prepare for work-integrated learning opportunities.
This is the last of our blog series looking at how each Time Investment Grant helped move work in open education at various institutions from "side of desk" to "center desk." Learn more about what each grantee encountered and achieved and where you can find the resulting resource in the articles below.
Learn more:
---
The featured image for this post (viewable in the BCcampus News section at the bottom of our homepage) is by Marta Branco from Pexels