On behalf of the editorial and writing team at BCcampus, we wish you a joyous holiday season. We've had a busy year writing, curating, and bringing you the most innovative teaching and technology innovations in the B.C higher education system.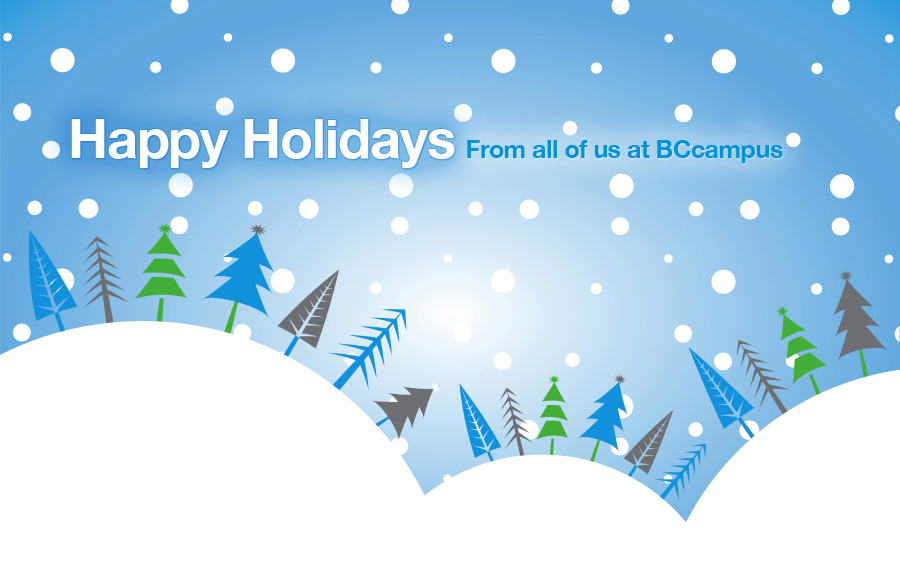 In 2013, we published over 112 blog posts and delivered 16 newsletters to our subscribers. And as December comes to a close, here's a look back at five of our most viewed posts of the fall semester. Open educational resources and open textbook development continue to be hot topics for our readers.
BCcampus was instrumental in helping Prof. Takashi Sato to make a firm decision about adopting an open textbook – a decision that's saved his students over $11,000 in textbook costs this past semester alone.
Less of a traditional MOOC (since there were no assignments or grades), TRU's Art + Reconciliation (rmooc) served as platform where Aboriginal and non-Aboriginal participants shared ideas and collaborated on artwork around the theme of reconciliation.
The launch this fall was a significant milestone in higher education globally, and marks a transition from an international collaboration prototype to a sustainable, scalable program of accessible OERu study.
Electronic transcript exchange between British Columbia and Ontario is about to get faster, more efficient and more secure because of an innovative pilot project between the two provinces.
VCC instructors revolutionized the way Moodle is utilized within a classroom setting – it's made a world of difference to the popular transportation trades program.
A reminder that our BCcampus offices (like most of those of our post-secondary partners) are closed between Christmas Day and New Year's Day. We will see you in 2014!