How do faculty in British Columbia use Open Educational Resources (OER)? What are some of the ways in which they are using OER, and what are some of the barriers they face when using OER? A new research paper published today by BCcampus looks at these questions.
Led by the 2015 BC Open Textbook Faculty Fellows (Rajiv S. Jhangiani, Ph.D., KPU, Christina Hendricks, Ph.D., UBC and Jessie Key, Ph.D., VIU) and in collaboration with the OER Hub (Rebecca Pitt, Ph.D.), this research project examines the use of OER by post-secondary faculty in British Columbia, including their motivations and perceptions, as well as what factors help to enable or act as challenges for OER use and adaptation.
Although the findings provide a snapshot of the BC post-secondary system as a whole, the research also explore similarities and differences in OER use among faculty across three types of institution in British Columbia: research-intensive universities, teaching-intensive universities, and colleges/institutes.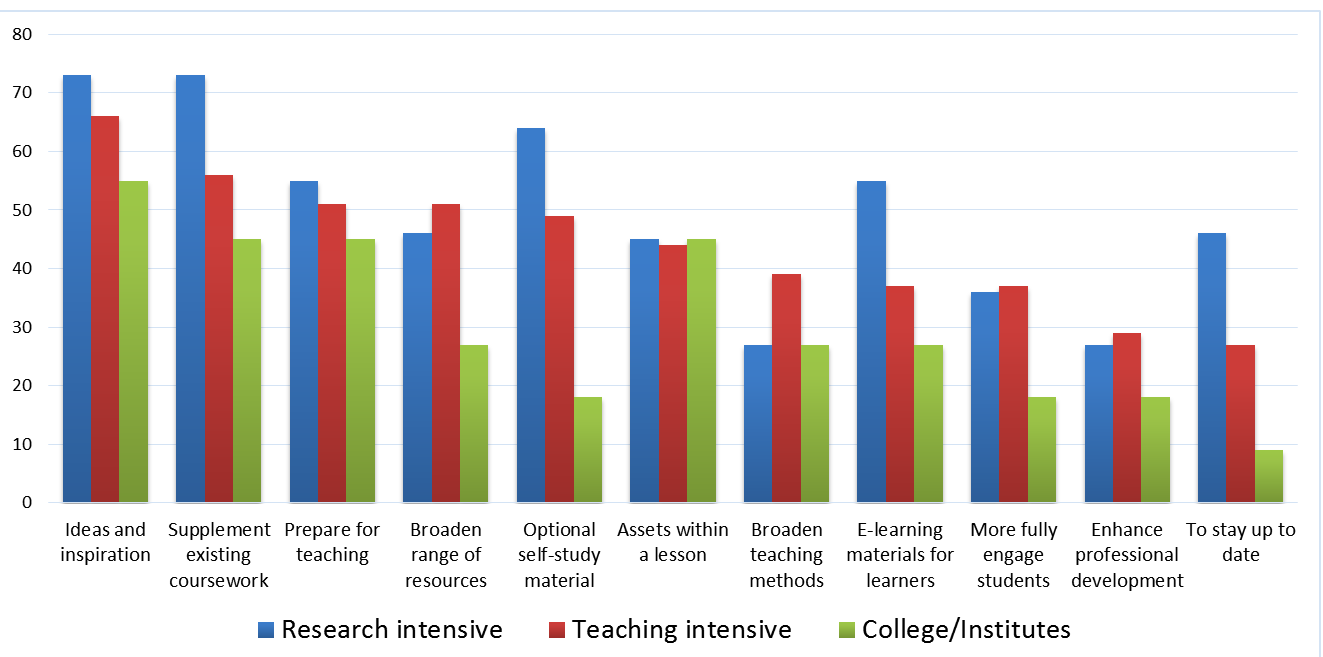 Key Findings
Among the reports 11 key findings are;
While faculty at all three institutional types (research-intensive universities, teaching-intensive universities, and colleges/institutes) reported similar adoption patterns of OER, faculty at research-intensive universities were more likely to adapt and create OER than faculty at teaching-intensive universities or colleges/institutes.
A majority of faculty perceive OER to be comparable or superior in quality to traditional, proprietary materials; however, faculty who have adopted OER rate the quality of OER significantly higher than those who have not adopted OER.
The barriers of locating high-quality, relevant and up-to-date OER were reported to be significantly lower by faculty at research-intensive universities than by faculty at both teaching-intensive universities or colleges/institutes.
Quantitatively, lack of institutional support for use of OER was reported as a more significant barrier by faculty at colleges/institutes than faculty at either teaching-intensive universities or research-intensive universities. However, a qualitative analysis of open-ended responses shows that faculty at all types of institutions face institutional barriers such as lack of administrative, staff, or department support for their use of OER.
Two-thirds of respondents were unaware of any relevant institutional policy concerning OER. Faculty at teaching-intensive universities and colleges/institutes reported more encouragement to use OER than those at research-intensive universities.
The report contains an additional 6 findings.
Recommendations
In addition to the key findings, the research also makes a number of recommendations aimed at senior institutional administrators on how to support faculty wishing to use OER in their teaching & learning practice. These recommendations include;
 First and foremost, institutions should raise awareness of the existence of OER; where to find these materials, how to review their quality, and how to adopt OER for courses. Awareness should also be raised of the pedagogical and financial benefits of OER to students (e.g., cost savings, flexible and permanent access, course performance), instructors (e.g., ability to adapt materials, improved learning outcomes, OER creation as course assignments), and institutions (e.g., enrollment, retention, completion).
Institutional support for adaptation and adoption is required to ensure successful adoption of OER. Teaching and Learning Centres as well as Libraries can provide expertise and support on best practices for OER adoption and adaption. Further education is recommended on copyright laws and Creative Commons licenses, preferably through the support of the Library and/or the Institution's Copyright Office.
Internal funding should be provided to support the development or redevelopment of courses to incorporate OER (e.g. OER Resource Grants at Simon Fraser University).
Institutional policies concerning OER should be developed and disseminated to help raise awareness, dispel myths, and to encourage members of the university community to adopt open educational practices. These university policies should ideally be tied to the university mission and academic plan.
The creation and adaptation of OER should be appropriately recognized as curricular innovation and service to the academic profession during the tenure, promotion, and reappointment process.
The report contains 5 additional recommendations.
Download the full report PDF | Word.