We're starting a new series to get to know the some of the fabulous feats happening behind-the-scene at the Teaching and Learning Centres across B.C.'s post-secondary institutions. To kick off the series, we've started with Tim Paul, Manager, Academic Technology Services Centre for Educational and Information Technology, Douglas College.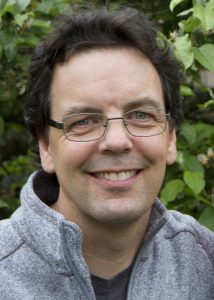 Although Douglas College does not have a Teaching and Learning Centre, per se, they do have a Centre for Educational and Information Technology (CEIT). The CEIT is comprised of many different departments, such as Application Services, Information Technology Security, Infrastructure Services, Client Services and ​​Projects and Business Solutions, and Academic Technology Services, where Tim Paul and his team work.
The vision of Academic Technology Services (ATS) at Douglas College is a strong commitment to educational leadership, collaboration, and exploration. They lead with conversation, not technology. Understanding that technology must add value, they believe that technology should improve the experience, not diminish it. They know that technology is not always the answer. ATS depends on community feedback, industry-wide research and shared institutional goals to continually shape, form and reshape what we offer. In the end, their successes are shared successes. ​​
Academic Technology Services represents Douglas College on the British Columbia Teaching & Learning Council (BCTLC) and the Educational Technology Users Group (ETUG). Within the College, they have representation on the Learning Technology Steering Committee, Hybrid Development Network, Open Douglas, Indigenous Studies Working Group (ISWG) and the Blackboard Community Steering Committee. As well as providing teaching, learning and technical services to support the development of enhanced, hybrid and online course design and delivery; technical solutions for synchronous and asynchronous learning environments; event support, media production and relevant professional development opportunities. ​
To find out more about Academic Technology Services and their role at Douglas College, we caught up with Tim Paul to ask him a few questions. Here's what he had to say:
What do you love about your work?
"While lacking a Teaching and Learning Centre and not working directly under the VP of Academic, the team still plays a direct role in some of the areas that might typically be under the umbrella of a TLC," Tim says. "We have played a leadership role in the development of our new flexible collaboration space, consultation in the design and development of enhanced, hybrid and online course, and the creation of faculty focused events like "Blended by Design" with Dr. Vaughan, and "Storming the Ivory Tower" with Dr. Laird. Outside of these efforts, we also have a small team that supports the creation of media objects."
"I love that we are continually trying to meet individual faculty were they are at. By this, I mean that we are making sure that we are at the same events as our faculty," Tim continues. "We are making ourselves visible. When events do not exist, we are initiating these experiences. The natural extension of this is to, upon request, embed ourselves into the classroom for a specific amount of time and to then work on solutions that are respectful of the individual faculty experience."
"I love that Douglas College allows me to build these relationships and I believe that it is key to our growth. Everything starts with being a part of the various formal and informal communities."
How do you get faculty to innovate?
"I honestly don't know how to get faculty to do anything," Tim says jokingly. "I can only think of individuals or small teams. There is no one way to communicate with faculty or to work with faculty or to engage with faculty. There is no faculty. It is a label of convenience. I come back to trying to find out where individuals are at, then see if something in our trunk will help to improve their course. That means we have to research options and be ready to have those conversations. That means putting ourselves in situations where those conversations can happen. Like anything, it's an ongoing process, but it is one that my team has embraced. Which is good, because although I see the need for creating the events and engaging the right people, I cannot do it alone. It has to come from the team and it has to come naturally. I have people who care about learning and engagement and interactions. It's a lot of fun to see their efforts bringing in new people and creating new relationships."
"The thing that I needed to work on was my need for details. My brain wanted structure, partly because that was what I thought was expected and needed, but also that's just me," Tim explains. "What I realized it that there are too many moving parts and that this need can get in the way of innovation and growth. If I am only concerned about how my team will support this or that, I never allow new things to enter the fold and old things to die a natural death. In response to this personal awareness, I realized that I needed to hire and support the concept of different people on the team taking on different parts of the teams' overall personality."
Tim adds, "for example, Hope Miller is our bridge to ETUG. When Leva asked me to do it, I knew that I wasn't the right person. Hope is the right person. She gets *&it done and plays nicely with others."
How do you work with BCcampus?
"My direct involvement with BCcampus has been with the Kaltura Shared Services. While there are challenges working within a shared service model, the benefits far outweigh the challenges. Kaltura has moved much of the administrative video work away from my team and provided a user ownership model. On a deeper level, it has allowed students and faculty to do the work they need to do, when they need to do it. Now my team can focus on 'how do you make good videos' and not on 'where do host videos' or 'what's the right codec?' It's got us out of the weeds."
What is the future for your field?
"I think the future will always be in relationship and trust. We need to be structured, but flexible. Prepared, but reactive. It's a balancing act."
Notable quote:
"Centres like ATS are invaluable to an institutions' ability to support individual instructors and enable a small institution like Douglas College to be creative and innovative in how they improve student learning". – Mary Burgess, Executive Director, BCcampus
Learn more:
---
Join us at an upcoming event:
---
To stay informed with BCcampus by signing up for our newsletter, visiting our calendar and following @BCcampus on Twitter.