We're about 100 days away from Festival of Learning 2018 (May 28 – 30), and our program committee and organizing teams are hard at work, ensuring we have everything in place to deliver another exceptional learning experience.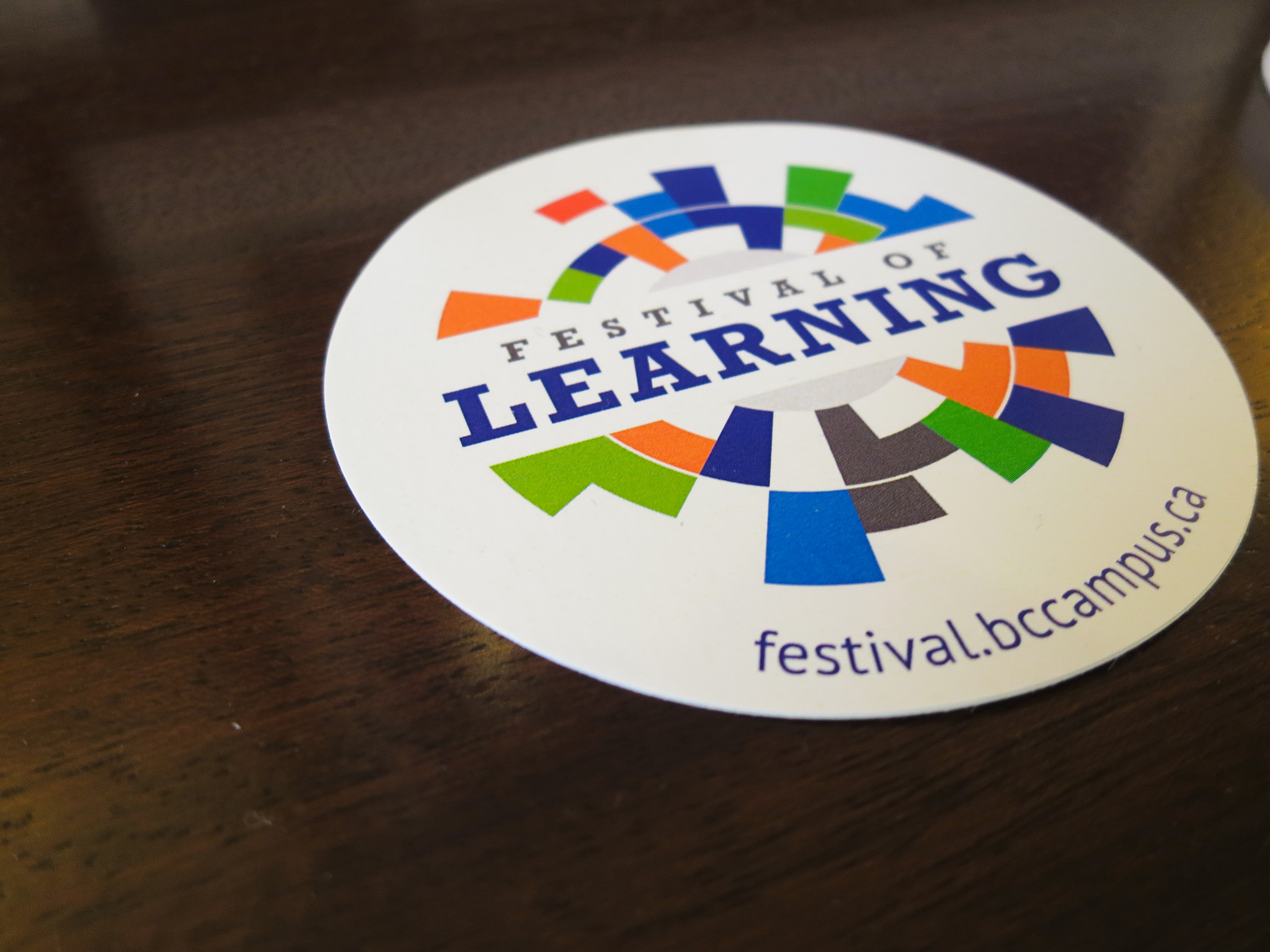 Post by BCcampus' editorial team
The Festival of Learning 2018 – #FoL18 – will take place on May 28 – 30, 2018, at the Pinnacle Hotel Vancouver Harbourfront. We'll be celebrating teaching and learning in post-secondary education in B.C. through workshops, break-out sessions, and social activities with educators, administrators, thought-leaders, students, and faculty from institutions and organizations from across the province.
We're excited to hear from our keynote speakers, Jesse Stommel and Monique Gray Smith; we sold out of the early bird tickets within the first few days, and we've shared the event schedule so you can start building a strategy to attend the sessions that resonate best with you.
"We've designed #FoL18 to be inclusive of everyone involved in post-secondary education, and not just from a scholarly perspective," shared Mary Burgess, Executive Director at BCcampus. "For example, throughout the province, we have trades instructors and Adult Basic Educators adopting open pedagogy and open educational resources in their learning environments."
"This is analogous to an academic conference version of an access institution. We are open to everyone involved in post-secondary education, teaching and learning, EdTech, open education, and more," shared Julia Denholm, Ph.D., Dean, Faculty of Arts & Sciences and kálax-ay the Sunshine Coast Campus of Capilano University.
Answering the call
We shared a call for proposals to the post-secondary institutions of B.C. near the end of 2017, seeking session proposals built on health and/or care in higher education, under the umbrella of educational technology, open education, and teaching & learning: teachers, learners, and services. The response was phenomenal, and we were inundated with creative approaches to challenges recognizable in learning environments across the province.
The applicants did a great job of addressing the theme, and we're hoping to have participation from everyone involved in the student experience: instructors and teachers, counsellors, admissions, the support staff running student success centres, the people working in financial aid, and more. There's extensive research that shows the student experience goes far beyond the classroom, and we're looking forward to breaking out of our silos and improving the health of the entire learning experience for students in B.C.
Inclusion
Inclusion at #FoL18 means discounted rates for early birds, presenters, volunteers, and students; complimentary childcare; yoga and meditation breaks; accessible spaces, gender preference pronoun ribbons and both gender-specific and all-gender restrooms. And it doesn't stop there. Our version of inclusion also means creating a platform where anyone involved in the student experience can feel comfortable asking for help for their unique situation.
The Committee
The first Festival of Learning in 2016 was an outstanding success, and we took what we learned there to create this year's Festival with a focus on care and caring for ourselves and our students. We invited members from institutions across the province to join the #FoL18 program committee, ensuring we had a diverse representation of educators and higher education professionals to develop the event. Tracy Kelly, Senior Manager, Learning & Teaching at BCcampus, explained: "The volunteers for the committee were intentionally selected for their wide range of experience, expertise, and focus. They are the ones who put the program together, selected proposals to embody the festival's theme of wellness, and developed creative approaches to ensure this event is another spectacular success."
"This was the first time I'd been part of an adjudication committee like this," shared Julia Denholm. "We did all of the work virtually. It was interesting, flexible, and stunningly efficient. The proposal submissions were magically assembled through the good work of the people at BCcampus. We divvied them up, entered our comments, and used a rubric to assign each submission a score – and I was able to do all while out of the country."
"It constantly amazes me how much time, passion, and knowledge our community of educational professionals gives back to the learning community. Being part of the committee is difficult work, especially since they have existing responsibilities to their students and institutions," shared Mary Burgess. "We're in a good place with the festival preparations right now. Everyone is excited and eager for the event to begin, so we can take part in the discussions and enjoy the outcomes."
Join us
"Be adventurous – go outside of your comfort zone and explore the sessions that offer a different aspect of the student experience," shared Tracy Kelly.
Register soon to ensure you have your tickets for #FoL18 before they're all gone.
Notable quotes:
"Traditionally, events like this are highly scholastic and heavily focused on pedagogy and processes, so it was important to us to create a welcoming environment for everyone involved with the student experience, including trades instructors, students, administration and faculty." – Mary Burgess, Executive Director, BCcampus
"Tell your friends. Sometimes people who are new to an institution are nervous about attending academic conferences, but we've put something together that should be useful and enjoyable for everyone to attend." – Julia Denholm, Ph.D., Dean, Faculty of Arts & Sciences and kálax-ay the Sunshine Coast Campus of Capilano University
Learn more:
---
Join us for an upcoming event:
---
To stay informed with BCcampus by signing up for our newsletter, visiting our calendar and following @BCcampus on Twitter.