And the winner is… Inba Kehoe!
We are delighted to announce Inba Kehoe, Scholarly Communication & Research Repository Librarian at the University of Victoria (UVic), as the newest recipient of the Award for Excellence in Open Education. Other honourees include Irwin DeVries, Tara Robertson, Christina Hendricks, and Tannis Morgan.
Post by Amanda Coolidge, Senior Manager, Open Education, BCcampus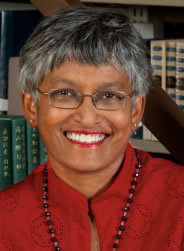 Inba has been involved for many years in support and advocacy of open practices for teaching, learning, and research. In particular, her work over the past decade in supporting and advocating for the development of open resources, including BCcampus open textbooks, has kept her at the forefront of this movement on campus.
In 2007 she established UVic Libraries' ePublishing Service. Primarily a digital open access publishing program, it aims to explore new modes of scholarly publishing while making works available simultaneously in print and digital formats for a varied audience. In keeping with the University's goal to "enhance the societal benefit derived through mobilization of research knowledge … across disciplines," the program works with scholars and researchers to enable success in scholarly publishing. The aim of the program is to publish innovative and experimental works (fiction and non-fiction/journals and books) in established and new disciplines, including a focus on regional books that contribute to an understanding of, and are of special benefit to, British Columbia. In addition, the publishing service contributes to the scholarship of teaching by aiding and advocating for the development of textbooks created by faculty, including cultural institutions and other non-profit organizations in the community. Through the service, faculty are able to distribute and co-publish titles resulting from collaborative initiatives. As part of this service, Inba has worked in partnership with BCcampus to encourage the creation, adaptation, and adoption of open textbooks at UVic.
What's more, Inba's efforts have had traction; the ePublishing service has supported the publication of over 30 open access journals and over a dozen open access monographs. She also facilitates the open dissemination of UVic faculty research articles through the university's digital repository, helping them comply with open access mandates. One of the open textbooks she helped launch last year, "Knowing Home: Braiding Indigenous Science with Western Science" by Gloria Snively Lorna Williams is being read and adopted worldwide.
Inba is currently pursuing an interdisciplinary PhD related to open scholarship, which will inevitably feed back into her contributions to open education at UVic and beyond.
Please join us in congratulating Inba on winning this award and for her incredible contributions in open education.
Notable quote:
"Inba deserves this award because she has been a tireless champion of open education at UVic. She is sympathetic and supportive of the needs of post-secondary students for accessible and affordable educational materials, and she is especially passionate about ensuring faculty can disseminate their research openly." – Stephanie Boulogne, Rights Management and Digital Publishing Services Coordinator, Copyright & Scholarly Communication Office, UVic
Learn more:
---
Join us for an upcoming event:
---
To stay informed with BCcampus by signing up for our newsletter, visiting our calendar and following @BCcampus on Twitter.