Please join us in congratulating Grant Potter, Instructional Technologist, University of Northern British Columbia on being the 7th recipient of the Award for Excellence in Open Education. Previous honourees include Irwin DeVries, Tara Robertson, Christina Hendricks, Tannis Morgan, Inba Kehoe, and Diane Purvey.
Grant Potter is a collaborative leader in open education at UNBC, provincially, nationally and internationally. He possesses a rare combination of vision and leadership, infectious enthusiasm and humour, and clever technical work. Together these attributes and skills enable a vision of open education that is inclusive and student-centered. Grant has worked with students, faculty, staff, and administrators across the province and beyond to challenge traditional post-secondary education systems and pedagogies and provide seamless access to education through open technologies.
Post by Amanda Coolidge, Senior Manager, Open Education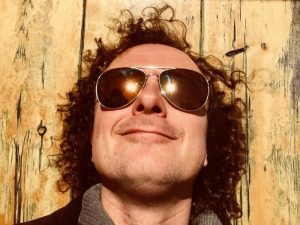 A hallmark of Grant's open advocacy and leadership is collaboration. Internationally, he is well known for his role in the development and promotion of DS106 radio a project he was actively involved in between 2010 and 2013. DS106 radio has been used to connect open educators around the world to form a professional development and support network. Faculty members have also used DS106 radio to creatively envision new student learning opportunities. For example, a psychology class designed and delivered their final presentations via radio performance on DS106, breaking students from the crutches of PowerPoint and emphasizing the importance of what was being said.
With provincial BCcampus and local UNBC funding, Grant Potter developed the UNBC OER Grant. This unique grant focuses on funding students as researchers, thus bringing OER development directly to the students. Such strategic programming creation is a testimony to Grant's vision of accessible open educational opportunities for students, staff, and faculty alike.
Provincially, Grant was an early advocate for the idea of a cross-institutional collaboration for B.C.'s public post-secondary educational technologists. He was a compelling spokesperson for the need for enhanced access to open source technologies, playing a critical role in the development of the OpenETC. The potential of the OpenETC is just beginning to be tapped, but it is already resulting in enhanced tools available to the UNBC community and increasing collaboration across the sector. Grant collaborates and shares his learnings with educators around the world (e.g., Potter et al., 2018).
Grant has worked with faculty, students, staff, administrators, and colleagues to educate us all about open education. Grant has been a passionate advocate and collaborator for open education in the province of B.C.
Notable quotes:
"I've had the very great privilege to work with Grant Potter in various capacities over the last 10 years. Grant's passion for, and commitment to, all things open is irrepressible. Working with Grant, and being inspired by his creative out-of-the-box thinking, has fundamentally changed the way I think about teaching and learning in the 21st century. There is no question in my mind that Grant merits this recognition." – Heather A. Smith, Director, UNBC Centre for Teaching, Learning and Technology, 3M National Teaching Fellow, Professor, International Studies, University of Northern British Columbia
"Grant Potter has been a humble advocate and passionate supporter of open education, open technologies, and open pedagogies at UNBC and beyond. His stalwart dedication to open education has had direct impact on student learning and student success, enabling better access to post-secondary education and professional development for his collaborators and colleagues." – Bill Owen, on academic leave, University of Northern British Columbia
"Grant Potter has not only done some of the finest open ed tech work anywhere, he's brought a spirit of healthy subversion and big-time fun with it. Whether it's as Station Manager of DS106 Radio or wrangling performances by the Dead Moocmen, he's been the catalyst for truly unforgettable experiences for many of us. He just keeps finding clever, boundary-crossing ways of bending circuits and expanding minds. I feel better about the future of our field knowing he's part of it." – Brian Lamb, Director, Innovation – Open Learning, Thompson Rivers University
Learn more:
---
Join us for an upcoming event:
---
To stay informed with BCcampus by signing up for our newsletter, visiting our calendar and following @BCcampus on Twitter.