"Together — one of the most inspiring words in the English language. Coming together is a beginning; keeping together is progress; working together is success." ~Edward Everett Hale
In the fifteen years since we officially launched, we've seen the iteration, execution, and evolution of a wide range of ideas intended to improve the teaching and learning landscape across the province and around the world. We've learned how to cultivate and refine great ideas, going from 'what if' to 'that worked well' faster and easier. We've launched, reviewed, and sunset a variety of ideas, taking learnings from each project to improve our ability to deliver on our commitment to enabling access to freely available content, information, and data for our system partners and stakeholders. And we've had projects grow to levels of success we couldn't have imagined when we first started.
Post by BCcampus' editorial team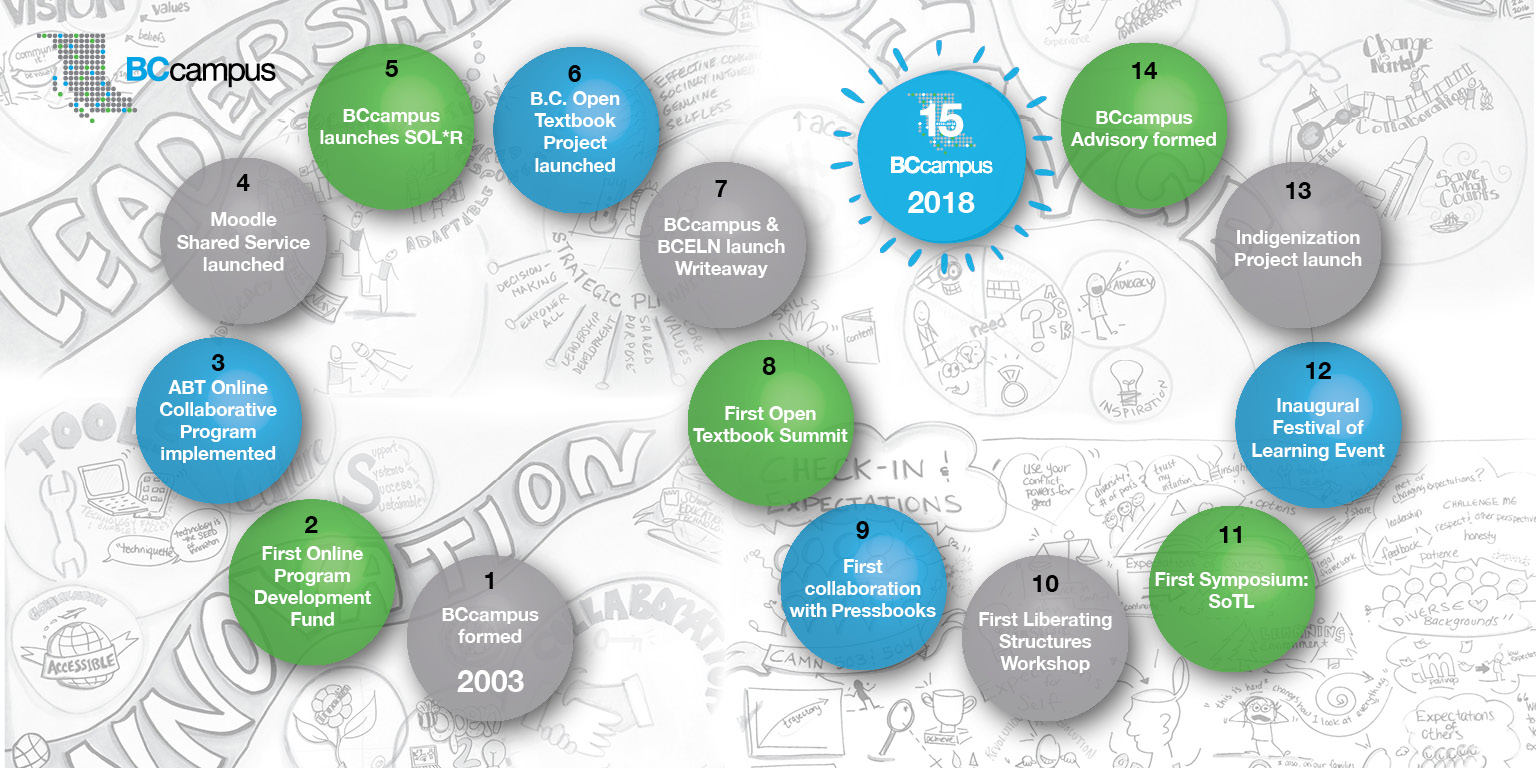 A big part of our history of success is the willingness and ability of the teaching and learning community to work together. We've formed user groups, steering committees, and task forces to develop, launch, and evaluate ideas, and without the active participation and contributions of the talented teams of educators, institutions, faculty, and support staff we could not have been as effective at delivering better resources to the students of B.C.
We have many reasons to be proud of the people we've worked with over the past 15 years, and the BCcampus blog and newsletter are great resources to keep you informed on what we do every day. We don't have space to mention everything, so here's a quick snippet about 15 accomplishments that stand out:
2003 – BCcampus formed
With minimal fanfare and an open agenda, BCcampus was launched to support a collaborative approach to developing online learning resources. Working with the colleges, universities, and members of the post-secondary educational institutions of B.C., we focused on sharing the possibilities that could be realized through collaboration.
Through consistent communications, a mandate that didn't infringe on the independence and autonomy of our partner institutions, and a mutual desire to deliver a better experience to post-secondary students, we were able to create the trust and support required for us to build an agile infrastructure that would lead to a phenomenal adoption of open educational resources and partnerships that would deliver long-term benefits for everyone.
2003 – First Online Program Development Fund (OPDF)
"The Online Program Development Fund was a critical first step towards successfully implementing the open textbook project," shared Mary Burgess, Executive Director, BCcampus. "We're grateful for the support and vision of open advocates, such as David Porter and Paul Stacey, whose understanding and application of educational technology helped BCcampus earn global recognition for innovation and collaboration."
The progenitor for many successful OER projects, the OPDF supported the development of online courseware, lab materials, and other resources.
2003–2018 – Applied Business Technology (ABT) Online Collaborative Program implemented
The Applied Business Technology online collaborative program began as an association between 12 institutions in B.C., with a goal of consolidating the various ABT courses across the province into one program, delivered entirely online. Curriculum development began in 1998, and in 2003 BCcampus became an active contributor, paying faculty for the development of the courses. The program grew from four sections in 1999 to 400 sections in 2007, through 30 courses with scheduled start dates throughout the year.
After reviewing our role and involvement in this program, we decided to transition this responsibility to the participating institutions. The handoff is scheduled for June 30, 2018, and to ensure the continued success of this program we facilitated a two-day sprint in November 2017 hosted at Vancouver Community College.
2006 – Moodle Shared Service launched
In 2006, we began offering a shared service platform for local institutions to use Moodle, an open-source course-management system delivered online to learners in B.C. The flexibility and open nature of this service was a good fit for our mandate and our users. The platform continued to grow and evolve and we kept pace to ensure our users could make use of the improvements in performance and reliability.
2006 – BCcampus launches SOL*R, the Shareable Online Learning Resource repository
Initially created as a repository for content created through the Online Program Development Fund, the Shareable Online Learning Resources (SOL*R) site was developed through a series of working groups with faculty from post-secondary institutions in B.C. Scott Leslie was one of the faces of BCcampus responsible for the adoption and adaptation of SOL*R.
Today, SOL*R is an active source of free online learning resources, including open textbooks, learning activities and tools, and full programs. The content was created by B.C. post-secondary educators from a wide variety of disciplines and subject areas and is shared with users around the world.
2006 – BCcampus & BCELN launch AskAway service
Leveraging knowledge and generating benefits for students is a primary goal of BCcampus and the chief driver for supporting AskAway in its inception in 2006. A collaborative effort between BCcampus, British Columbia Electronic Library Network, the Ministry of Advanced Education, Skills, and Training, and participating libraries, the program provides learning support to students across the country, leveraging province-wide library expertise to deliver 67 hours of reference service per week.
2012 – B.C. Open Textbook Project launched
The initial goal of the B.C. Open Textbook Project was to make higher education more accessible by reducing the cost of learning through the use of openly licensed textbooks. We were asked to source or create a collection of open textbooks for the top 40 highest-enrolled subjects, with an additional 20 topics requested in the second phase, announced in the spring of 2014.
"The Open Textbook project is what really put us on the map," said Mary Burgess. "I believe everyone should have access to education. And for some, the expense is just too much to bear. By producing free high-quality openly licensed textbooks and other open educational resources, we begin to break down that barrier. There is a moral imperative at work here that relates to the kind of society we value."
To date, the B.C. Open Textbooks have saved students $8,088,137 – $9,016,668 through 1995 adoptions at 40 institutions in B.C.
2012 – BCcampus & BCELN launch Writeaway
Built on the learnings gained through the successful launch of AskAway, we once again collaborated with the BCELN to launch another service designed to provide value to the learners in B.C. through six post-secondary institutions.
WriteAway is an online tutoring service intended to help students improve their academic writing skills by providing feedback on their writing submitted to the eWriting Lab.
The program continued to grow, adding additional institutions and supporting over 500 students in the first year.
2012/13 – First Open Textbook Summit
In November 2012, we held the first of three one-day workshops for anyone interested in open textbooks in B.C. to explore approaches to sourcing open educational resources (OER), creative commons licensing, accessibility, and adoption and advocacy of open textbooks.
The Open Textbook Summits have continued to be popular and successful events, featuring brilliant keynote speakers, engaging social activities, and informed presentations from a vast selection of educators throughout the province.
2013 – First collaboration with Pressbooks
As the success of the B.C. Open Textbooks continued, new tools were identified to help contributors adopt and adapt them for their institutions. One such tool, Pressbooks, was developed by the BCcampus team to further enable open textbook publishing. The Pressbooks plugin has been a strong focus for us as well as the learning community, and has been regularly updated to ensure it continues to provide value to our partners and stakeholders.
2013 – First Liberating Structures Workshop
In the spring of 2013, at the Educational Technology Users Group (ETUG) workshop, we were introduced to Nancy White's Liberating Structures program.
"Liberating Structures have changed how I facilitate everything," shared Tracy Kelly, Senior Manager, Learning + Teaching, BCcampus. "Once you start using these strategies, you realize how incredibly flexible they are, how much easier it is to plan sessions with productive endpoints in mind, and how much more fun and engaging sessions are for participants."
The Liberating Structures workshop continues to be a popular session at many BCcampus events, including Festival of Learning 2018.
2014 – First Symposium: Scholarly Teaching & Learning in Post-Secondary Education
In mid-November 2014, we held our first Symposium on Scholarly Inquiry into Teaching and Learning Practice at the SFU Harbour Centre in downtown Vancouver. By all accounts, the event was a huge success, with attendees representing most of the PSE institutions in B.C., and an online feature to enable remote attendance through a 'tech buddy' program.
Building on the success of the first event, a Symposium was held in 2015, sponsored and hosted by BCcampus and planned by a committee of provincial leaders in Teaching and Learning.
In partnership with the British Columbia Teaching and Learning Council (BCTLC), Symposium 2017 was held at the SFU Harbour Centre, offering first-rate presentations, a brilliant keynote from Dr. Nancy Chick, and a plethora of opportunities for educational professionals to connect, learn, and share.
"The Symposium and formation of the BCTLC signalled a big switch in the teaching and learning space of B.C.," said Mary Burgess. "This switch has driven our mandate much more than in the past and enables us to continue to propel our projects and programs in the direction required and desired by the educational community of B.C."
2016 – Inaugural Festival of Learning Event
In the summer of 2016, we brought together educators, leaders, and professional staff to explore teaching and learning ideologies, approaches, and innovations at the Festival of Learning 2016. The four-day event was held at the Delta Burnaby Hotel & Conference Centre and BCIT, with more than 400 delegates learning from and with each other.
We've used what we learned at the 2016 FoL to ensure the Festival of Learning 2018 is as effective and enjoyable as the initial event.
2016 – Indigenization Project launch
In 2016, we worked with the Teaching Universities, Institutes and Aboriginal Programs Branch of the Ministry of Advanced Education, Skills, and Training to develop a project steering committee with representatives from various Indigenous education organizations from across the province. The collaborative project was developed to create open educational professional learning resources that contribute to an increased awareness and understanding of Indigenous histories, cultures and perspectives, and ways of knowing for those who work in post-secondary institutions.
2017 – BCcampus Advisory formed
We work for and with the educational professionals of B.C., and in our quest to continually improve we put out a call for nominations to find local contributors to represent the diverse geography, institutions, genders, roles, and responsibilities unique to the learning community of B.C. and inform the work we do at BCcampus. We were inundated with applications, and through a challenging (for us) selection process we chose our inaugural group. The 12-member team has been working with Mary Burgess, Executive Director, and we're looking forward to taking action on the input they've provided and future opportunities they propose.
2018 – 15-year Anniversary
This year we celebrate our 15th anniversary and we'll be sharing accomplishments, recognizing excellence, encouraging development, and promoting open – which is pretty much the recipe for success from our first 15 years. Stay connected to stay informed – follow us on Twitter, subscribe to our newsletter, and join an upcoming event. You'll learn and you'll love it.
What do we see in the future for BCcampus?
In addition to continued collaboration between the growing number of steering committees, user groups, and councils representing the students and institutions throughout B.C., we hope to see institutions place a higher value on teaching and learning, providing opportunities for instructors to redesign courses that meet the needs of students. It's happening today at some institutions, and we're hoping to see more recognition and incentives for the instructors who take the time to focus on teaching and learning.
"In the years to come," said Mary Burgess, "we expect to play a larger role in the development of open resources, and you'll find us doing everything we can to evolve open so it can become the default in terms of learning resources beyond our provincial borders."
Learn more:
---
Join us for an upcoming event:
---
To stay informed with BCcampus by signing up for our newsletter, visiting our calendar and following @BCcampus on Twitter.