When:
January 9, 2023 – March 31, 2023
all-day
2023-01-09T00:00:00-08:00
2023-04-01T00:00:00-07:00
The BCcampus Online Book Club started as a community-driven project by a group of volunteer post-secondary educators interested in opportunities to connect with colleagues on topics of professional interest in teaching and learning.  The guidelines for this book club are that it is open, informal, and fun — an easy way for participants to share ideas and strategies and take what we learn to practice. We are pleased to announce the next book club, an online and open edition offered over three months in winter 2023 that will feature selections from the B.C. Open Collection and the Hybrid Pedagogy open access books.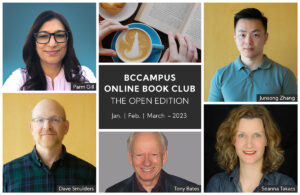 Our featured reading and authors are as follows:
Participation is free, but registration as a book club member is required to receive weekly book club content and to join discussions with members and virtual conversations with authors. Register now for the BCcampus Online Book Club: The Open Edition.
Registration for the January session is now closed.
Facilitators
Leva Lee (she/her)
Leva is manager of Learning + Teaching at BCcampus. She has many years of experience leading online learning projects and professional development opportunities for the secondary and post-secondary education sectors in B.C., with a background in open and distance learning and educational technology. Her special interests are micro-learning design, fostering communities of practice, and creative facilitation practices for learning engagement. She is a Liberating Structures practitioner and an enthusiastic promoter of the B.C. post-secondary community and those committed to improving the student experience. When not online, you can find Leva inspecting her fledgling flower and vegetable garden, reading one of too many recipe books, or trying to eke out time in the day to sketch or do art.
Mattermost: @levalee
LinkedIn: https://ca.linkedin.com/in/levalee
Helena Prins (she/her)
Helena is an advisor of Learning + Teaching at BCcampus and coordinates the Facilitating Learning Online (FLO) portfolio. She began her career as a high-school teacher in South Africa. Over the past 20 years, Helena has taught students of all ages and stages on four continents. A golden thread throughout her teaching experiences has been breaking down barriers to learning. Prior to joining BCcampus in 2020, Helena worked as a career learning and development advisor at Royal Roads University. As an immigrant, she values the opportunity to support all students, especially international students, in finding and building their career path in Canada. She is a certified career strategist with Career Professionals Canada and associate faculty at Royal Roads University.
Mattermost: @hprins
LinkedIn: https://ca.linkedin.com/in/helenaprins 
This notice is to inform you that this session will be recorded, archived, and made available publicly on BCcampus.ca. By participating in this session, you acknowledge that your participation in this session will be recorded and the recording will be made available openly.