When:
November 4, 2022 @ 9:00 am – 4:00 pm
2022-11-04T09:00:00-07:00
2022-11-04T16:00:00-07:00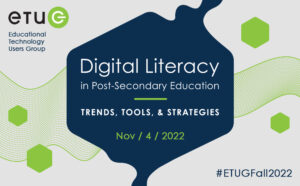 *Note: This session has passed. Please view the resources and recordings below. 
Despite the recovery from the pandemic, the number of academic programs and courses delivered in hybrid or fully online formats will likely remain high. At the same time, an increasing number of instructors are trying out HyFlex delivery — giving students options about whether they come to class or learn online. Digital literacy, for both instructors and students, impacts effective use of these delivery modes. But how can digital literacy support teaching and learning for online, hybrid, and HyFlex courses? What does a student need to be digitally literate? What does an instructor need to be digitally literate?
Archives:
Ben Ferrel | AEST

Digital

Learning Strategy Overview [Word doc]
Ben Ferrel | AEST

Digital

Learning Strategy Overview [PDF]
Luke McKnight, Briana Fraser | Langara's Assistive Technologist Project: An Un-siloed Approach to Improving

Digital

Literacy

Across the Institution [Word doc]
Luke McKnight, Briana Fraser | Langara's Assistive Technologist Project: An Un-siloed Approach to Improving

Digital

Literacy

Across the Institution [PDF]
Alissa Bigelow, Siri Gauthier | "Extend" your

Digital

Fluency Toolkit with Ontario Extend [Word doc]
Alissa Bigelow, Siri Gauthier | "Extend" your

Digital

Fluency Toolkit with Ontario Extend [PDF]
Jamie Drozda | Why Incorporate Accessible Practice into your Classroom? [Word doc]
Jamie Drozda | Why Incorporate Accessible Practice into your Classroom? [PDF]
Tracy Roberts, Clint Lalonde, Helena Prins, Gwen Nguyen, Leva Lee, Britt Dzioba, Selena McGinnis | Development of a

Digital

Literacy

Open Education Resource at BCcampus [Word doc]
Tracy Roberts, Clint Lalonde, Helena Prins, Gwen Nguyen, Leva Lee, Britt Dzioba, Selena McGinnis | Development of a

Digital

Literacy

Open Education Resource at BCcampus [PDF]
Marta Samokishyn | Algorithmic

literacy

: the role of academic libraries in creating metaliterate learners [Word doc]
Marta Samokishyn | Algorithmic

literacy

: the role of academic libraries in creating metaliterate learners [PDF]