When:
March 6, 2023 – March 10, 2023
all-day
2023-03-06T00:00:00-08:00
2023-03-11T00:00:00-08:00
Join us for our Current Topics in Micro-Credentials 2.0 course, where we will dig deeper into the micro-credential topics that are in the forefront of practice in B.C. A selection of current topics in micro-credentials will be offered, discussed, and applied to our B.C.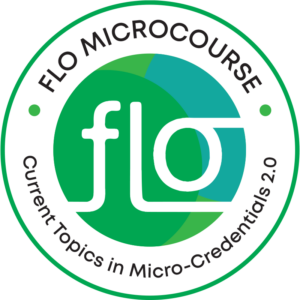 context. By the end of this one-week learning experience, participants will be able to describe in their own words at least one current topic in micro-credentials and apply what they have learned to our local context. Current Topics in Micro-Credentials 2.0 will be delivered primarily asynchronously, but there will be two optional synchronous sessions: Monday, March 6, from 11:30 a.m. to 12:30 p.m. PT, and Wednesday, March 8, from 9:00 a.m. to 10:00 a.m. PT. Although these two sessions will be recorded, your attendance is encouraged. Expect to spend approximately 7–10 hours to engage with the content and others in this short course.
Your BCcampus FLO facilitators are Ross McKerlich (he/him), project manager of Collaborative Projects and Indigenous Engagement, and Helena Prins (she/her), advisor in Learning and Teaching.
This MicroCourse has a non-refundable registration fee of $25.
Registration coming soon.
This notice is to inform you that this session will be recorded, archived, and made available publicly on BCcampus.ca. By participating in this session, you acknowledge that your participation in this session will be recorded and the recording will be made available openly.