When:
March 24, 2021 @ 7:00 pm – 8:30 pm
2021-03-24T19:00:00-07:00
2021-03-24T20:30:00-07:00
Tenille K Campbell is a Dene/Métis author from English River First Nation in Northern Saskatchewan.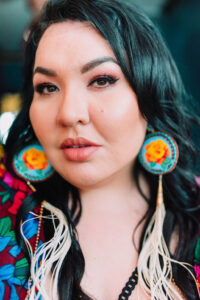 She completed her MFA in Creative Writing from UBC and is enrolled in her PhD program at University of Saskatchewan. Her inaugural poetry book, #IndianLovePoems (Signature Editions, 2017) is an award-winning collection of poetry that focuses on Indigenous Erotica – using humour and storytelling to reclaim and explore ideas of Indigenous sexuality. Her upcoming collection, Nedi Nezu, through Arsenal Press is coming in March 2021. She is also the artist behind sweetmoon photography and the co-creator of the women's blog, tea&bannock.
This event is part of the Honouring Indigenous Writers on Wikipedia event, which seeks to improve the coverage of Indigenous writers on Wikipedia and to encourage diverse community editors to actively work to dissuade assumptions about Indigenous literature by raising their profile in this increasingly influential information source. This year, instead of our annual Wikipedia Edit-a-thon we have put together a schedule of author readings and workshops throughout the month of March, as well as asynchronous Wikipedia editing challenges designed to be easily accessed and doable online whenever you have time. You can read more about these events here.