When:
February 24, 2021 @ 7:00 pm – 8:30 pm
2021-02-24T19:00:00-08:00
2021-02-24T20:30:00-08:00
Smokii Sumac (Ktunaxa) is a poet and PhD Candidate in Indigenous Studies at Trent University, where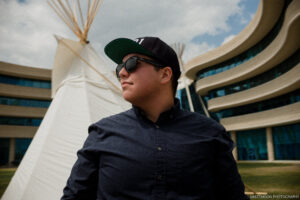 his work centers on the question how do we come home? As an Indigenous adoptee, intergenerational residential school survivor, and two-spirit person, Smokii's lived experiences are deeply embedded into his art and research. His first poetry collection, you are enough: love poems for the end of the world,
(Kegedonce Press, 2018) won an Indigenous Voices Award for published poetry, and Smokii has recently been named as a finalist for the Dayne Ogilvie Prize. Currently teaching at College of the Rockies in Cranbrook, BC, Smokii is extremely grateful to be living in ʔamaʔkis Ktunaxa (Ktunaxa territories), where
he and his cat, Miss Magoo, have recently (and begrudgingly, on Magoo's part) added a new family member: a "big ole rez dog" named Kootenay Lou.
Daniel Heath Justice is a Colorado-born Canadian citizen of the Cherokee Nation/ ᏣᎳᎩᎯ ᎠᏰᎵ. He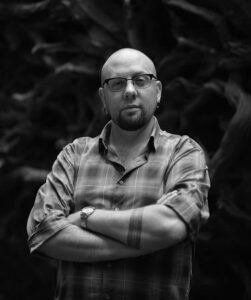 received his B.A. from the University of Northern Colorado and his M.A. and Ph.D. from the University of Nebraska-Lincoln. Before coming to UBC, he spent ten years as a faculty member in the Department of English at the University of Toronto in Haudenosaunee and Anishinaabe territory, where he was also an affiliate of the Aboriginal Studies Program.Daniel currently holds the Canada Research Chair in Indigenous Literature and Expressive Culture at UBC on unceded Musqueam territory. His most recent book is Why Indigenous Literatures Matter, a literary manifesto about the way Indigenous writing works in the world. He is the author of Our Fire Survives the Storm: A Cherokee Literary History and numerous essays and reviews in the field of Indigenous literary studies, and he is co-editor of a number of critical and creative anthologies and journals, including the award-winning The Oxford Handbook of Indigenous American Literature (with James H. Cox) and Sovereign Erotics: A Collection of Two-Spirit Literature (with Qwo-Li Driskill, Deborah Miranda, and Lisa Tatonetti). Other writings include the animal cultural history Badger in the celebrated Animal series from Reaktion Books (UK) and the Indigenous epic fantasy novel, The Way of Thorn and Thunder: The Kynship Chronicles. Daniel's current projects include Raccoon (also in Reaktion's Animal Series), a collection of essays titled This Hummingbird Heart: Indigenous Writing, Wonder, and Desire, an edited collection on Indigenous land privatization and allotment co-edited with White Earth Ojibwe historian Jean M. O'Brien, and a long-gestating Indigenous steampunk novel.
This event is part of the Honouring Indigenous Writers on Wikipedia event, which seeks to improve the coverage of Indigenous writers on Wikipedia and to encourage diverse community editors to actively work to dissuade assumptions about Indigenous literature by raising their profile in this increasingly influential information source. This year, instead of our annual Wikipedia Edit-a-thon we have put together a schedule of author readings and workshops throughout the month of March, as well as asynchronous Wikipedia editing challenges designed to be easily accessed and doable online whenever you have time. You can read more about these events here.