In partnership with Women and Gender Equity (WAGE) and the Ministry of Post-Secondary Education and Future Skills, BCcampus is providing project management for a sexualized violence project that focuses on the impacts of sexualized violence on specific student populations, including Indigenous students, international students, and graduate students. These resources will be fundamental to incorporating a gender-based analysis (GBA+) lens in responding to sexualized violence, taking into consideration how intersecting variables of oppression impact the risk of sexualized violence as well as barriers to reporting, access to resources, and overall individual experiences with systems (e.g., legal and/or institutional). These resources will help post-secondary institutions identify ways to support student populations, address systemic barriers, and develop a comprehensive response to sexualized violence that uses an intersectional approach in its application.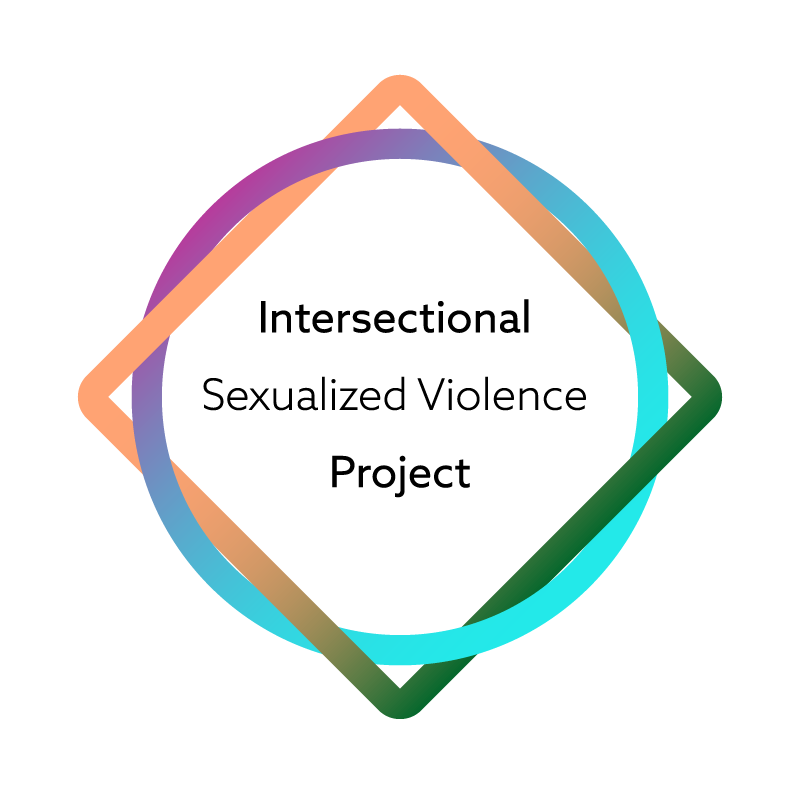 Another identified resource gap is specific to technology-facilitated sexualized violence (TFSV), which recognizes that sexualized violence is not limited to in-person contact but can be facilitated through technological means, including, but not limited to, cellular devices, computers, gaming platforms, and learning management systems. The shift to online learning and socializing accelerated by the COVID-19 pandemic increased the need to recognize TFSV and support institutions in developing appropriate resources to support individuals impacted by it. The intersectional dimensions of sexualized violence outlined above apply as readily to TFSV as other forms of sexualized violence and will be fundamental to the development of these resources.
This project will take place from April 2022 to June 2024 and informed by an advisory group that includes students, staff, and faculty in the B.C. post-secondary sector as well as subject-matter experts from community groups that work in relevant fields.
BCcampus manages projects through collaborative leadership committed to meaningful engagement, accessibility, and trauma-informed facilitation. Committed to making learner success a priority, BCcampus focuses on learning, access, allyship, relationships, and knowledge-sharing.
Learn more about our approach to learner-centred engagement.
---
Guiding Principles
The following guiding principles identified by the Intersectional Sexualized Violence (ISV) Advisory Group are essential to sexualized violence prevention, intervention, and responses in post-secondary institutions (PSIs). These principles are intended to support the project team in making decisions related to identifying resources relevant to the project goals and to support the development of new training resources. These principles go beyond normative definitions.
Each of the guiding principles is described in further detail below.
Accessibility refers to all of the ways in which PSI work to address actual and potential barriers and accommodate the needs of people from a variety of backgrounds, abilities, and learning preferences. Accessibility means having a place, environment, or event that is created to be accessible to all individuals. In the delivery of sexualized violence training, strategies to promote accessibility can include ensuring spaces are physically accessible by people who use a wheelchair or other mobility aids, as well as having washrooms that are both physically accessible and designated as all gender. Accessibility may also include the availability of accommodations and programming initiatives for students with disabilities and medical conditions. To ensure accessibility needs are met, learning materials can be offered in plain language, and in multiple formats and languages. Lastly, financial support can be offered in the form of support for childcare, as well as honoraria and secondment options.
Cultural safety includes actions and approaches, which recognize and respect the cultural identities of all people and safely meets their needs, expectations, and rights. Cultural safety is a concept that emerged in the late 1980s as a framework for the delivery of more appropriate health services for the Māori people in New Zealand. In educational spaces, cultural safety is about shared respect, shared meaning, and shared knowledge. It also includes a commitment to anti-racism: the practice of actively identifying, challenging, preventing, eliminating, and changing the values, structures, policies, programs, practices, and behaviours that perpetuate racism. Culture is the complex phenomenon that includes the ever-evolving worldviews, knowledge, values, traditions, beliefs, capabilities, and social and political relationships of a group of people that give meaning to and influence their life and actions. In order to be successful, approaches to sexualized violence prevention and response need to recognize and incorporate diverse cultural identities and value the knowledge and experience participants bring into all types of situations, including learning environments. While a person's culture should be recognized and valued, everyone is a culturally located person rather than solely a member of a homogeneous group.
A decolonial approach involves valuing and revitalizing Indigenous knowledge and approaches and addressing the impact of past and ongoing colonization on Indigenous ways of being. This approach emphasizes that knowing the past allows us to understand the present and to inform the future. Decolonial approaches acknowledge that we all operate in a colonial structure and system, which includes PSI; however, there are practices such as creating spaces that are inclusive and respectful and that honour Indigenous knowledge and ways of knowing that institutions can be doing as society learns what decolonizing spaces looks like. For non-Indigenous people, decolonization may include the process of examining colonial beliefs about First Nations, Métis, and Inuit peoples and cultures and working to dismantle these beliefs through learning about their relationships to the communities where they live and the people they interact with. By acknowledging that we all operate in a colonial structure and system, we can actively embrace doing things that are outside what is colonially typical, and step into ways of doing and being that have been practiced on these lands for millennia. Beyond providing resources and opportunities to support the development of Indigenous-led spaces, decolonial approaches should consider such things as actively acknowledging the impact of colonization on sexualized violence in First Nations, Métis, and Inuit communities, working to dispel stereotypes, and highlighting the resiliency and capacity of First Nations, Métis, and Inuit peoples and communities to resist and overcome violence. The basis for all decolonized work comes from consulting, and more importantly building relationships, with knowledge-keepers, Elders, community members, and the land in local territories.
Experience-informed practice brings together lived experience and diverse expertise with the best available evidence from research. Experience-informed practice uses evidence, from academic research and from lived experience, to identify the potential benefits, harms, and costs of any intervention and acknowledges that what works in one context may not be appropriate or feasible in another Experience-informed practice values and includes diverse ways of knowing and learning ranging from the lived experience of survivors of sexualized violence to the knowledge of grassroots student groups to decolonizing perspectives on sexualized violence. "Evidence" has specific uses and contexts that often prioritize statistics, published academic research from a Western perspective, and reports. This often marginalizes or silences other forms of vital knowledge such as community memory, reflection, and dialogue on ethical issues. "Wise practices" must reflect local knowledge, experience, and teachings as well as evidence. Experience-informed approaches recognize that knowledge is dynamic, and that practices and policies change in response to shifts in understanding issues like sexualized violence.
Gender-inclusivity recognizes that all people's gender identities are accurate, valid, and to be respected. Gender-inclusive approaches are responsive to the diverse needs of people of all genders. Sexualized violence is gendered. This means different aspects of gender, such as gender identity and gender expression, result in certain groups of people being more likely to perpetrate or be targets of sexualized violence. Gender interacts with factors like race, ethnicity, age, and ability (see "Intersectionality") to influence access to resources for recovery and healing. Gender-inclusive approaches include an awareness and analysis of power and privilege dynamics across different intersections of identity and social locations. These approaches create capacity to understand experiences of sexualized violence across the gender spectrum, recognizing anyone can cause, experience, or mitigate harm related to sexualized violence. They avoid erasure of forms of sexualized violence that receive less publicity and attention, including colonial violence and types of harassment that are often dismissed, especially in perceived all-male and male-dominated environments.
Intersectionality describes the ways in which systems of inequity based on gender identity/expression, race, ethnicity, Indigeneity, sexual orientation, disability, class, and other forms of discrimination "intersect" to create unique dynamics and effects. The term "intersectionality" was coined by American scholar and civil rights advocate, Kimberlé Crenshaw, in 1989. She argued that gender and race cannot be understood without a critical look at all the ways our identities are interconnected. Rooted in a long and deep history of Black feminist writing, Indigenous feminism, third world feminism, and queer and postcolonial theory, intersectionality provides a framework for understanding discrimination, marginalization, and inequity in society. Intersectionality recognizes the unique social locations of people who have been impacted by sexualized violence, including how certain groups face increased risks of experiencing sexualized violence and have different systemic barriers to disclosing and accessing support services. Responses to sexualized violence that incorporate an understanding of power and privilege and the interconnected nature of social locations and lived experience are more responsive to the diverse needs of all individuals and communities in a post-secondary context. An intersectional approach to sexualized violence recognizes that there is no single approach to justice, education, and response that will meet the needs of all, it requires a broader more flexible approach that works to address the systemic nature of sexualized violence.
Survivor-centred approaches are grounded in the lived experiences of survivors of sexualized violence. Being survivor-centred means prioritizing the rights, needs, and wishes of survivors in all processes and responses to sexualized violence. Survivor-centred approaches to preventing and responding to sexualized violence challenge victim-blaming attitudes, use supportive strategies that assume survivors are present in all types of situations, including learning environments, and ensure training initiatives and resources include the input and experiences of survivors. Survivors may assume that a researcher or facilitator does not have lived experienced, thus the onus is on the facilitator or researcher to adopt a survivor-centred approach to ensure survivors are welcomed and valued. These approaches should also recognize that the researcher or facilitator may also be a survivor.
Violence-informed and trauma-informed practice is a way of working that emphasizes safety, trustworthiness, choice, connection, collaboration, strengths, and resilience. Violence- and trauma-informed practice works from the perspective of "universal precautions", or assuming people may have past or current experiences of trauma and violence. Violence-informed and trauma-informed practice recognizes the pervasiveness of sexualized violence in society and includes an understanding of the social, systemic, and structural roots of violence and trauma, including the replication of harm that can occur in response to violence. Violence-informed and trauma-informed practice centres survivors of violence and focuses on their visions for healing and justice, including those related to their own health and well-being as well as the communities around them. This includes developing approaches to education, training, and resources that highlight resistance and resilience, celebrate the strength of survivors, and place priority on their safety, choice, and control. Strategies range from providing welcoming physical spaces, choices on how to engage with learning materials, and opportunities for learning wellness skills.
Transformative justice is an approach that seeks to respond to violence, harm, and abuse without creating more violence and that often uses a harm reduction process to lessen violence. Healing-centred approaches view trauma as a complex and ongoing experience and highlight how trauma and healing can be experienced collectively by communities who have experienced inter-generational and/or vicarious trauma. Transformative justice responses and interventions centre community-based approaches to sexualized violence and do not rely on the system or other institutions. System responses to violence often reproduce violence and can traumatize those who are exposed to them, especially communities who have experienced oppression. Transformative justice approaches have been created by and for many communities, including, but not limited to, Indigenous communities, Black communities, immigrant communities, racialized groups, people with disabilities, sex workers, and 2SLGBTQ+ communities. Healing-centred and transformative justice approaches draw from and build on philosophies, initiatives, and practices found in both the restorative justice and healing justice movements. Healing-centred and transformative justice approaches seek to address and promote prevention of sexualized violence by focusing on accountability, resilience, and safety for all and includes an approach to wellness that cultivates culture, spirituality, civic action, and collective healing. Transformative justice for Indigenous people in Canada must come from practices and policies grounded in First Nations, Métis, and Inuit cultural, spiritual, and social laws and legal principles of self-governance, intergenerational support, and relational accountability. Beyond simply utilizing and co-opting First Nations, Métis, and Inuit laws, transformative justice approaches create spaces for active participation of Indigenous people in the creation of policies and methods of delivery.
---
Other Definitions
Technology-facilitated sexualized violence acknowledges the scope and pervasiveness of sexualized violence in different contexts where technology is used to cause harm. It is important to recognize the wide spectrum of behaviours that can be used to perpetuate violence online. Technology-facilitated sexualized violence refers to a spectrum of activities and behaviours that involve technology as a central aspect of perpetuating sexualized violence, abuse, or harassment, including but not limited to social media and messaging platforms, digital cameras, and dating apps.
Activities that fall under the umbrella of technology-facilitated sexualized violence include the following:
Doxing (sharing personal information online without consent and with the intent to harm)
Swatting (making false reports so that police or emergency services are sent to someone's home)
Hate speech
Threats and intimidation
Trolling
Voyeurism
Impersonation
Spying and monitoring through account hacking or interception of private communications
Online mobbing
Sexual exploitation resulting from online luring
Defamation
Non-consensual distribution of intimate images
Image-based abuse, including both deep fakes and shallow fakes
Sexual harassment
Use of a digital platform/device to coerce a victim into an unwanted sexual act
Sextortion
Stalking/cyberstalking
Sharing live streams, videos, or images of sexual assaults
This list of behaviours is not exhaustive and deliberately extends beyond the scope of how technology-facilitated sexualized violence is defined in current academic literature. (Research is currently lagging behind the lived experiences of survivors in describing the behaviours that can occur within the scope of technology-facilitated sexualized violence.)
The training resources developed as part of this project will incorporate a Gender-based Analysis Plus (GBA+) process. GBA+ provides an opportunity to deepen knowledge about sexualized violence and examine the impact of programs, initiatives and policies on different groups of women, men and people of different gender identities. The "plus" indicates that the analysis also takes account of the multiple other identity factors that define a person, including race, ethnic origin, religion, age and intellectual or physical disabilities. In addition, GBA Plus involves the analysis of the context within which people live, including structural or systemic conditions that might create barriers for some, as well as opportunities for others. GBA Plus involves critical consideration of the historical, social, and political contexts and the systems of power, privilege, discrimination and oppression that create inequities as well as applying a meaningful approach to address them. GBA+ promotes diversity and inclusion in training related to preventing and responding to sexualized violence.
This image shows some of the identities included in GBA+: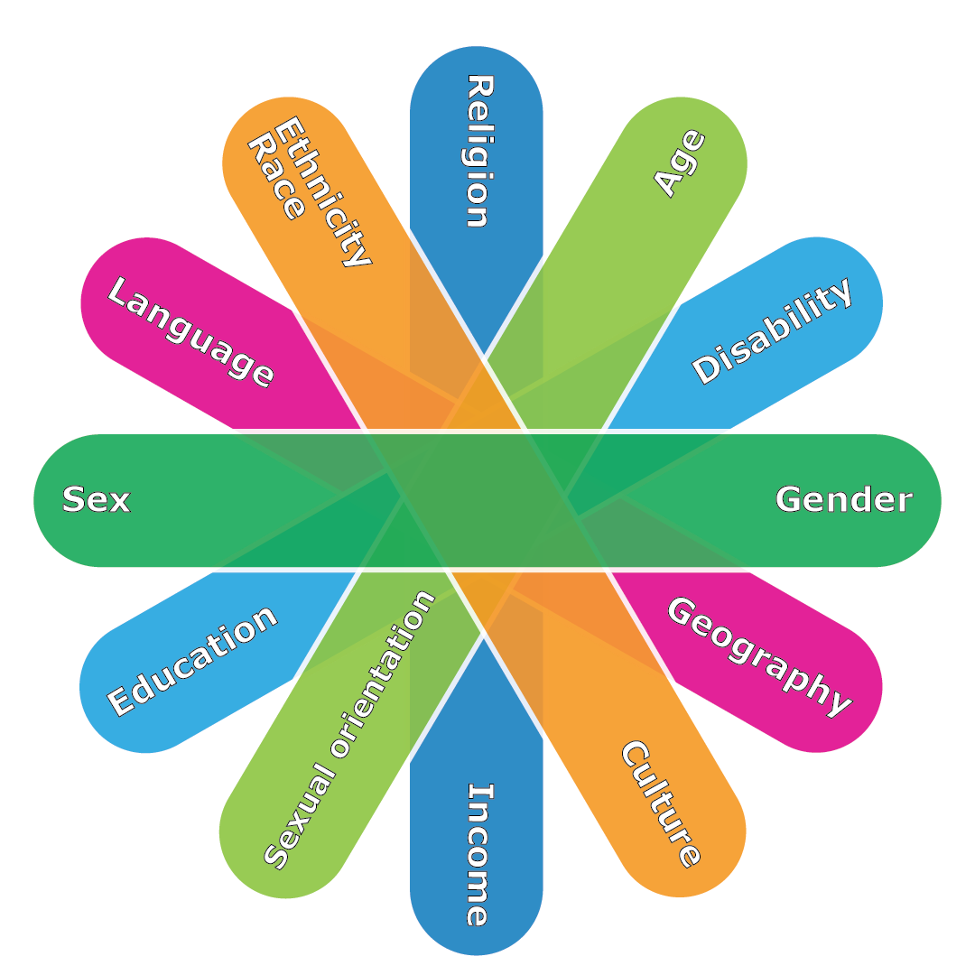 ---
Supplemental Materials
This project has been funded by Women and Gender Equality Canada.